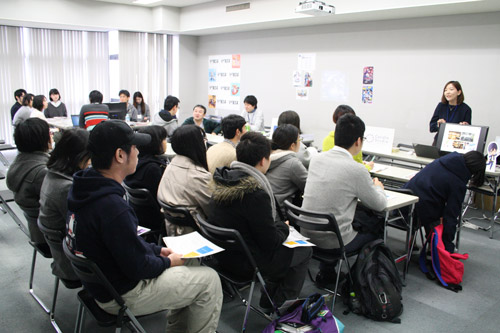 Company booths where aspiring creators gathered.
On March 11, 2017, a joint job fair was held at Kyoto Computer Gakuin (KCG), where 15 companies related to games and animation gathered, and students who wanted to become game and animation creators flocked to the event.This joint job fair "Job Jam Kyoto 2017" organized by Kyoto Indie Game Seminar Executive Committee was held for the fourth time this year. 11 game related companies based in Tokyo, Kyoto and Osaka exhibited, and at the same time, "Ani Job Kyoto 2017", a joint job fair for animation related companies, was held. 4 animation production companies based in Kyoto exhibited, including GAINAX Kyoto Co.
More than 300 people, including KCGI and KCG students, visited the venue.As the game and animation industry is one in which free ideas and creativity are important, the briefing session encouraged people to wear casual clothes rather than suits.At the booths of each company, the person in charge of the company explained the job information for game programmers, game designers, game planners, 3D designers, etc., as well as the features and appealing points of the company.The venue was filled with the enthusiasm of young people from beginning to end, with some standing room only at the most popular booths.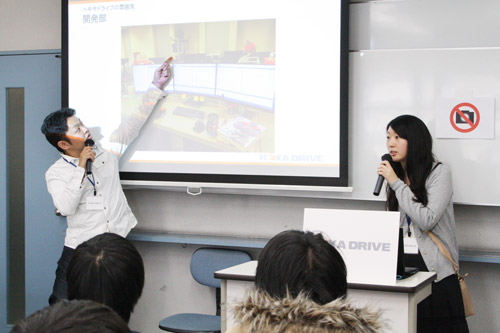 A company representative explaining about their game development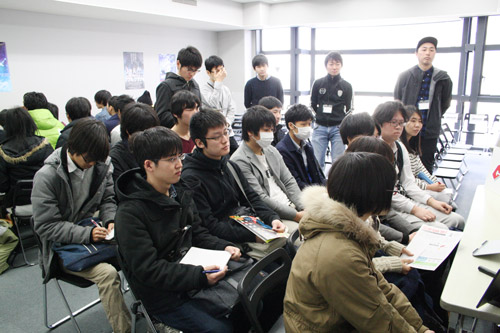 Students listening intently to the explanation