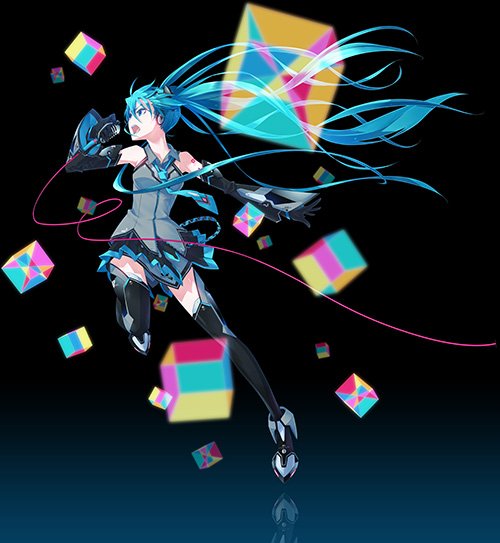 Main visual of Hatsune Miku "Magical Mirai 2014"
Illustration by MONQ (c) Crypton Future Media, INC. www.piapro.net


An event that broadcasts "now" of voice synthesis software "Hatsune Miku" with many fans all over the world Hatsune Miku "Magical Mirai 2014" in OSAKA (Organized by Tokyo Metropolitan Television Co., Ltd., Krypton Future Media Co., Ltd.) Was held at INTEX Osaka, Suminoe-ku, Osaka, on August 30, 2014, and the KCG group (The Kyoto College of Graduate Studies for Informatics, Kyoto Computer Gakuin) sponsored and exhibited.At the KCG group exhibition booth, students from the Kyoto Computer Gakuin engineering department (E department) and faculty members will exhibit and demonstrate the masterpiece "Hatsune Miku Dancing Robot", as well as students from the art design department and digital game department. The works on the theme of "Hatsune Miku" were displayed, and the booth made a big circle of visitors, and was able to fully show the cutting-edge technology that the KCG group can learn.
The KCG group was the only sponsor and exhibitor for an educational institution.Many people gathered at the KCG booth and photographed "Miku Robot", which dances uniquely while shaking onions, and enjoyed a baseball game played by Miku Hatsune as a pitcher.Clear files using the official design of "Magical Mirai 2014" in OSAKA "Miku" were given to those who visited the booth, and notes were given to those who answered the questionnaire.
In this event, which was held for the first time in Kansai, a concert in which "Hatsune Miku" sang songs created by various creators was held twice a day and night. In addition to the KCG group, companies, organizations, etc. Developed a booth that featured "Creative Culture of Hatsune Miku".
"Hatsune Miku" was planned and developed by Krypton Future Media Co., Ltd. in August 2007, and became popular when creators posted music on the Internet.Currently, goods are sold all over the world, and concerts using 3DCG technology are held, and many fans are here.The company's president, Hiroyuki Ito, is a professor at Kyoto University of Information Studies (KCGI).
On September 20, a Tokyo performance will be held at the Tokyo Gymnasium in Shibuya-ku, Tokyo.The KCG group also sponsors (no booth exhibition).
Hatsune Miku "Magical Mirai 2014" in OSAKA
http://magicalmirai.com/2014/
Visitors looking at the Hatsune Miku Dancing Robot that dances uniquely while shaking the leeks at the KCG booth