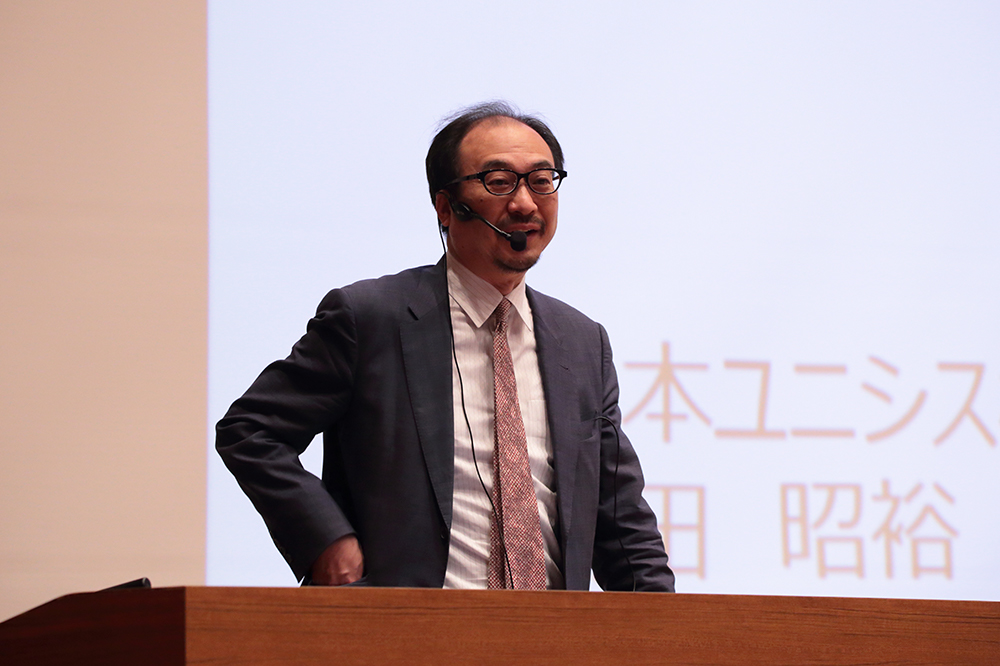 京都情報大学院大学(KCGI)は,2020年11月1日に創立17周年記念日を迎え,6日(金),KCGI京都駅前サテライト大ホールで記念式典を開催しました。新型コロナウイルス感染防止のためホールには聴衆を入れず,式の模様をオンラインで配信,学生と教職員はそれぞれの場所で17周年を祝うとともに,いっそうの発展を誓いました。茨木俊秀KCGI学長は式辞で「近年は,アジアをはじめ世界中から入学者を受け入れ,グローバルな大学院としての地位を築きつつあります。一方,地域に密着したIT(情報技術)教育を展開するため,札幌サテライトと東京サテライトを開設しています。今後は,国内はもとより海外にも教育展開を図るべく,準備を始めているところです」と,KCGIの現状を説明しました。
Mr. Akihiro Haneda, Fellow and CTO of Nihon Unisys Corporation, which has an industry-university collaboration agreement with the university, gave a commemorative lecture titled "The Way of Life of an Engineer: What I Have Learned from My Past Involvement in the Way of Working, Human Relations, and Life.
In his lecture, Dr. Haneda reviewed the history of computers, juxtaposing it with the long timeline of the Kyoto Computer Graduate School (KCG) group, which spans more than half a century, and explained that "computers were created by teams and a variety of human relationships rather than by a solitary inventor.
In February 2017, Nihon Unisys and KCG/KCGI concluded an agreement on academic and research cooperation and industry-academia collaboration to foster IT human resources who will lead the next generation through collaboration between industry and academia. researchers from Nihon Unisys are stationed at the Future Environment Lab and continue to interact with faculty and students in planning and implementing special courses and joint projects.
KCGIは,1963年5月1日に創立した日本最初のコンピュータ教育機関であるKCGのパイオニア・スピリットを受け継ぎ,日本最初のIT専門職大学院として開学しました。応用情報技術研究科 ウェブビジネス技術専攻を置き,修了するとIT応用分野の最高学位である情報技術修士(専門職)が授与されます。専門分野科目群として▽ERP ▽ビジネスデータアナリティクス ▽ITアントレプレナーシップ ▽ウェブシステム開発 ▽ネットワーク管理 ▽ITマンガ・アニメ ▽観光IT-を,産業科目群として▽フィンテック ▽農業 ▽海洋 ▽医療・健康 ▽コンテンツマーケティング ▽教育-を設置し,学生が集中して効率よく学修できるよう設計しています。入学定員は,開学当初の80名(総定員160名)から,2020年度には600名(同1080名)に増員されました。ITと経営,それにコンテ
式典の後,Zoomを利用して,KCGグループの学校祭・11月祭を兼ねた創立記念オンラインイベントが開催されました。未来環境ラボの会場では,「技術交流会」として最新の研究に関する展示ブースを日本ユニシスからも3名の研究員が参加し設置。「AIは知恵の輪を解けるか?」「人はどのように文章を読み,理解しているのか?」「仕掛学による問題解決支援」などのテーマで情報を発信し,質疑応答を通じて学生と交流しました。「MSIパソコンセミナー」の会場ではMSI製パソコンを利用している学生向けに,知られざるさまざまな機能を紹介しました。学生が企画した「先生の対談」会場も設けられ,学生が考えた質問あれこれに,教授たちが頑張って答えていました。学生と教職員の合同企画「ゲームマッチングルーム」には4種類のゲームが用意され,参加