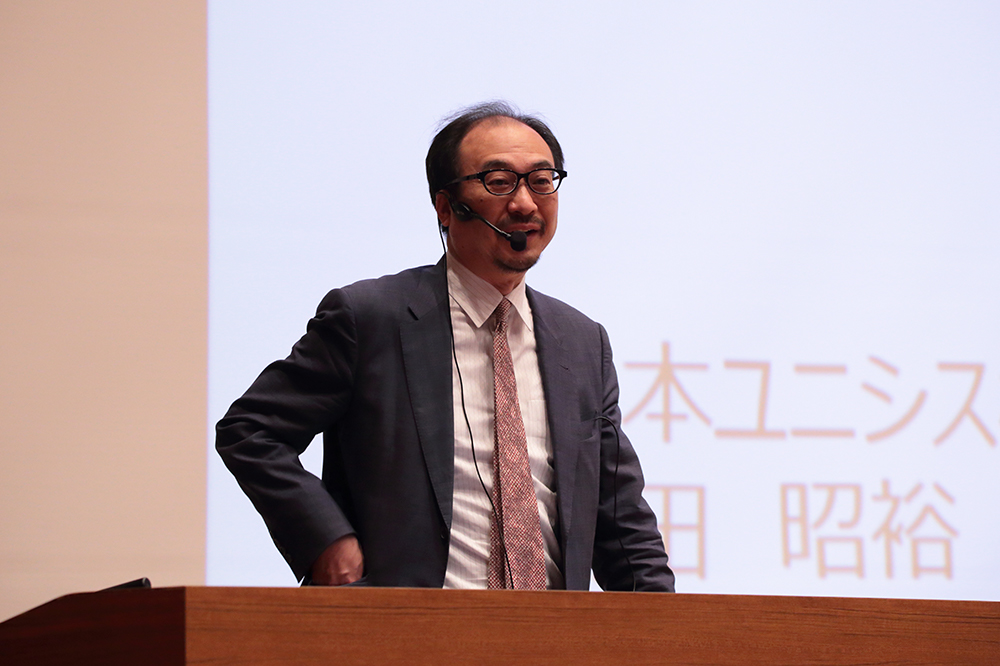 The Kyoto College of Graduate Studies for Informatics (KCGI) celebrated its 17th anniversary on November 1, 2020, and held a commemorative ceremony at the Main Hall of KCGI Kyoto Station Satellite on Friday, November 6, 2020.To prevent the spread of the new coronavirus, no audience was allowed in the hall, and the ceremony was broadcast online, with students and faculty celebrating the 17th anniversary at their respective locations and pledging further growth.KCGI President Toshihide Ibaraki said in his address, "In recent years, KCGI has accepted students from all over the world, including Asia, and is building a position as a global graduate school.On the other hand, to develop IT (Information Technology) education closely related to the local community, we have established the Sapporo Satellite and the Tokyo Satellite.We are now preparing to expand our educational activities not only in Japan but also overseas," he said, explaining the current status of KCGI.
Akihiro Haneda, Fellow and General Manager (CTO) of the Comprehensive Technology Research Institute of Nihon Unisys, a company with which TUAT has an industry-university cooperation agreement, gave a commemorative lecture titled "How to be an engineer: What we have learned about working, human relations, and how to be active in the past.After joining Nippon Univac (now Nihon Unisys, Ltd.), Mr. Haneda has been engaged in research and practical application of simulation and demand forecasting in the R&D department, and has also worked as an IT consultant for corporate systems.In collaboration with the University, Nihon Unisys has established the "Future Environment Lab" on campus to promote activities while interacting with faculty and students.
In his lecture, Dr. Haneda reviewed the history of computers, overlaying it with a long chronology of more than half a century of the Kyoto Computer Gakuin (KCG) Group's history, and explained that "computers were created by teams and diverse human relationships, rather than by solitary inventors.To the students who will be active in the coming era of rapid IT development, he said, "Engineers of the future will have to study all the time.It is very important to clearly recognize the need to continue learning throughout life, and to have the ability to do so," he urged.He added, "It's still very important to learn a lot of things in a team.It is a new challenge, although it has become more difficult under the online environment (due to the new coronavirus).He encouraged the participants to "work hard and create new things with people who can take advantage of the new opportunities that arise, even though difficult and challenging things will always happen.
In February 2017, Nihon Unisys and KCG/KCGI signed an agreement on academic and research cooperation between industry and academia in an effort to foster the next generation of IT professionals.Researchers from Nihon Unisys are stationed in the "Future Environment Lab" and continue to interact with faculty and students to plan and implement special lectures and joint projects.While expanding our circle of activities throughout the region, we are pursuing results that will lead to further development of IT and revitalization of the region.
KCGI opened as Japan's first IT professional graduate school, inheriting the pioneering spirit of KCG, the first computer education institution in Japan, founded on May 1, 1963.The Graduate School of Applied Information Technology offers a major in Web Business Technology, and upon completion, students are awarded a Master of Information Technology (Professional), the highest degree in the field of IT applications.The program is designed to enable students to concentrate on their studies by offering specialized courses in the following areas: ERP, Business Data Analytics, IT Entrepreneurship, Web System Development, Network Management, IT Manga/Animation, and Tourism IT, as well as industry courses in FinTech, Agriculture, Marine, Medicine/Health, Content Marketing, and Education.The admission capacity was increased from 80 students when the school first opened (total capacity of 160 students) to 600 students in FY2020 (total capacity of 1080 students).We send out excellent human resources with knowledge and skills in IT and management, as well as content, to the IT industry in Japan, Asia and the rest of the world.
After the ceremony, an online event commemorating the founding of the KCG Group was held using Zoom, which also served as the KCG Group's school festival and November Festival.At the Future Environment Lab, three researchers from Nihon Unisys participated in an exhibition booth to showcase their latest research as part of a "technology exchange event.Can AI Solve the Wheel of Wisdom?"How do people read and understand texts?"The theme of the session was "Problem Solving Support by In-process Learning," and the participants interacted with the students through a question-and-answer session.At the "MSI PC Seminar," various unknown functions were introduced for students who use MSI PCs.The students organized a "dialogue with professors," and the professors did their best to answer questions that the students had thought of.The "Game Matching Room," a joint project of students and faculty, featured four types of games, which were enjoyed by the many students and faculty who participated.