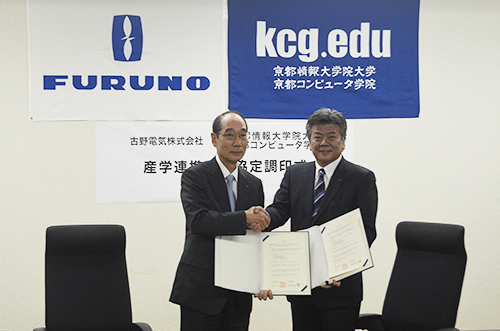 Yukio Furuno, President of Furuno Electric (left), and Wataru Hasegawa, President of KCG Group (January 29, 2015, at the headquarters of Furuno Electric in Nishinomiya City) shake hands after signing an industry-academia collaboration agreement in the marine IT field.
To promote education and research in the marine IT field, The Kyoto College of Graduate Studies for Informatics / Kyoto Computer Gakuin (KCG Group) and Furuno Denki Co., Ltd., a major manufacturer and distributor of marine electronic equipment (headquarters: 9-Hagiwaracho, Nishinomiya City, Hyogo Prefecture) 52, President Yukio Furuno, listed on the first section of the Tokyo Stock Exchange) signed an agreement on industry-academia collaboration at the head office of Furuno Electric on January 29.Based on the academic exchange and cooperative relationship between the two institutions, we will promote: o Exchange of faculty members and students and researchers o Implementation of joint research and study groups o Exchange of academic information, publications, and materials.
At the signing ceremony, KCG Group President Wataru Hasegawa and President Furuno signed the agreement and shook hands.In the discussion that followed, Mr. Hasegawa expressed his aspirations, "In the field of fisheries, which is in urgent need of revitalization, we hope to find a way forward through the promotion of IT, including distribution, and we will actively work hand in hand to promote activities in all areas, including resource maintenance and safe navigation of vessels.President Furuno expressed his expectations for the KCG Group in terms of human resource development and research promotion, saying, "IT in the fisheries industry is still at a stage where the dawn has only just begun to break.
On January 30, the first activity after the signing will be an academic lecture entitled "Current Status and Future of Marine IT" by Masayuki Mori, General Manager of the Sales Planning Department, Ship Equipment Division, Furuno Electric.
In addition to the development of fish finder, IT in the marine and fisheries sector is being explored for the introduction of a data collection system for marine resources and the environment with traceability functions using satellites to realize efficient and sustainable fisheries.In addition, the use of information technology for ships is also being urged for energy saving, safe operation, reduction of greenhouse gases, prevention of marine pollution, and use of natural energy from the sea.
The KCG Group has been promoting a variety of initiatives for the broad use of IT, starting with the establishment of Japan's first Department of Automobile Control at Kyoto Computer Gakuin in 2005, which linked automobiles and IT, and then focusing on Japan's world-class pop culture, establishing the Contents Business Course at Kyoto Institute of Information Science, and the IT Voice Actor Course (established in 2014) and Manga/Anime Course (newly established in 2015) at Kyoto Computer Gakuin.
Furuno Electric Co.
http://www.furuno.co.jp/