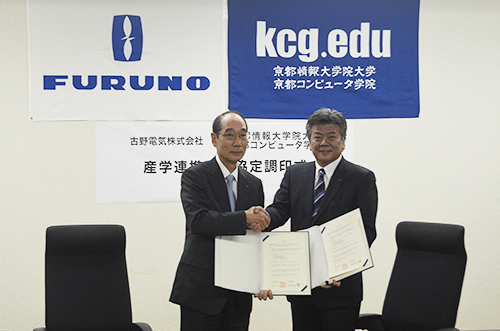 Mr. Yukio Furuno (Left) and Mr. Hiroshi Hasegawa, President of KCG Group (January 29, 2015, Furuno Electric headquarters in Nishinomiya City) shaking hands with an industry-academia collaboration agreement in the marine IT field
To promote education and research in the marine IT field, Kyoto Information Graduate University / Kyoto Computer Gakuin (KCG Group) and Furuno Denki Co., Ltd., a major manufacturer and distributor of marine electronic equipment (headquarters: 9-Hagiwaracho, Nishinomiya City, Hyogo Prefecture) 52, President Yukio Furuno, listed on the first section of the Tokyo Stock Exchange) signed an agreement on industry-academia collaboration at the head office of Furuno Electric on January 29.Based on the establishment of academic exchanges and cooperative relationships between the two, ▽ Exchange of teachers / students and researchers ▽ Implementation of joint research and research meetings ▽ Exchange of academic information, publications and materials-
At the signing ceremony, Mr. Hiroshi Hasegawa, President of KCG Group, and President Furuno signed the agreement and shake hands.In a subsequent meeting, President Hasegawa said, "In the field of fisheries where revitalization is urgently needed, we will join hands in all aspects such as finding resources by promoting the use of IT, including distribution, as well as maintaining resources and safe navigation of ships. I want to move forward with these activities. "President Furuno expressed that "the introduction of IT in the fishery industry was at the stage where the dawn was finally seen" and expressed expectations to the KCG group in terms of human resource development and research promotion.
On January 30th, the first activity after the signing will be held on March 30th, an academic lecture titled "Current Status and Future of Marine IT" by Masayuki Mori, General Manager, Sales Planning Department, Ship Equipment Division, Furuno Electric.
In the marine and fisheries sector, in addition to the development of fish detectors, in order to realize efficient and sustainable fisheries, the introduction of a data collection system for marine resources and the environment with a traceability function using artificial satellites is sought. It has been.In addition, there is an urgent need to use IT on ships for energy conservation, safe operation, greenhouse gas reduction, marine pollution prevention, marine natural energy utilization, etc.
The KCG group started with the first in Japan in 2005 at Kyoto Computer Gakuin, an automotive control department that linked automobiles and IT for widespread use of IT. A variety of initiatives are underway, including a content business course at the Graduate School of Information Science, an IT voice actor course (opened in 2014), and a manga / anime course (newly established in 2015) at Kyoto Computer Gakuin.
Furuno Electric Co., Ltd.
http://www.furuno.co.jp/