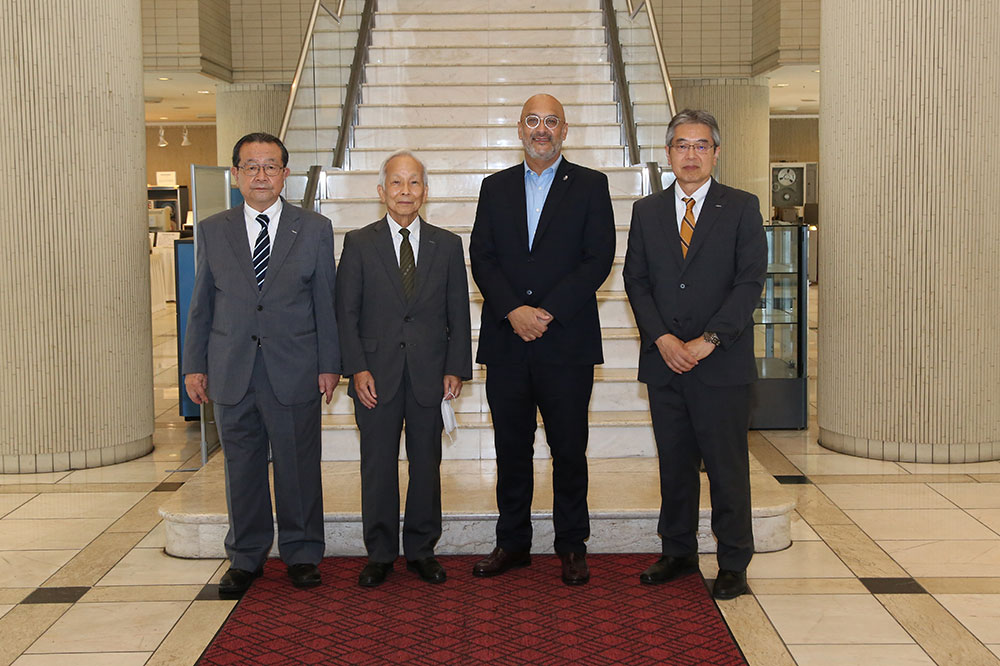 Mr. Ghaleeb Jeppie, Minister of Education for Science and Innovation, Embassy of the Republic of South Africa in Japan, and Mr. Daisuke Tanaka, Liaison Officer for Science and Technology, visited the Kyoto Campus on July 14, 2022 to meet with President Toshihide Ibaraki, Vice President Yoichi Terashita, and Professor Koji Ueda, who has experience in educational support projects of the Japan International Cooperation Agency (JICA).
The group first visited the Kyoto Ekimae Satellite, where they toured the KCG Museum, which exhibits and preserves computers and other equipment from the past, and classrooms equipped with the latest equipment, before viewing a video history of the KCG Group in the main hall.After the discussion, the students seemed interested in KCGI's efforts as a professional graduate school to nurture IT and business professionals, the "specialties" that focus on various areas of IT, and the curriculum that offers many lectures in English mode.He was particularly interested in Professor Ueda's technical guidance activities in the neighboring country of Mozambique through a JICA project.The students continued to observe online web programming-related lectures in English mode and moved to the Hyakumanben campus to see the new school building that will be completed soon.
International students from all over the world visit KCGI to study cutting-edge IT and business.Since 1989, the KCG Group has been supporting overseas computer education in more than 20 countries, including many African countries, dispatching teachers to conduct local seminars, creating curricula, and collaborating with governments and universities in those countries to build a global educational network.It is hoped that this visit will deepen exchanges between the KCG Group and universities and research institutions in the Republic of South Africa.