May 1, 2015 marks the 52nd anniversary of KCG Group's founding.On this day, a commemorative ceremony was held at the main hall of the Kyoto Ekimae Satellite, Kyoto Institute of Information Science, where students and faculty members celebrated together, reaffirmed the mission to support the IT industry in the future, and pledged to make further progress.
At the ceremony, Professor Shigeru Eiyasu, Vice President of Kyoto College of The Kyoto College of Graduate Studies for Informatics (KCGI), began by explaining, "Since its establishment, KCG has always taken steady steps forward with a pioneering spirit.Prof. Eno Mukai of KCGI continued with a lecture titled "My Path to KCG - From Wabun Kenkyu to KCGI".Professor Mukai first met the first director, Mr. Shigeo Hasegawa, and the current director, Ms. Yasuko Hasegawa, when he was in high school at the Wakayama Prefecture private school "Wabun Ken Seminar" and has been under their guidance for many years since.The history of the KCG Group was introduced, citing their personalities and inspirational words.Students and faculty listened attentively and seemed to reflect on the weight of 52 years of history.
The foundation of the KCG group is the "FORTRAN Research Group", which was established on May 1, 1963 by a group of former students of the Department of Astrophysics, Graduate School of Astrophysics, Kyoto University.This was a workshop for academic researchers at the university for the use of the IBM 7090.It was the first information education institution in Japan, founded by Shigeo Hasegawa, the first president of the school, and Yasuko Hasegawa, the current president, with a great passion and pioneering spirit to discover the potential of computers and to train information processing engineers.
Since then, the school has developed as "Kyoto Computer Gakuin," Japan's first full-time school for the training of computer engineers, and more than 40,000 graduates have left the school in the past 52 years.In April 2004, The Kyoto College of Graduate Studies for Informatics, Japan's first and only IT graduate school, joined as a group school, and both graduates and graduates contributed to the development of the global IT industry in Japan. doing.
Ceremony held to commemorate the 52nd anniversary of the KCG Group (May 1, 2015, Kyoto Ekimae Satellite Hall, Kyoto Institute of Information Science)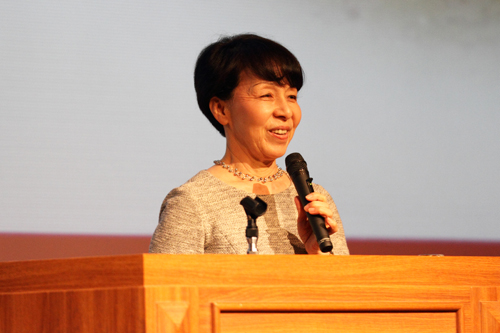 KCGI Professor Eno Mukai delivers a commemorative lecture titled "My Path and KCG - From the Institute of Japanese Literature to KCGI" at the 52nd anniversary ceremony.