Kyoto International Manga & Anime Fair 2012 (KYOMAFU), a manga and anime festival co-sponsored by KCGI and Kyoto Computer Gakuin (KCG), was held at Kyoto Municipal Kangyo Kan (Miyakomesse) from September 21 to 23, 2012.KyoMafu is the largest manga and anime trade fair in western Japan.In addition to exhibits by publishers, animation production companies, video manufacturers, and broadcasting stations, a variety of stage events were held featuring voice actors and other performers.The venue was literally overflowing with manga and anime fans.Many people stopped by the KCGI and KCG booths.
In addition, the Kyoto International Manga Museum, located in Nakagyo-ku, Kyoto City, will hold a special exhibition "GAINAX Style Animation Method: A crowd of people creates animation!~The "The" has begun.The opening event on the 22nd was a talk session entitled "Talking about the GAINAX way of making animation," in which Professor Takeda participated.They talked about the pioneering days of Gainax and the stories behind their high-profile productions.The audience of Gainax fans filled the hall with laughter as Professor Takeda and his Gainax friends told their hilarious stories.
The special exhibition recreates the animation planning and drawing process at the Gainax studio, with desks, whiteboards, and other equipment brought in from Gainax in Tokyo, as well as life-size board drawings of the people involved at Gainax.All of the panels were drawn by Gainax producer Takami Akai himself, and Professor Takeda appears in several places, including the scene where the project is born.
The special exhibition is open through Monday, December 24 (national holiday).Why not take a look?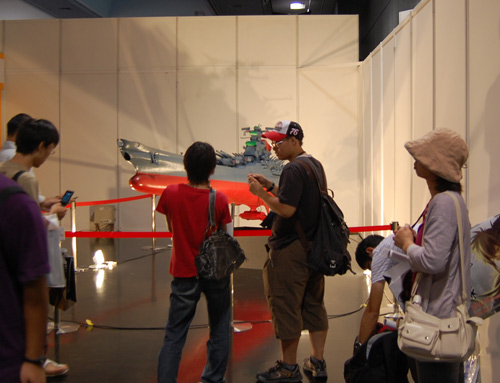 Fans looking at a giant model of Space Battleship Yamato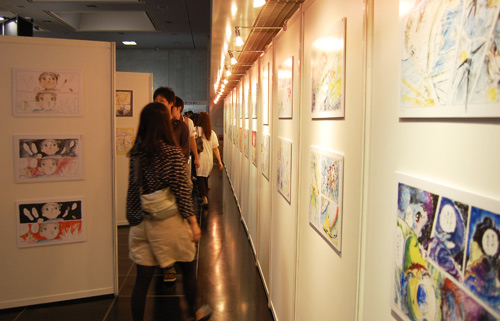 Exhibition of original manga drawings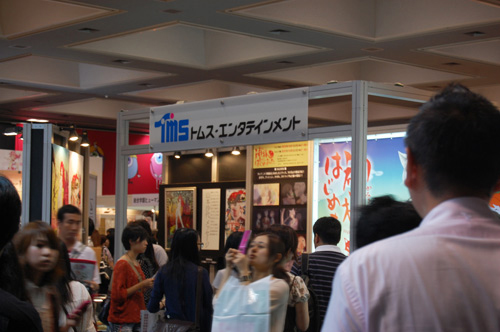 The venue was so crowded that the aisles were overflowing.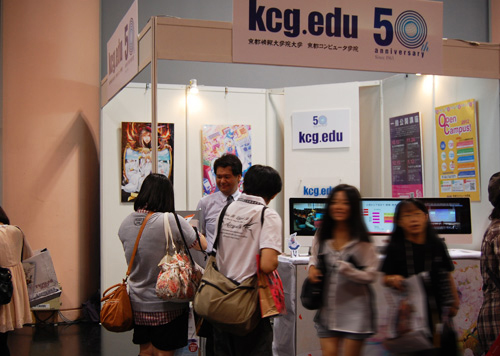 Many people visited the KCGI and KCG booths
Kyoto International Manga Anime Fair 2012
http://kyomaf.kyoto/