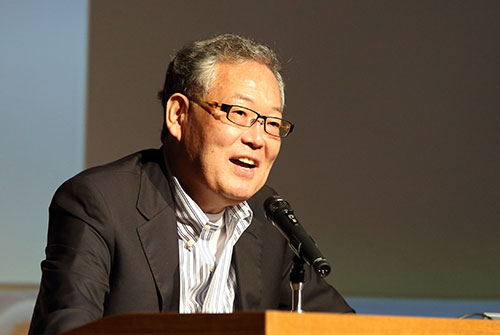 Mr. Norio Murakami gives a lecture titled "What Google is trying to do and new horizon of ICT".
The fifth lecture in the KCG Group's 50th anniversary series, "What Google is Trying to Do and New Horizons for ICT," was given by Mr. Norio Murakami, former President of Google Japan, Vice President of the U.S. headquarters, and Representative of Norio Murakami Office, at the Kyoto Station Satellite Hall of Kyoto Institute of Information Science on April 13.Mr. Murakami introduced the history of Google, which was born in the garage of a private house by a graduate student of Stanford University and has grown into a world-renowned company with about 30,000 employees and sales of about 3 trillion yen. He also explained the company's future strategy and the current Internet trends such as smart TVs and big data in an easy-to-understand manner.In addition to KCG students, many members of the public attended the lecture.
In 1998, three years after the founding of Yahoo, which was in the business of building Internet portals (tables of contents), Google Inc. was born as an indexing company.As for Google's business model, Murakami said, "The basic idea is to organize the world's information and provide a service that people around the world can access for free.The only income is from advertising.Although we are now generating some sales in other areas, about 95% of our sales are advertising revenue," he explained.All of the initial equipment was computers built by employees themselves using soldering irons and wire wrapping.We couldn't buy a computer because we were too cost-conscious to offer it for free," he said.At the same time, Google expanded its search framework to include news, books, location information (Google Maps Earth), and videos through its acquisition of YouTube.YouTube is currently available in 23 countries around the world and is used by 1 billion people per month.
In order to secure servers to support cloud computing services, Google Inc. took advantage of the "Green New Deal" policy of the Obama administration in the United States and set up container-type data centers in various parts of the country.Commenting on the company's current efforts, Murakami said, "Data centers use a lot of electricity to cool computers, but to be 'green,' we have to reduce the cost of this electricity.Google is now refining this technology and beginning to work with renewable energy sources such as solar, offshore wind and geothermal.At the same time, we are constantly working on smart grids," he said.He added that home appliance manufacturers and others are rushing to commercialize "smart meters" and "smart power outlets" that can check electricity consumption via the Internet.
As for the "new horizon of ICT," Mr. Murakami said, "Following the emergence of wearables (small computers that can be worn on the body) such as smart watches and smart glasses, the era of smart TVs is coming next.Smart TVs are a development of conventional TVs that not only add PC and Internet functions, but also have a layered (hierarchical) structure.The layers that support the entire ecosystem will be handled by Google, Apple and Microsoft.As a matter of fact, the "application layer" of billing and delivery management, which connects the "physical layer" (hardware) and the "content layer," which is the responsibility of consumer electronics manufacturers, is completely untouched.There is a huge business opportunity here," he explained.Just as the students in the U.S. took advantage of the business opportunity, I hope that the students in Japan, KCGI and KCG will aim to become the second Google Inc.Regarding big data, he said, "Right now, we are in the 1.0 to 1.5 stage.Research to make computers understand the meaning of sentences, such as artificial intelligence technology, is being urged by the U.S. Department of Defense.In Japan, too, the IT Fusion Forum Expert Committee was established in June this year, and is steadily moving forward.
50th Anniversary Lecture "What Google is trying to do and the new horizon of ICT
http://kcg.edu/50th/events/グーグルがやろうとしていることと, New Horizons in ict/