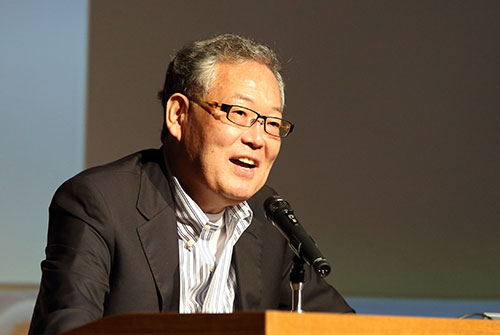 Mr. Norio Murakami giving a lecture entitled "What Google is going to do and ICT's new horizon"
"The Google is going to do it "Horizon" was held on April 13 at the Kyoto University Graduate School of Information Kyoto Hall.Mr. Murakami introduces the history of Google, which has grown into a world-class company with about 30,000 employees and sales of about 3 trillion yen. At the same time, he explained the company's strategy in the future and the current Internet trends such as smart TV and big data in an easy-to-understand manner.In addition to KCG students, many general public attended.
Google was founded in 1998 as an indexing company in 1998, three years after the establishment of the Internet portal (table of contents) business.According to Murakami, Google 's business model is "to organize information around the world and provide services that people around the world can access for free.Revenue is advertising only."Some parts of sales are occurring now, but about 95% of sales are still advertising revenue.""The initial facilities were all computers that employees themselves made using soldering iron and wire wrapping."We couldn't buy a computer because of the importance of cost because it was free," he said.Google has established itself as a "search engine" for the Internet, and at the same time has expanded its search framework one after another, including news, books, location information (Google Map Earth), and videos from YouTube acquisition.Among them, YouTube is currently provided in 23 countries around the world and is said to be used by 1 billion people a month.
In order to secure servers for cloud computing services, Google has adopted the "Green New Deal Policy" of the Obama Administration in the United States, and has set up container-type data centers throughout the country.Mr. Murakami says about the company's current efforts, "Data centers use a lot of power to cool computers, but to achieve 'green', this power cost must be reduced.Google is currently polishing this technology and is working on renewable energy such as solar, offshore wind and geothermal.At the same time, there is no reluctance to study smart grids (smart power grids). "Furthermore, we added that manufacturers of electric appliances are rushing to commercialize "smart meters" and "smart outlets" that can check power consumption on the Internet.
In addition, Murakami said that "the era of smart TV is coming, following the advent of wearables (small computers that can be worn on the body) such as smart watches and smart glasses" as "the new horizon of ICT" It was.Smart TV is a development that has a layered structure in addition to adding PC and Internet functions to a conventional TV."The layers that support the entire ecosystem will be Google, Apple, and Microsoft.In fact, the "physical layer" (hardware) that is handled by home appliance manufacturers and the "application layer" part of billing and delivery management that connects the "content layer" are completely untouched.A big business opportunity is sleeping here. ""Like US students have taken advantage of business opportunities, the next thing is that Japanese, KCGI and KCG students want to become the second Google company."For big data, "Now we are in the 1.0 to 1.5 stage.Research to make computers understand the meaning of sentences, such as artificial intelligence technology, is urgently in the US Department of Defense.In Japan, the IT Fusion Forum Experts' Meeting was launched in June this year, and we are making steady progress.
50th Anniversary Lecture "What Google is going to do and ICT's new horizon"
http://kcg.edu/50th/events/What Google is trying to do and the new horizon of ict /