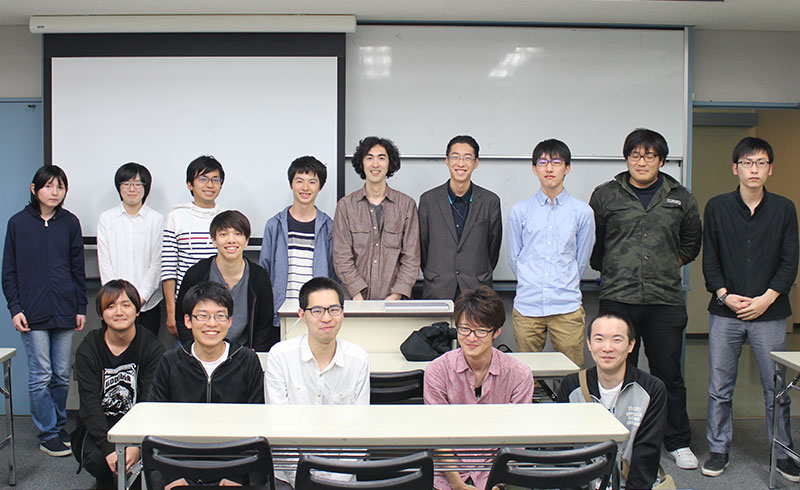 The Future Environment Lab, established by The Kyoto College of Graduate Studies for Informatics (KCGI), Kyoto Computer Gakuin (KCG), and Nihon Unisys, Ltd. in an industry-academia partnership, held the "Re:Kyoto Open Data Hackathon - Think of new forms while using Kyoto's open data -" from June 21 (Thursday) to 29 (Friday), 2018 at KCG Kyoto Ekimae Campus.KCGI and KCG students.
A hackathon is an event for software-related projects in which participants work intensively on ideas and development in a short period of time.With the support of Kyoto Prefecture and Kyoto City, the theme of this year's seminar was set up in conjunction with the "Open Data Seminar: Initiatives in Kyoto Prefecture and Kyoto City" ( https://nic.kyoto/news/2018-06-08.html ) held on May 24 at the Cyber Kyoto Institute, Kyoto Institute of Information Science.Not only students but also KCGI and KCG faculty members, who are also staff members of the Future Environment Lab, participated in this one-week project.The participants not only used open data, but also considered open data that has not yet been released to the public and explored new forms of provision, struggling with the wide range of topics but having a fulfilling time.On the last day, Mr. Kenjiro Higashi, Information Policy Division, Kyoto Prefecture, and Mr. Yugo Yoshikawa of Code for Kyoto (*), who gave lectures at the Open Data Seminar, joined us for a presentation of development results by staff and students.
Future Environment Lab plans to hold various development-related events in the future.We hope you will all join us then!
Code for Kyoto aims to solve local social issues using the power of ICT!We are a citizens' group that has come together with the desire toWith the cooperation of Kyoto City and Kyoto Prefecture, we hold study sessions and hackathons on ICT technology.