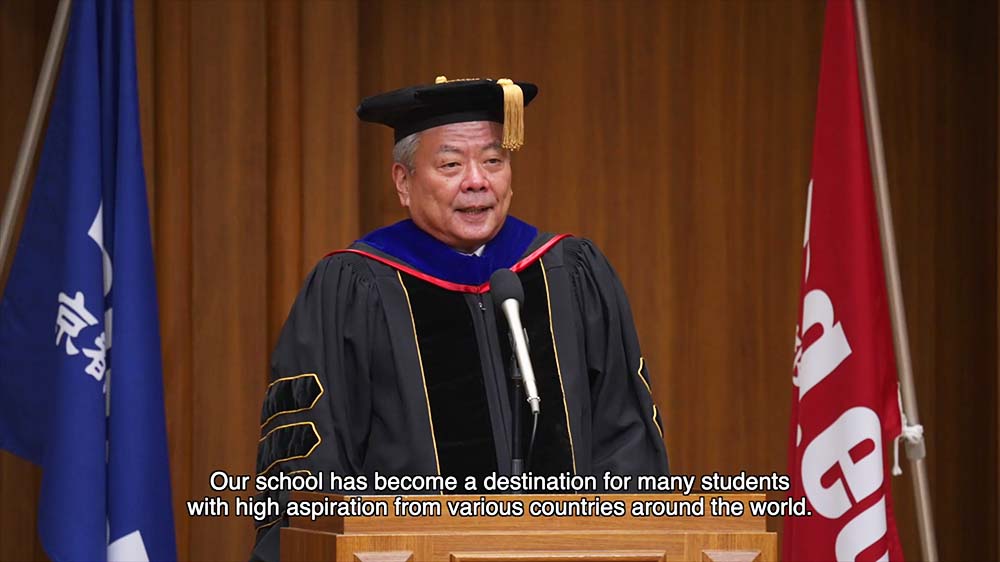 The 2021 degree conferment and graduation ceremonies for Kyoto Computer Guraduate Institute of Informatics (KCGI), Kyoto Computer Gakuin (KCG), and Kyoto College of Global Motor Vehicles (KCGM) were held on Saturday, March 19, 2022, in cyberspace.Due to the prevention of new coronavirus infection, the ceremony was not held in the main hall on campus, and KCG Group President Wataru Hasegawa and KCGI President Toshihide Ibaraki offered their congratulations and words of encouragement to each of the participants in a video-streamed address.A post-ceremony celebration was also held online.Despite the prolonged Corona disaster and the unpredictable social situation, the graduates, who have acquired solid knowledge and skills in IT and automobile maintenance, as well as high qualities to become members of society, have left the school with confidence in their hearts and with their eyes shining with hope.Congratulations to all of you!We sincerely wish you the best in your future endeavors.
In his address, President Hasegawa explained that the ceremony was held in cyberspace to prevent the spread of the new coronavirus infection and to ensure the health and safety of alumni, their families, and others involved.He continued, "At this university, you have acquired a variety of knowledge and skills related to IT, which will be the axis of society and help people.Everything we have learned and experienced will serve as a solid guide for our future as we face the hardships of our lives.The IT field will continue to advance at a dizzying pace, and I hope that you will further hone your skills and contribute to the realization of a better society," he said.He added, "You are also a member of the KCG family, a human network of more than 50,000 alumni and alumnae.The KCG Group is highly regarded in various fields for producing a large number of human resources that meet the needs of society.He expressed his hope that the students will not only cherish the horizontal ties between graduates and alumni, but also the vertical ties between seniors and juniors, and that they will cooperate with and help each other in order to enrich their lives.
President Ibaraki said, "You are all going to play an active role in society, and the first issue for you will be how you can contribute to overcoming this (new coronavirus) pandemic.Not only that, but there are a number of other major problems on this planet that you need to solve," he said, pointing to climate change and population issues.You have gained knowledge of ICT, which is the key to the new era, at our university.We need to join forces and work hard to solve problems," he encouraged.He added, "Our society is in the midst of change.Times of change can also be times of great opportunity if viewed from a different perspective.The world of ICT is changing very fast, so do not settle for the knowledge you have acquired at our university, but always absorb new knowledge and update yourself.I sincerely hope that all of you will keep abreast of the changes of the times, take up the challenges that come your way, and achieve success.
On behalf of the graduates, Mr. Kosuge of KCG's Information Processing Department said, "I enrolled in Kyoto Computer Gakuin's IT Voice Actor Course, where I can not only polish the basics necessary to become a voice actor, but also learn computer knowledge.During these two years, I was able to acquire the basic skills necessary for voice acting, such as vocalization, glibness, and acting, as well as computer knowledge, such as web business and how to utilize IT.In an audition for a voice actor production held on campus, I received the highest evaluation, "passed as a special student," and have been accepted into a training school.I will always keep smiling and do my best to spread my wings as a professional.From this day forward, we will embark on a journey of our own choosing," he said in his graduation address.
At the ceremony, graduates who have achieved outstanding academic and research results and have been selected for the Grand Prize and the Excellence Award were announced.Each will receive a certificate and a commemorative gift.The "Master of Information Technology (Professional)" degree awarded to KCGI graduates and diplomas and title certificates for KCG and KCGM graduates will be mailed at a later date, but will be handed to those who wish to receive them individually.
After the ceremony, an online celebration was held.Graduates, alumni, and faculty members joined the "celebration venue" from their homes and other locations, deepening the friendship between teachers and students amidst smiles and cheers.In small groups, participants reminisced and discussed their dreams for the future.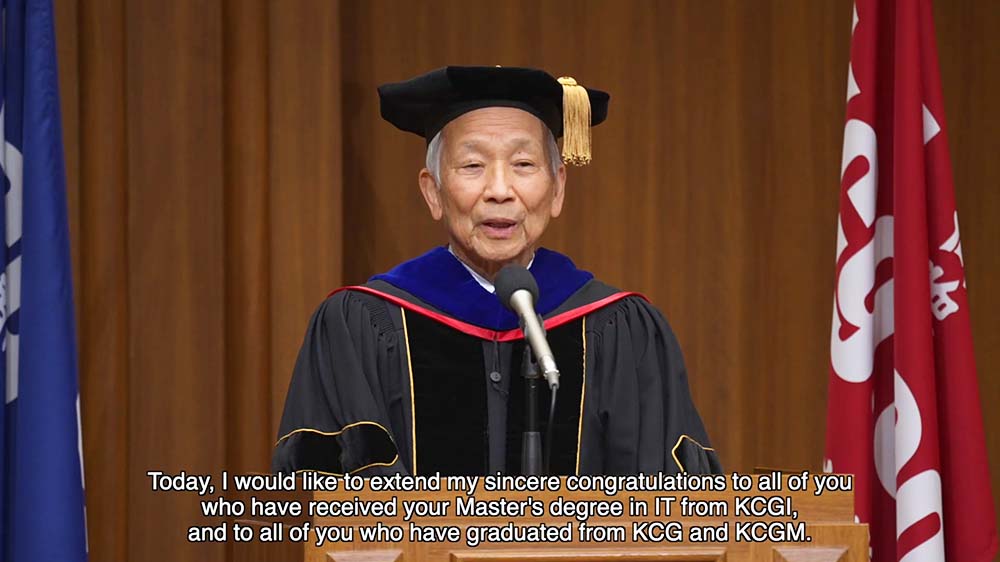 ◇ ◆ ◇ ◆ ◇
The KCG Group continues to make the utmost efforts to prevent the spread of the H1N1 coronavirus, such as by conducting classes and school events in cyberspace, with the utmost concern for protecting the lives and health of students and faculty members.
KCG Group's Response to Prevent New Coronavirus Infections | Kyoto University of Information Science and Technology
https://www.kcg.edu/news/2021/04-15