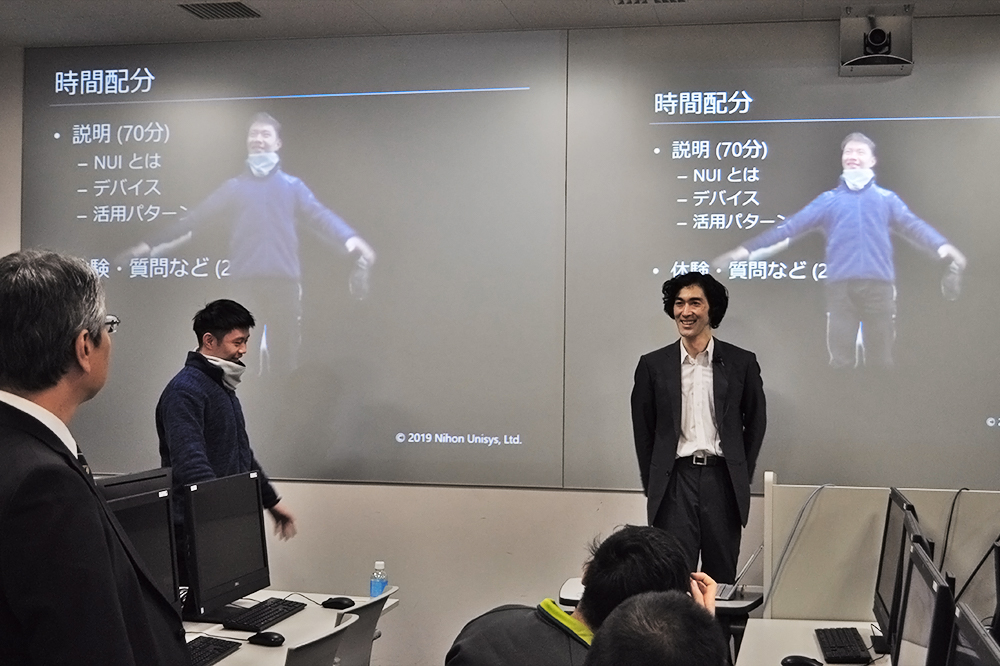 Kyoto Information Graduate University (KCGI) is offering lectures and seminars jointly with leading companies in the field of applied information in order to foster the next generation of IT human resources in cooperation with industry and academia.In the fall semester of 2019, a major IT service company, Nihon Unisys Co., Ltd. (Headquarters: Koto-ku, Tokyo, President Akira Hiraoka, listed on the First Section of the Tokyo Stock Exchange) (Director, Akihiro Haneda) and a seminar "Advanced Applied Informatics" "A" with Gainax Kyoto Co., Ltd., whose professor Yasuhiro Takeda serves as the representative director, and successive lectures on "practical animation production theory".Students interact with instructors at the forefront, deepen their discussions, and develop advanced practical skills and creativity.
"Applied Informatics Cutting Edge"-Transforming young people's flexible ideas and creativity into new innovations
A joint seminar with Nihon Unisys, Advanced Cutting-edge A in Information Science, has been open since November 2019 at the Kyoto Ekimae Satellite."Introducing the latest IT case studies by corporate researchers" aims to connect the flexible thinking and creativity of young people who will play a role in the future IT industry to new innovations through exchanges between KCGI faculty, researchers and students. You.The joint seminar will be held eight times until January 2020.
In addition to Professor KCGI of Isao Akiyama, Director of the Institute's 246 Laboratory, and Keio Sakamoto, associate professor of the Institute who is also involved in the KCG Group's "Future Environment Lab", KCGI Associate Professor In the form of omnibus lectures conducted by people on each theme, the basics of various IT are explained according to the student's level, while cutting-edge examples are introduced.By doing so, students are considering how to apply this technology to bring about innovation to society as a whole, and aim to spontaneously investigate the deeper aspects of technology.
At the time of Associate Professor Sakamoto, who is engaged in research and development on user interface (UI), NUI (Natural User Interface) with UI classification, especially touch, pen (handwritten character recognition), voice, air gesture, VR, AR, etc. Was explained along with typical related technologies and products.Specific examples include calligraphy software that uses "character input and character recognition in the air" developed by Associate Professor Sakamoto. Using an infrared sensor, shake hands in the air to write and recognize characters. ,The students seemed excited.
"Practical Anime Production Theory"-Significance of Learning in Kyoto, the Capital of Culture
The continuous lecture "Practical Animation Production Theory" jointly with Gainax Kyoto, etc., has been held 12 times from October 2019 to February 2020 at Hyakuman Campus, Kyoto Main School.In addition to Professor Takeda, Takami Akai, President of Yonago Gainax Co., Ltd., who worked on "Gurren Lagann" as a producer, gave a lecture as a lecturer, and in the actual animation industry, on concrete methodologies at the time of animation planning and production. Let's take a look at an example.
In the round of Akai's charge, a specific animation was set up, assuming that a new anime with volleyball as the subject was planned, and that at least 29 characters would be required for allies alone.If 13 animes in one cool hit, the second season will be 13 animes. In order to excite the story, it is necessary to introduce at least 2-3 enemies of powerful teams, about 30 people, He explained that it is necessary to draw nearly 60 characters in total.President Akai said, "Sports in high school have almost the same gender, age, and shape of team members.It is the genre that is the hardest to draw, and techniques are necessary for that. "He revealed the difficulties behind animation production, and said," The relationship between the hero and the rival, the character and background of each other character, etc. It is important to create a character while contrasting it, "he emphasized while actually drawing illustrations of beautiful characters on the whiteboard.
After the lecture, President Akai emphasized, "It is meaningful to teach Japanese culture animation in Kyoto, the cultural capital.""The animation industry is currently in a transition period, and with the development of IT, I feel strongly that the world is looking for images.From now on, it will be an era for Tokyo-based independent writers to produce and send out anime using IT, rather than being concentrated in Tokyo, so I would like to nurture such human resources through lectures. " Was.