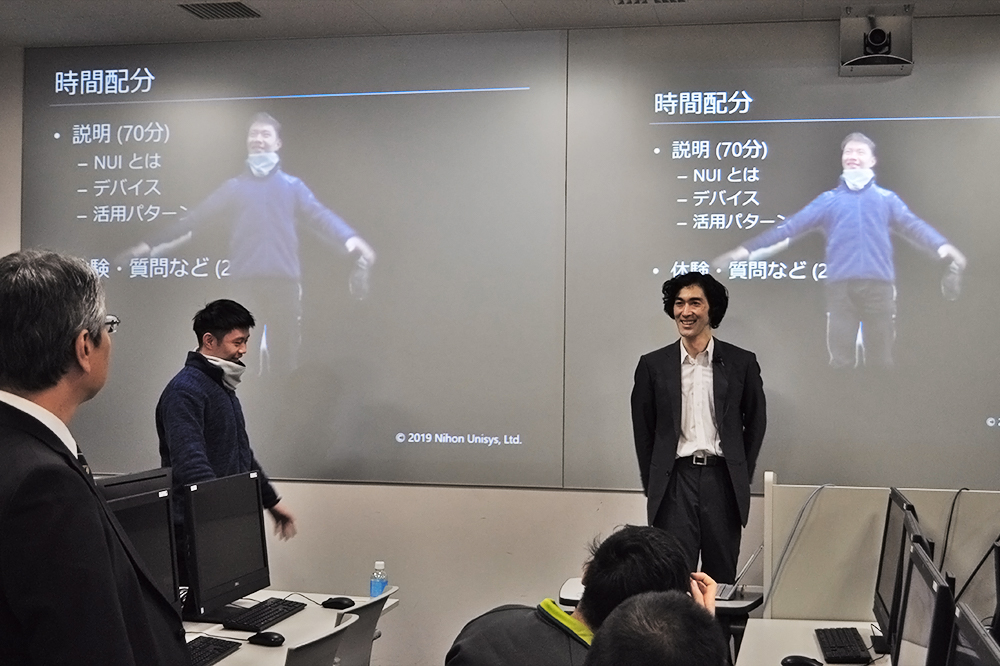 The Kyoto College of Graduate Studies for Informatics (KCGI) is offering lectures and seminars jointly with leading companies in the field of applied information in order to foster the next generation of IT human resources in cooperation with industry and academia.In the fall semester of 2019, we will offer the seminar "Advanced Applied Informatics A" with the General Technology Research Institute (Director: Akihiro Haneda) of Nihon Unisys, a major IT service company (Head office: Koto-ku, Tokyo; President: Akiyoshi Hiraoka, listed on the TSE 1st section), and the lecture series "Practical Animation Production" with Gainax Kyoto Corporation, of which Professor Yasuhiro Takeda is the president, and others.Students hone their advanced practical skills and creativity while interacting and deepening discussions with lecturers who are active on the front lines.
Cutting Edge of Applied Informatics" - Turning the flexible ideas and creativity of young people into new innovations
A joint seminar with Nihon Unisys, "Advanced Applied Informatics A," is being offered at the Kyoto Ekimae Satellite starting in November 2019.The aim of this event is to connect the flexible ideas and creativity of young people who will lead the IT industry in the future to new innovations through exchanges among KCGI faculty, KCGI researchers, and students under the slogan, "Introduction of the latest IT case studies by corporate researchers.The joint seminar will run for eight sessions until January 2020.
In addition to KCGI Professor Isao Akiyama, director of the institute's Office 246, and KCGI Associate Professor Keiho Sakamoto, a researcher at the institute and a key player in the KCG Group's "Future Environment Lab," seven researchers from the institute will give an omnibus lecture on different topics, explaining various IT basics to suit the students' level while introducing cutting-edge examples.This is intended to encourage students to think about how they would use this technology to bring innovation to society as a whole, and to spontaneously investigate deeper aspects of the technology.
Associate Professor Sakamoto, who is involved in research and development of user interface (UI), explained the classification of UI, especially NUI (natural user interface) using touch, pen (handwriting recognition), voice, aerial gesture, VR, AR, etc., along with typical related technologies and products.As a concrete example, Associate Professor Sakamoto introduced actual calligraphy software developed by him that uses "character input and character recognition in the air." The students seemed excited by the experience of writing and recognizing characters by waving a brush in the air using an infrared sensor.
Practical Animation Production Theory" - Significance of Studying in Kyoto, the Cultural Capital of Japan
The "Practical Animation Production Theory" series of lectures in collaboration with Gainax Kyoto and others will be offered 12 times from October 2019 to the following February 2020 at the Kyoto Main School Hyakumanben Campus.In addition to Professor Takeda, Takami Akai, President of Yonago Gainax Corporation and producer of "Gurren Lagann" and other works, will speak on specific methodologies for planning and producing anime, using actual examples from the anime industry.
In President Akai's session, he envisioned a new anime project with volleyball as its subject matter, and specifically set out that at least 29 characters would be needed for the allies alone.He explained that if an anime with 13 episodes per season were to be a hit, 13 episodes would be produced for the second season, which would require the appearance of at least 30 enemies from 2-3 strong teams, for a total of nearly 60 characters to be drawn in order to make the story exciting.President Akai said, "In high school sports, the gender, age, and body shape of team members are almost the same.The hardest part of the genre is to draw the characters differently, and it requires technique," he said. "It is important to create characters by 'contrasting' the relationship between the main character and his rivals, and the personalities and backgrounds of the other characters," he stressed, while actually drawing fluid character illustrations on a white board.
After the lecture, President Akai emphasized, "It is significant to teach animation as a part of Japanese culture in Kyoto, the cultural capital of Japan.The animation industry is in a transitional period, and with the development of IT and other factors, I strongly feel that 'the world is looking for images.The time will surely come when independent artists in rural areas will be able to produce and transmit animation using IT, rather than being concentrated in Tokyo.