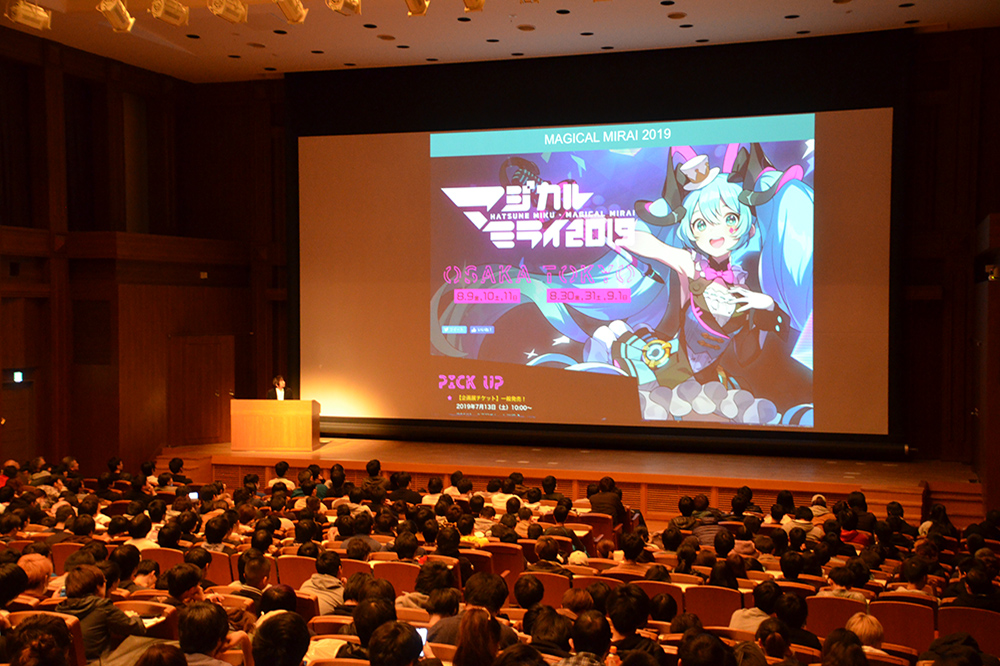 On November 29, 2019, Professor Hiroyuki Ito of Kyoto College of Computer and The Kyoto College of Graduate Studies for Informatics (KCGI), the creator of the world's most popular Vocaloid (VOCALOID) "Hatsune Miku" and President of Crypton Future Media Inc.Professor Ito explained the birth of "Hatsune Miku", its growth, efforts in voice technology and 3DCG technology, and its wide-ranging development in Japan and abroad, using video clips.Students listened intently to the cutting edge of the content business.
Hatsune Miku" is a virtual idol created on August 31, 2007.It is a software program that sings a song by voice synthesis when lyrics and melody are inputted, and is also a popular "character" of 158 cm tall, 42 kg, and 16 years old.Live concerts are held not only in Japan but also overseas, symbolizing the Cool Japan movement to promote Japanese culture to the rest of the world.
In his lecture titled "The Potential of Digital Content Learned from Hatsune Miku," Professor Ito introduced Crypton's business and explained the basics of computer music, explaining that "Vocaloid is a virtual instrument that synthesizes human voices, and 'Hatsune Miku' is the world's first singing software that combines Vocaloid technology with characters, developed by Crypton in collaboration with Yamaha Corporation.
The characterization of Hatsune Miku was so successful that people began to create not only music, but also illustrations of Hatsune Miku's appearance, computer graphics, cosplay, etc., and post them on the Internet, creating a chain of creative activities that spread on a global scale.Professor Ito explained, "(Hatsune Miku) tends to be thought of as mainly a voice synthesizer and the characters as an afterthought, but thanks to the characters, it can be said that a chain of creativity was sparked.In addition, licenses are made available to the public for processing rights to creative works, and a content submission site, "peer pro", is established.Professor Ito said, "We have made it a rule that works submitted here can be used for other works as long as they are by users of the site.We took care to create an environment that facilitates the birth of creativity," he revealed.
Twelve years have passed since the birth of "Hatsune Miku," and as a result of secondary and tertiary creations by creators, the ways of expression have expanded beyond singing and voice to include dance, animation, cosplay, figures, and other forms.Commercialization continues with fashion, opera, robots, racing teams, games, Japanese drums, and collaborations with popular TV cartoon characters.Professor Ito said, "We are expanding the range of activities of 'Hatsune Miku' and developing it into diverse fields.
Hatsune Miku" has been performing and appearing at many events in Japan and abroad.Event tours were held in three European cities, Taiwan, Hong Kong, Shanghai, and Beijing at the end of 2018 and in 2019.In Japan, "Cho-Kabuki" was performed at the Minami-za Theater in Kyoto in August, "SNOW MIKU" (Snow Miku) was performed in collaboration with the Sapporo Snow Festival, and there have been many performances on large stages, such as jazz and taiko performances and symphony concerts.
Dr. Ito became a professor at KCGI in April 2013.In recognition of his international activities and technological innovations, he was awarded the Medal with Blue Ribbon in the fall of 2013.KCGI and KCG have a reciprocal class auditing system.Not only students studying content business at KCGI, but also KCG students in art and design, digital games, computer science, IT voice acting, and other content-related courses can learn a lot from Professor Ito's efforts.