The Kyoto Informatization Seminar (co-hosted by Kyoto Small and Medium Enterprise Technology Center and supported by Kyoto Industry 21 Foundation, Advanced Technology Research Institute of Kyoto, Kyoto Chamber of Commerce and Industry, and IT Consortium Kyoto) was held on October 28, 2014, at the Kyoto Station Satellite Hall of Kyoto Institute of Information Science.Members of the association, KCGI and KCG students, and the general public attended.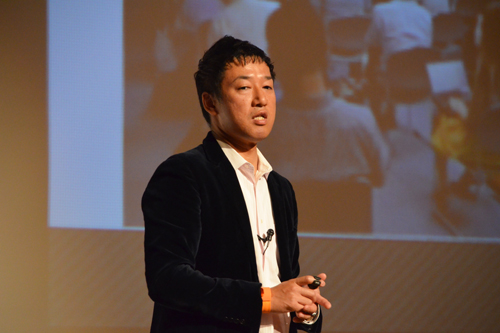 Mr. Reihiko Sugimoto, President of Brilliant Services and core staff member of the Japan Wearable Device User Group, speaking on "Wearable Computers of the Future: MIRAMA's Future and Creativity".
After introducing himself and tracing the history of the company he founded, Mr. Sugimoto began his presentation by examining the "Google Glass" and "Apple Watch" wearable computers that have already appeared on the market.He said that the fashionability of these products has not yet been evaluated highly. "There is a battery problem, and the size is still too large, which spoils the fashionability," he said.However, in anticipation of the emergence of a large market for wearable computers to replace smartphones in the near future, major semiconductor and fashion industries are paying a great deal of attention," he explained.He discussed the development process and future prospects of MIRAMA, a consumer wearable OS developed by Sugimoto's company.
He also noted that "computers evolve quickly, and the weak (losers) and strong (winners) in the industry are quickly replaced," and urged the students in the audience to "definitely start your own business while you are still a student.When you run a company, you make a lot of contacts, and in many cases, just because you are young, they are willing to help you.Even if you fail, you have little to lose, and you will be recognized for having taken on such a challenge while you were a student, and you will have no trouble finding a job.Great opportunities lie ahead in the computer industry.There is a good chance of great success," he stressed.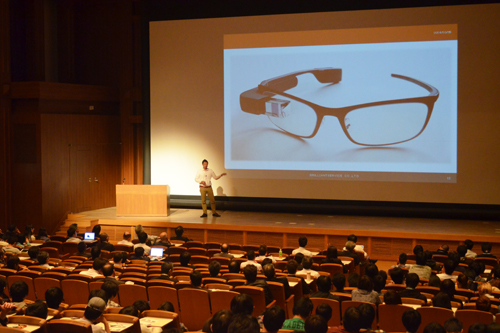 Mr. Sugimoto reviewed the wearable computers that have already appeared and stated the need to pursue fashion.