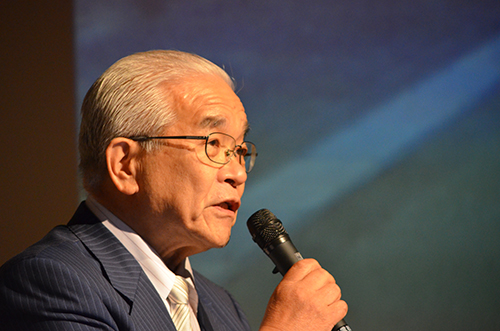 Mr. Kunihiko Araki, Chairman of Heian Seisakusho Co.
Mr. Kunihiko Araki, Chairman of the Board of Directors of Heian Corporation, gave a lecture entitled "Future Manufacturing: Challenges of Small and Medium Enterprises" at the Kyoto Station Satellite Hall of The Kyoto College of Graduate Studies for Informatics on Wednesday, July 3, as the eighth lecture commemorating the 50th anniversary of the founding of the KCG Group.Mr. Araki said, "The future of manufacturing cannot stand without IT.I hope that all of you will study hard with the spirit of "taking charge of Japanese industry" in IT," he urged the students.The public was invited to attend the lecture.
Mr. Araki began his presentation by describing Heian Seisakusho, which has been in business for more than 70 years.The company had long operated a plant in Kyoto for the manufacture of automotive parts using its proprietary stamping technology, but moved to Takashima City, Shiga Prefecture in 2003.He also revealed that before the new building of KCG Kyoto Ekimae School was constructed, it was the site of the company's mold factory.One of the company's proprietary press working technologies is "integrated drive plate," which is used to start the engine of a car equipped with an automatic transmission.Mr. Araki said, "We were determined never to move a factory overseas just to seek labor cost reductions.As a result of our patient development, which combined improvements in manufacturing methods with IT-based technology, we were able to produce products at a lower cost than those manufactured in China and other Southeast Asian countries," he said.
Regarding Japanese industry, he introduced technological developments in unknown fields that emerged after the war, such as instant ramen noodles and light bulb sockets, and then stated, "Japan took a cue from Western manufacturing, added new ideas, and developed a culture of original technology, placing itself at the top of the world's manufacturing.Unfortunately, however, they have been defeated in terms of cost, leading to the current hollowing out of the domestic market," he pointed out.However, wages in China have risen 60% in the past three years and the effect has faded, so the current trend is toward gypsies seeking a new home in Myanmar and other countries," he said, stressing that the current slight depreciation of the yen due to Abenomics is an opportunity to revive manufacturing in Japan.
He said, "If you aspire to create new technologies, you should work patiently and never give up, utilizing IT while keeping abreast of the environment and circumstances.If this builds up, Japanese industry will revive.I hope you will all lead the way in this effort," he concluded.
Commemorative Lecture "Manufacturing in the Future: Challenges for Small and Medium Enterprises
http://kcg.edu/50th/events/株式会社平安製作所荒木邦彦氏講演/