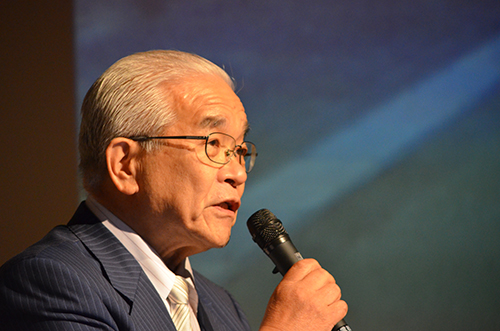 Mr. Kunihiko Araki, Chairman of Heian Seisakusho Co., Ltd., giving a lecture entitled "Future Manufacturing" Challenge of SMEs "
On July 3rd (Wednesday), the 8th edition of the 50th Anniversary Lecture of the KCG Group, Kyoto Information The Graduate University was held at the Kyoto Ekimae Satellite Hall.Araki says, "Manufacturing in the future will not go without IT.I would like students to study IT with the spirit of "leading to Japanese industry".The general public also attended the lecture.
First, Mr. Araki explained about Heian Works, which has been in business for over 70 years.The company has long been operating a factory in Kyoto for the manufacture of automobile-related parts using its unique press processing technology, but in 2003 moved to Takashima City, Shiga Prefecture.Before the construction of the new building in front of KCG Kyoto Station, it was revealed that it was the site of the company's mold factory.One of the original press processing technologies, "Drive plate integrated product", is a part used to start an engine of an automobile equipped with an automatic transmission, and is assembled by welding two conventional parts (press plate and cutting gear). This technology is said to have achieved a 30% cost reduction with a technology that succeeded in forming thickened teeth with a press.Mr. Araki said, "We decided that we would never relocate factories overseas to reduce labor costs.As a result of patiently developing technology using technology to improve the construction method, we were able to create a product that was more cost-effective than those produced in Southeast Asia such as China. "
Regarding the Japanese industry, after introducing technological developments in unknown fields such as instant noodles and light bulb sockets that were born after the war, "following European and American manufacturing, add new ideas to develop a culture of original technology, It was at the top of world manufacturing.But unfortunately, it has lost its cost and has led to the current hollowing out of the country. ""We moved the factory to China, which has low wages, but the wages in China have increased by 60% over the past three years, and the effect has faded. "And emphasized that the current depreciation of the yen due to the Abenomics effect is an opportunity to revive manufacturing in Japan.
In the future of manufacturing and technology development in Japan, it will be quantified to remain in the next generation, and IT will be indispensable for that. "If you wanted to create a new technology, use IT while grasping the environment and situation. Don't give up and work patiently.If it accumulates, the Japanese industry will revive.I would like everyone to take the lead and do their best. "
Commemorative Lecture "Future Manufacturing" Challenge for SMEs ""
http://kcg.edu/50th/events/Lecture by Kunihiko Araki, Heian Manufacturing Co., Ltd./