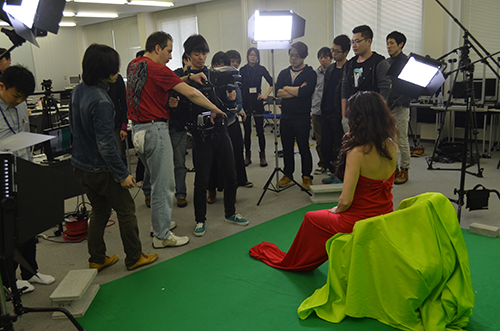 KCGI and KCG students working on a promotional video for "Ethereal Flight" of "MUΣA" in the "Performing Arts and IT" lecture.Ms. Nizza is in the foreground and Ms. Kirill is in the red T-shirt in the center left.
Nitza Melas, main vocalist of the entertainment group "Cirque du Soleil" and professor at The Kyoto College of Graduate Studies for Informatics (KCGI), gave the lecture "Performing Arts and IT" at KCGI Kyoto, Kyoto Computer Gakuin (KCG) Kamogawa School and Design College, and Kyoto Ekimae School in April 2015, following last year's lecture.This time, Kirill Kosik, an artist active in Hollywood, U.S.A., also joined in the instruction.KCGI and KCG students are working on a promotional video for a song (vocal by Nizza) on the KCG Group's 50th anniversary CD album "MUΣA," released in October 2014, to learn how IT is used in entertainment and to study front-line technology from staff who are active on the world stage.
In addition to being a vocalist, Ms. Nizza is also active as a dubbing artist for commercials and video game characters.He teaches a class in the IT Voice Actor Course, newly established in 2014 in the Information Processing Department of the C Department (Computer Science) at KCG, introducing the use of IT in his own activities while teaching vocal techniques and other skills.In addition to students in this course, students from other departments and KCGI are also taking the course to deepen their understanding of digital sound processing through songs and animation postrecording.
Kirill Kosik is a veteran Hollywood artist.His visual effects credits include "300", "Elysium", "Grand Illusion", "After Earth", "InAPPropriate Comedy", "L.A." and "The Lost City". Gang Story," "The Leatherface Family Strikes Back" and "Silent Hill: Revelations 3D," among many others.I also did the artwork for the CD album "MUΣA".
The song that will be the subject of this promotional video is "Ethereal Flight".On April 18, a green screen was set up in a classroom at KCGI's main campus in Kyoto, and students were assigned to camera, lighting, and effects crews.Based on the storyboard, everyone worked together under the guidance of Ms. Nitza and Mr. Kirill to create a scene in which Ms. Nitza sings while wandering in the water.This footage will be moved to KCG Kamogawa (Design College) and edited using visual effects and compositing software, and finished up in the digital sound studio at KCG Kyoto Ekimae School, using the latest equipment to add sound recording and other sound techniques.A video presentation will be held, and the date and time are under consideration.
Ms. Nizza said, "The lecture will be an opportunity to learn about stage production using IT.The students are the main actors in the creation of the promotional video.I want them to actively challenge themselves in a variety of things," he said.
On October 10, 2014, a concert was held at the Kyoto Ekimae Satellite Hall of the Kyoto Institute of Information Science to commemorate the release of the KCG Group's 50th anniversary CD album "MUΣA" and the launch of the geographical name top-level domain ".kyoto" for which the university serves as the registry operator.The concert was planned and directed by students who took the "Performing Arts and IT" lecture, and realized the creation of performing arts through IT.A promotional video, directed, filmed, performed, produced, and edited by students, and a chorus sung by members of KCG's U-Choir Choral Circle added to Nizza's singing, attracting a large crowd of visitors.MUΣA" contains 16 songs, including "Se Thelo", "Cauda Pavonis", and "Jupiter", which opened the 50th anniversary of Kyoto Computer Gakuin (KCG) and the 10th anniversary of The Kyoto College of Graduate Studies for Informatics (KCGI), held at the Kyoto International Conference Hall on June 1, 2013.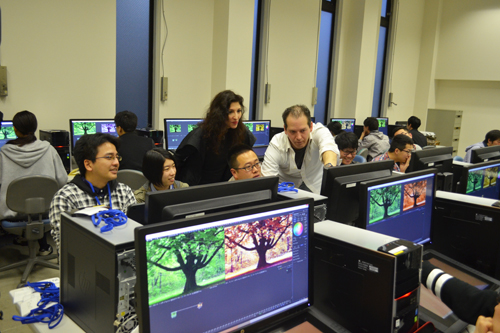 After the video is shot, editing is done utilizing compositing software and other tools.Ms. Kirill and Ms. Nitza carefully instructing from the basics at KCG Kamogawa School (Design College) on April 20.