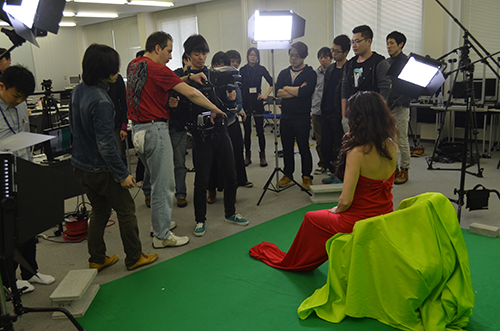 KCGI and KCG students working on a promotional video for "Ethereal Flight" of "MUΣA" in the lecture "Performance and IT".Nitza in the foreground, red T-shirt in the center left is Kirill = April 18, KCGI Kyoto Main School
Lecture "National Performing Arts and IT", the main vocalist of the entertainment group "Cirque du Soleil" and led by Kyoto University of Information Graduate Studies (KCGI) Professor Nizza Melas, last year, April 2015, KCGI Kyoto Main School and Kyoto It is offered at Computer School (KCG) Kamogawa School, Design College, and Kyoto Station School.This time, Kirill Kosik, an active artist in Hollywood, USA, joined the instruction.KCGI and KCG students worked on making a promotional video for the music (vocal: Nizza) that was made on the 50th anniversary CD album "MUΣA" announced in October 2014. As well as knowing how is being used, I am learning frontline technology from staff who are active in the world.
In addition to the vocalist, Nizza is also active as a voiceover for commercials and game characters.I was in charge of the IT voice actor course that was newly established in 2014 at the Information Processing Department of KCG's C (Computer Science) department, and introduced the fact that IT is being used in my own activities. I am teaching.In addition to students from this course, students from other departments and KCGI are also taking classes to deepen their understanding of digital sound processing through songs and post-recording animation.
Cyrill Cosic is an experienced Hollywood artist.The visual effects work is "300 (Three Hundred) Imperial Attack" "Elidium" "Grand Illusion", "After Earth", "InAPPropriate Comedy", "LA There are many such as "Gang Story", "Devil's Sacrifice Leather Face Family Strikes Back", "Silent Hill: Liberation 3D".I also worked on the artwork for the CD album "MUΣA".
The theme song for this promotional video is "Ethereal Flight".On April 18, KCGI Kyoto main school classrooms were prepared with green screens, and the students decided to take charge of the camera, lighting, and effects groups.I imagined the scene of Nizza singing while wandering in the water, and all of them worked together under the guidance of Nizza and Kirill based on the storyboard.This video was moved to KCG Kamogawa School (Design College) and edited using visual effects and synthesis software. At the digital sound studio at KCG Kyoto Station School, sound technology such as post-recording was added using the latest equipment. However, I will finish it.We are planning to set up a video presentation and we are considering the date and time.
Mr. Nizza said, "Lectures provide an opportunity to learn about creating a stage using IT.Students are the main players in making promotional videos.I want you to actively challenge various things. "
Announcing the 50th anniversary CD album "MUΣA" of the KCG Group and a concert to commemorate the start of the operation of the top name domain ".kyoto", where the University serves as a management operator (registry). On October 10th, it was held at Kyoto Information University University Kyoto Station Satellite Hall.The concert was planned and directed mainly by students who received the lecture "Theatrical Arts and IT", and the creation of performing arts by IT was realized.A large number of students visited the promotion video that the students were in charge of directing, shooting, appearance, production and editing of props and props, and chorus by members of the KCG chorus circle U-Choir added Nika to the song Fascinated people."MUΣA" includes "Se Thelo" and "Cauda Pavonis", as well as the 50th anniversary of Kyoto Computer Gakuin (KCG) founded at Kyoto International Conference Center on June 1, 2013, and Kyoto Information Graduate University (KCGI) was founded. There are 16 songs including "Jupiter", which celebrated the opening of the 10th anniversary celebration.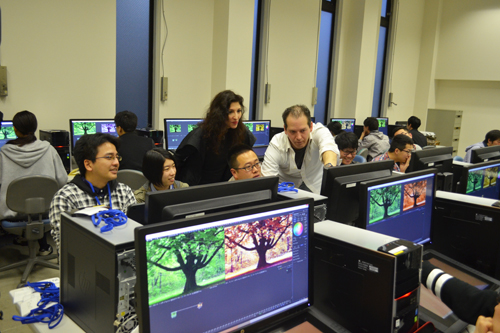 After video recording, editing work is done using composite software.Kirill and Nizza are teaching carefully from the basics = April 20, KCG Kamogawa School (Design College)