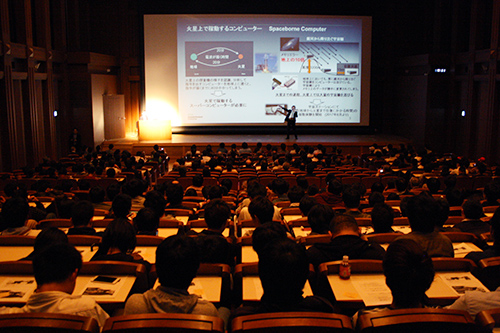 KCGI Kyoto Ekimae Satellite Main Hall where the Informatization Seminar was held
KCG, such as The Kyoto College of Graduate Studies for Informatics (KCGI) and Kyoto Computer Gakuin (KCG), titled "How will computers evolve in 2020 (next-generation computers)?" A Kyoto computerization seminar hosted by the Kyoto Information Industry Association, chaired by the President of the Group, Mr. Wataru Hasegawa, Chairman of the Group, was held at the KCGI Kyoto Station Satellite Large Hall on October 19th. Many students listened eagerly.The speakers were Shingo Yamanaka, HPE (Hewlett Packard Enterprise) Evangelist Leader and HPE General Evangelist, and Masazumi Koga, HPE Certified Open Source and Linux Technology Evangelist, both from Hewlett Packard Japan.
Mr. Koga cited the explosive increase in the amount of data on the Internet, which is expected to reach 40 zB (zettabytes), and the accompanying increase in power consumption as challenges facing the ICT industry by 2020.This project aims to improve the power efficiency and efficiency of computers from the hardware side through the adoption of uniform access to all data, Universal Memory technology that takes advantage of both memory and hard disks, and a connection method (photonics) that links CPUs and memory using light instead of copper wires.
Mr. Koga then introduced Docker as a technology that reduces the effort of system developers to develop applications.Docker is software that manages "containers" to realize a multi-OS environment by separating application processes within a single OS. By adopting this technology, application developers can start application development immediately without the need to install an OS.This technology is expected to improve the working environment for developers and reduce stress in the ICT industry, where the number of applications developed is increasing while development time is shortening.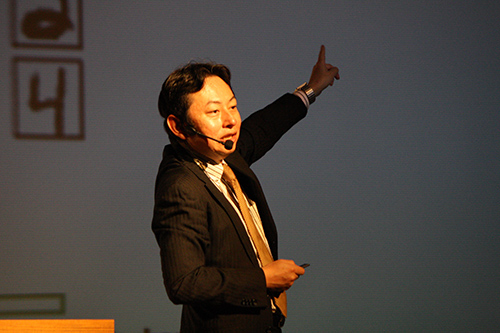 Shingo Yamanaka, Hewlett-Packard Japan, speaks passionately about next-generation computers.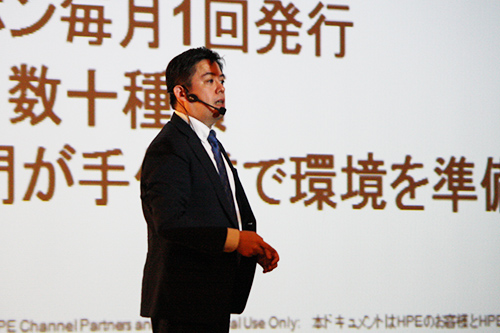 Mr. Masazumi Koga, Hewlett-Packard Japan, explains Docker technology.