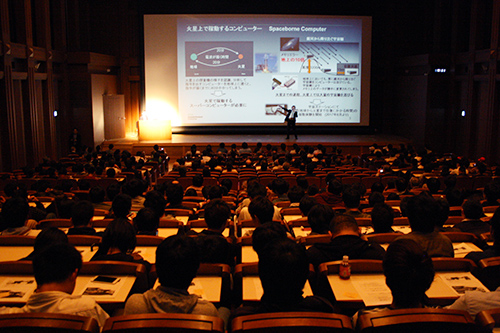 KCGI Kyoto Station Satellite Hall, where the Information Seminar was held
KCG, such as Kyoto Information Graduate University (KCGI) and Kyoto Computer Gakuin (KCG), titled "How will computers evolve in 2020 (next-generation computers)?" A Kyoto computerization seminar hosted by the Kyoto Information Industry Association, chaired by the President of the Group, Mr. Wataru Hasegawa, Chairman of the Group, was held at the KCGI Kyoto Station Satellite Large Hall on October 19th. Many students listened eagerly.Mr. Shingo Yamanaka, HPE (Hewlett Packard Enterprise) evangelist leader and HPE general evangelist of Hewlett-Packard Japan, and Masami Koga, HPE-certified open source Linux technology evangelist, gave a lecture.
Mr. Koga cited the explosive increase in the amount of data on the Internet, which is expected to be 40ZB (Zetabyte), and the accompanying increase in power consumption as challenges facing the ICT industry toward 2020. He introduced HP's "The Machine" project to develop next-generation computers.This project is based on uniform access to all data, universal memory technology that takes advantage of both memory and hard disk, and connection method (photonics) that connects CPU and memory with light instead of copper wire. Since then, it has been attracting attention as a promising next-generation computer.
Next, Mr. Koga introduced Docker as a technology that reduces the system developer's effort to develop apps.This Docker is a software that manages a "container" that realizes a multi-OS environment by separating application processes within a single OS. By adopting this technology, application developers can save the effort of OS installation. , Immediately began to work on application development, and in fact HP reported that the time required for application development was reduced to less than half.This technology is expected to improve the working environment and reduce stress of developers in the ICT industry, where the number of application developments is increasing, but the development period is shortening.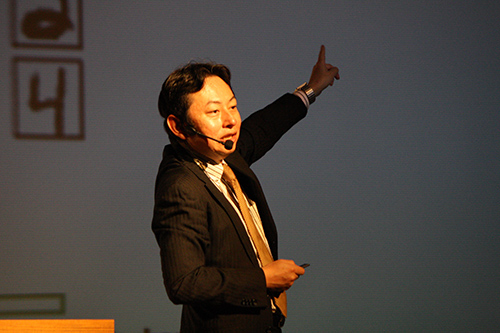 Shingo Yamanaka from Hewlett-Packard Japan, who talks enthusiastically about next-generation computers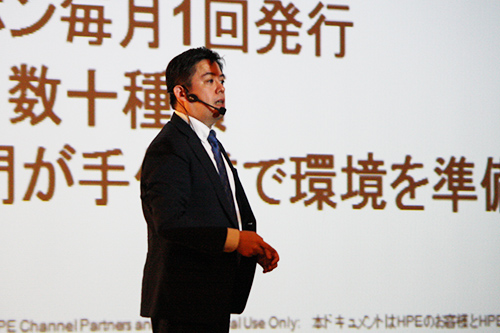 Masazumi Koga of Hewlett-Packard Japan, explaining Docker technology