On May 26th (Sat), a lecture by international pianist Akiko Sugitani was held at Kyoto University Graduate School of Information.Mr. Sugitani's piano concert was originally scheduled for this day, but he was suddenly changed to a lecture because Mr. Sugitani was hurt by intense practice.
Mr. Sugitani from Wakayama City.From the experience of air raids in the Pacific War, I met with the piano, passed Tokyo Art University, studied and debuted in the home of classical music in Germany, and talked for about an hour.It was explained mainly by Beethoven, the most well-respected left hand with an uninterrupted left hand, by playing various themes.
On this day, KCGI and KCG students, as well as the general public, listened with interest to Mr. Sugitani.At the question time after the lecture, many questions such as "How to keep motivation when mastering difficult songs" were given, and Mr. Sugitani answered carefully.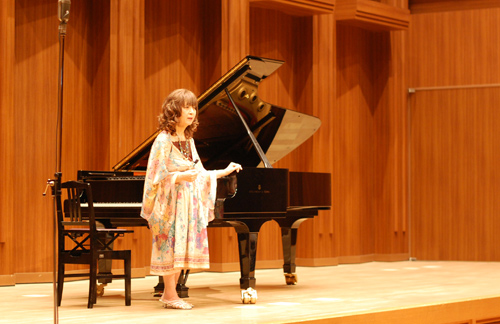 Akiko Sugitani giving a lecture