The KCG Group's autumn classical concert "An Afternoon of Clarinet and Piano" was held on Saturday, October 29 at the Kyoto Station Satellite Concert Hall of the Kyoto University of Information Science and Technology, featuring Emmanuelle Neveu, principal clarinetist of the Tokyo Symphony Orchestra, and Akiko Sugitani, a leading pianist in Japan.
Seven pieces were performed, including encores, such as "Sunny Morning" by Paul Jean-Jean and "The Maiden with the Flaxen Hair" by Debussy.The audience seemed to be very satisfied with the performance, with Emanuel Neveu giving an enthusiastic performance of Adolf Schreiner's "Immer Kleiner," in which he disassembled the clarinets in order and finished the piece using only the mouthpiece, and the two men talked between performances, which drew laughter from the audience.
Emmanuelle Neveu, a native of France, graduated from the Conservatoire National Supérieur de Musique de Paris and is currently the principal clarinetist of the Tokyo Symphony Orchestra.Akiko Sugitani studied in Germany after graduating from Tokyo National University of Fine Arts and Music, and made her debut in Europe.He is one of Japan's leading pianists, performing with top orchestras, releasing albums, and serving as a jury member of international piano competitions.Through his friendship with the first dean of KCG, he has been performing in KCG's cultural education classes and giving recitals at KCG.
Since 1980, the KCG Group has held various cultural lectures and classical music concerts to cultivate the intellect and sensitivity of students, and has provided opportunities for the general public to enjoy these events.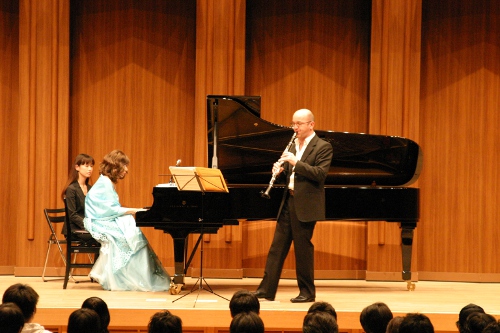 The clear clarinet tones of Emmanuelle Neveu and Akiko Sugitani's piano performance enchanted the visitors.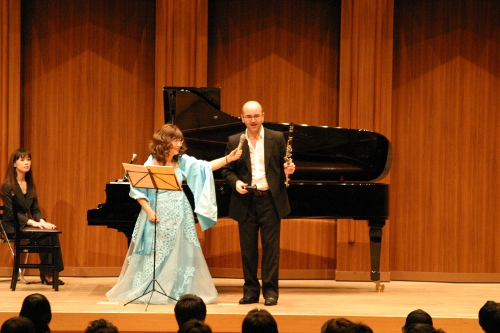 In between the performances, the two talked to the audience, which drew laughter from the audience.