KCG Group's Autumn Classic Concert "Afternoon of Clarinet and Piano" was held on Saturday, October 29, at Kyoto University Graduate School Kyoto Station Satellite Concert Hall, with Tokyo Symphony Orchestra Chief Clarinetist Emanuel Nouveau, Japan Pianist Akiko Sugitani, a representative of, gave a wonderful time to the many general people and students who visited by studying the clear clarinet and playing the piano.
Seven songs including encores such as Paul Jean-Jean's "Sunny Morning" and Debussy's "Flame Hair Maiden" were performed.Adolf Schleiner's "Inmer Kleiner", which disassembles the clarinet in order and finishes the song with the mouthpiece at the end, is a hot performance by Emanuel Nouveau. The visitors were very satisfied.
Emmanuel Nouveau was born in France, graduated from the Paris Conservatoire and is now a principal clarinetist at the Tokyo Symphony Orchestra.Akiko Sugitani studied abroad in Germany after graduating from Tokyo University of the Arts and debuted in Europe.He has been active as a pianist representing Japan, including numerous co-stars with leading orchestras, album announcements, and jury for the International Piano Competition.There is also a friendship with the first director of KCG, which has been performed in KCG culture education classes and has been holding recitals at KCG.
The KCG Group has been holding various cultural lectures, classical music concerts, etc. since 1980 in order to cultivate students' intellect and sensibility.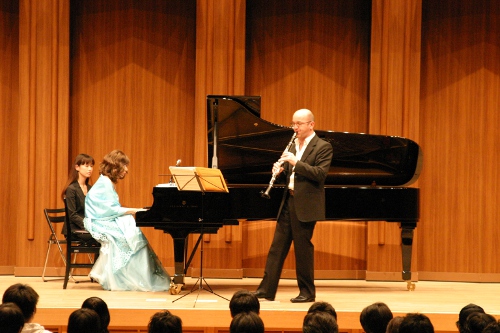 Emanuel Nouveau's clear clarinet tone and Akiko Sugitani's piano performance attracted visitors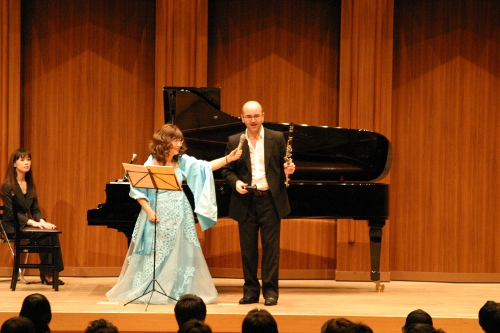 There was also a talk between the two between the performances, and invited the venue to laugh