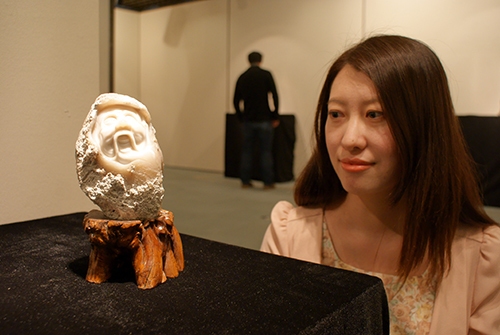 KCGI student Mr. Zhang, who held an exhibition of Menou sculptures at the Kyoto International Community House.The work is "Raku," a work of confidence.
Chinese student Zhang Chao from The Kyoto College of Graduate Studies for Informatics (KCGI) and his friend Shao Yi, who lives in Sagamihara City, recently held an exhibition of sculptures at the Kyoto International Community House, hoping to deepen cultural exchange between Japan and China through traditional Chinese agate crafts.The exhibition featured 12 works, including "Le" (meaning "Laugh"), a work that Zhang is very proud of, all brought from China for the enjoyment of visitors.
The works are full of expression of grapes and gourds, making use of the natural milky white and deep green tints unique to the artist's work.The "Raku" is a rendition of an elderly person smiling. "People tend to think that getting old is sad, but I wanted to express my wish that we should always smile and live positively, no matter how old we get," says Zhang.
The agate is hard and requires a lot of force to carve, even with a special tool.Although he does not have the materials and space to make his sculptures in Japan, Mr. Zhang hopes to somehow secure materials and space to resume his sculpting activities and hold exhibitions in Japan.