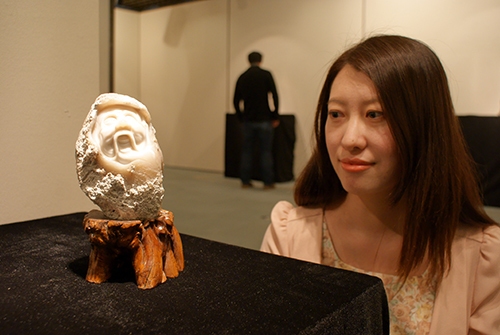 Ms. Zhang, a KCGI student, held an exhibition of menou sculptures at the Kyoto International Community House.The work is a confident work "Raku".
Zhang Chao, a Chinese student at Kyoto College of Computer Science and Graduate Institute (KCGI), and his friend Shao Hui, a resident of Sagamihara City, recently held an exhibition of their sculptures at the Kyoto International Community House, hoping to deepen cultural exchanges between Japan and China through traditional Chinese menondo handicrafts.He introduced 12 works, all of which he brought from China, including "Le" (meaning "laugh"), a work in which Mr. Zhang is very proud.
This is a collection of masterpieces depicting grapes, gourds, etc., while making the most of the natural milky white, deep green, and other rich colors unique to Tohno.Ms. Zhang says, "People tend to think it's sad to grow old, but I wanted to express my wish that we should always smile and live positively, no matter how old we are.
It is said that agate is hard and requires a lot of force to carve even with special tools.Although there is no material to fit in Japan and no place to make sculptures, Mr. Zhang hopes to somehow secure materials and a place to make them, resume his sculpting activities, and hold exhibitions in Japan.