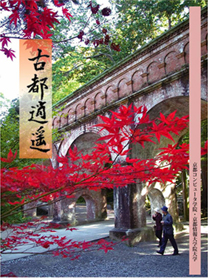 To celebrate the 100th birthday of Dr. Teiichiro Yoneda, advisor of Kyoto Computer Gakuin, on December 11, 2009, KCGI and KCG published a booklet written by Dr. Yoneda, "Shoyo Ancient Capital - Celebration of 100 Years".
This book is a compilation of nine articles contributed by Dr. Yoneda to "Shoyo Ancient Times" in "Accume," the annual alumni magazine published by KCG for alumni, students, and others involved with KCG.Ancient City Shoyo" is one of the popular series of "Accume", which traces the history of Kyoto Computer Gakuin by visiting the area around the school building.The very life that Dr. Yoneda has led in Kyoto, a place that he loves very much, is engraved on the walls.Please read on.
The booklet is A5 size, 154 pages (some pages in color at the beginning), and costs 1,500 yen (including tax).
◇Purchase order for "Shoyo the Ancient Capital: A Celebration of 100 Years".

Available at The Kyoto College of Graduate Studies for Informatics, Kyoto Computer Gakuin Shohoku School, Kamogawa School, and Kyoto Station School.
*If you wish to have your application mailed, please contact us at the address below.
1 Jodoji-banba-cho, Sakyo-ku, Kyoto 606-8412, Japan
Phone number: 075(762)2030