Three students from our university participate in a short-term Korean language training program held at National Jeju University in Korea, which has an academic exchange agreement with KCGI.
Participants from our university are Mr. Tsujiro, Keiko Tanaka, and Mr. Daigo Takahara.At the entrance ceremony held in the seminar room of the university on the afternoon of the 9th, 37 students from Japan, China, Indonesia, Russia and others gathered.
From now on until 21st, while living in the dormitory of the university, students will learn Korean and Jeju culture through various on-site learning such as trying on Korean costumes, trying on a folk costume, experiencing a woman, riding a horse, and visiting a museum. To learn.In addition, it seems that we will build friendships beyond the country with students of the same university who participate as assistants in the program.
In September 2006, KCGI and Jeju National University signed an academic exchange agreement for the purpose of education and research in the ICT field and mutual human exchanges. In September 2008, both students attended on the Internet. An agreement was reached on the possible cyber campus in Japan and Korea.In November 2010, we signed an agreement to operate a dual degree program that allows students to obtain master's degrees from both sides while exchanging credits.
The University is affiliated with higher education institutions around the world, including Korea and China, and there are many opportunities for such international experiences.The three students who participated this time will also have a meaningful international experience and will come back one size larger.I'm looking forward to it.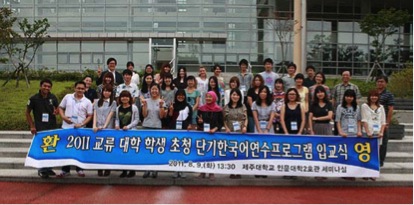 It looks like an entrance ceremony.(7th from the left in the second row from the front = Ms. Tsuji, 8th = Keiko Tanaka, 3rd from the right in the third row from the front = Mr. Daigo Sugawara)