Two-wheel self-propelled robot runs on the circuit-ET Robocon 2012 Kansai region conference (sponsored by the Embedded Systems Technology Association) on the theme of technical education in the field of embedded software, September 16 (Sun), Kyoto University of Information Studies It was held at the Kyoto Ekimae Satellite Grand Hall, and the student team "Dot Kyoto" of The Kyoto College of Graduate Studies for Informatics (KCGI) won the 8th place for the first time.Although the team did not qualify for the national competition, it was the best result for a student team, and it has set expectations for next year's competition.
The ET Robocon is a competition in which identical two-wheeled self-propelled robots (inverted pendulum using LEGO MINDSTORM NXT) are required to run an obstacle course in accordance with the rules. The objective is to compete in terms of time and obstacle completion, as well as the level of model diagrams that show the concept of the software to be incorporated.KCGI and KCG provide the venue for the Kansai Regional Convention in the form of "special cooperation and hosting cooperation.
Twenty-six teams from all over the Kansai region participated in the competition.The University's "Dot Kyoto" team cleared the basic stage with no obstacles on their first try (OUT course).On the second try (IN course), the robot also cleared the basic stage, but stopped after knocking over the look-up gate (a hurdle through which the robot is tilted on its back) at the next obstacle.This good performance earned him 6th place in the driving category and 8th place overall.
The team consisted of first-year KCGI students Muneaki Urakami, Daisuke Yamauchi, Takanari Hiroto, and Keisuke Yamazaki.Yusuke Kawachi, an alumnus and currently a specially appointed researcher at Osaka University, also assisted.Urakami, the leader of the team, said, "I am glad that we were able to achieve our goal of completing the basic stage this year, thanks to the time and effort we put into it.I would like to pass on this experience as a reference for next year and beyond," he said with a smile.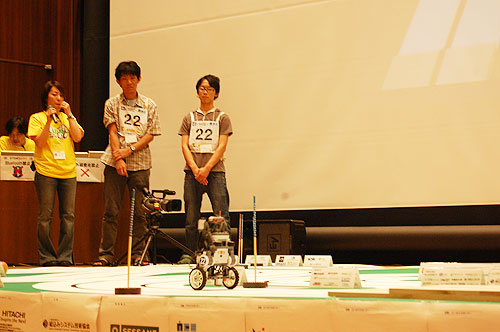 The "Dot Kyoto" robot in the explosion.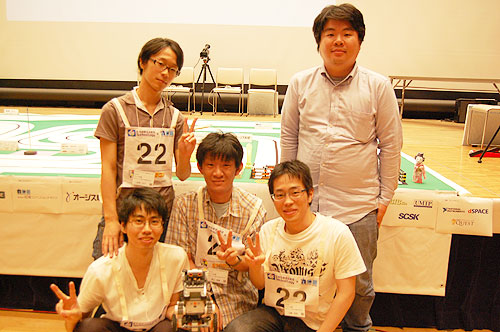 Member of "Dot Kyoto.
Front row, from left: Mr. Hiroto, Ms. Urakami, and Mr. Yamazaki.
Back row, from left, Mr. Yamauchi, Mr. Kawachi