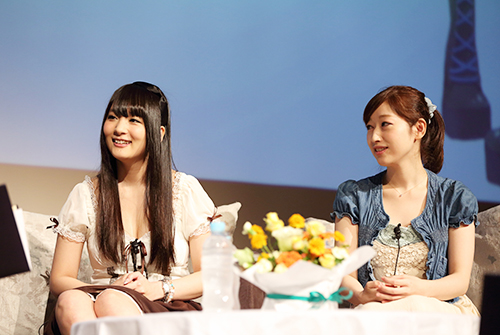 "PC is a friend of entertainment!"Yumi Igarashi (right) and Ayano Yamamoto (center), popular voice actors who develop humorous and boring talks
On Saturday, August 3, Celebrating the 50th anniversary of the KCG Group Theme "I and IT" The fifth talk live, "Popular voice actor Hiromi Igarashi, Ayano Yamamoto PC is a friend of entertainment!" The Kyoto Computer Gakuin (KCG) At the Kyoto Station school, open campus Held at the same time.There were many voice actors who were active in anime, games, and Nico Nico Douga. Many fans visited in addition to the Open Campus participants, and listened to the humorous and boring talks of the two.
Mr. Igarashi, Kyoto, whose mother was born and born in Kyoto, said that he had a personal computer at home when he was a child, but had few opportunities to use it.As for IT, "I don't feel like being directly involved as a voice actor, but I support our activities where I can't see it."
On the other hand, Mr. Yamamoto, "Kyoto has only come on a school excursion in the game", "I have been immersed in online games since high school, and recently I have refrained from overcharging," he said. Laughing, "IT can fix my humorous song neatly, and even if I can't make a musical instrument, I can compose it with just one PC.You can easily create a homepage and a blog, and if you have any questions, you can check them out immediately.I think IT is amazing. "
Furthermore, Mr. Yamamoto said to the students: "IT has made it possible for us to do things that we could not have imagined in the past."Make your head flexible and create great things with IT," says Igarashi, "The idea of manufacturing is the same in any job.I went to university without wanting to do it, but I'm jealous because you have the goal of IT.Please respect the good old things such as history and realize your goals without giving up. "
Mr. Igarashi is widely active as a voice actor, mainly in anime, games and web radio.The main appearances are: ◇ Animation ▽ "Let's use dogs and scissors" (Yoyo Honda) ▽ "AMNESIA" (Orion) ▽ "Carnival" (sheep, 兎) ◇ Game ▽ "Senki of Arcadia" (Uni) ▽ "Senran Kagura SHINOVI VERSUS-Girls' Proof-" (Mino Sato) ▽ "Idol Master Cinderella Girls" (Futaba Anzu) and many more, Nico Nico Live Broadcast's "Yumi Igarashi's channel is open source!Is also gaining popularity.
Mr. Yamamoto is a new voice actor with a career as an actress and talent as well as a wide range of voice actors such as anime, games and web radio.The main appearance works are ◇ Animation ▽ "ROBOTICS; NOTES" (Tennoji Kaoru) ▽ "Steins; Gate" (Tennoji Kaoru) ▽ "Nutsuko."(Nutsuko) ◇ Game ▽" Labyrinth Cross Blood Infinity "(Shizuna Minase) ▽" Senran Kagura SHINOVI VERSUS-Girls' Proof-"(Four Seasons) ▽" Fire Emblem Awakening "(Smia, Cynthia) and many others.▽ "Kokko" (Kokko-chan) ▽ "GMO Click Securities" commercials, ▽ "Garoku ~ MAKAISENKI ~" (Lirica role) ▽ "Mei-chan's Butler" (Hino Eriko role) doing.
Talk Live "Me and IT" series fifth "popular voice actor Hiromi Igarashi, Ayano Yamamoto PC is a friend of entertainment!"
http://kcg.edu/50th/events/Me and IT Hiromi Igarashi, Ayano Yamamoto /