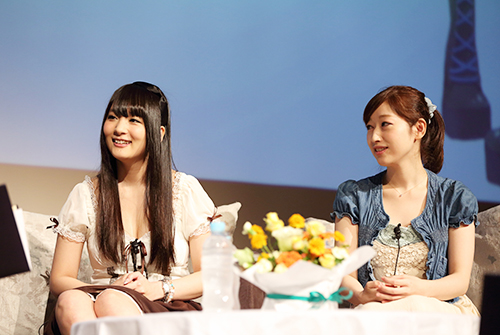 The PC is my entertainment friend!"Popular voice actors Hiromi Igarashi (right) and Ayano Yamamoto (center) talk with humor on the theme of
Popular voice actors Hiromi Igarashi and Ayano Yamamoto will give a talk show titled "Popular voice actors Hiromi Igarashi and Ayano Yamamoto: PC is a friend of entertainment!was held at Kyoto Computer Gakuin (KCG) Kyoto Ekimae Campus at the same time as the open campus.The two voice actors, who are active in anime, video games, and Nico Nico Douga, appeared on stage, attracting many fans in addition to the open campus participants, who listened to their humorous and bouncy talk.
Igarashi, whose mother is from Kyoto and who was born in Kyoto, had a personal computer at home as a child but did not have much opportunity to use it, and only used it to write reports when she became a university student.As for IT, he expressed, "I don't really feel directly involved as a voice actor, but they support our activities in ways that I can't see.
On the other hand, Mr. Yamamoto, who says he has only been to Kyoto for a school trip in a game, said, "I have been immersed in online games since my high school days, and recently I have been refraining from playing them because I have been reflecting on how much I have spent on them.It's easy to create a website or blog, and if you don't understand something, you can look it up right away.I think IT is amazing," he said.
Yamamoto also said to the students, "IT has made it possible to take for granted things that were unimaginable in the past.I hope you will be flexible and create wonderful things with IT," said Mr. Igarashi. "My passion for manufacturing is the same no matter what kind of work I do.I entered college with nothing I wanted to do, but I envy you all because you have the goal of IT.I hope that you will never give up and realize your goals while cherishing the good old things, such as history.
Mr. Igarashi is active as a voice actor in a wide range of fields, mainly in animation, but also in video games and web radio.Major works: ◇Anime: "Yayoi Honda" (Yayoi Honda), "AMNESIA" (Orion), "Carnival" (Sheep, Rabbit) ◇Games: "Senki Arcadians" (Yuni), "Senran Kagura Shinovi Versus: Shoujo-tachi no Shogenobu" (Minori), "Idolmaster Cinderella Girls" (An Futaba) and many others ◇Niconico Live Broadcast: "Hiromi Igarashi's Channel is Open Source!is also gaining popularity.
Ms. Yamamoto is a new voice actress who has not only worked extensively as a voice actor in animation, games, and web radio, but also has a background as an actress and TV personality.Major works include ◇Anime: "ROBOTICS;NOTES" (Tennoji Nene), "Steins;Gate" (Tennoji Nene), "Nukko.(Nukko) ◇Games: "Labyrinth Cross Blood Infinity" (Minase Shizuna), "Senran Kagura Shinovi Versus: Shiki", "Fire Emblem: Awakening" (Sumia, Cynthia) and many others.She has appeared in commercials such as "KOKOKO" (KOKOKO-chan) and "GMO CLICK SECURITIES" and in dramas such as "GARO - MAKAISENKI" (as Ririka) and "Mei-chan no Butler" (as Eriko Hino).
Talk Live "Me and IT" Series No. 5 "Popular Voice Actors: Hiromi Igarashi and Ayano Yamamoto PC is a Friend of Entertainment!
http://kcg.edu/50th/events/私とIT五十嵐裕美 and Ayano Yamamoto/