On January 19, 2013, "Kimiko Nakazawa Violin Recital: A Thousand Tones" was held at the Kyoto Ekimae Satellite Concert Hall of the Kyoto Institute of Information Science, in commemoration of the 50th anniversary of the KCG Group.Ms. Nakazawa and her husband, violinist Dr. Muneyuki Nakazawa, used a violin made from driftwood debris from the Great East Japan Earthquake and Tsunami, and played the piece with Toshiki Usui on piano.The performance was a celebration of the 50th anniversary of the KCG Group, and a wish for the disaster-stricken areas to "convey the memory of the earthquake and hope for those who are striving for recovery," and presented an emotional moment for the many members of the public and students who visited the concert.
It was reported that the Empress had attended a concert with this violin on January 17, prior to the recital.
After performing Beethoven's Violin Sonata No. 5 "Spring", Schubert's "Ave Maria", and Sarasate's "Zigoinelwaizen", Ms. Nakazawa expressed her wish that "the people affected by the Great East Japan Earthquake will be able to return to a normal life as soon as possible and hear the sound of this violin", and chose a Japanese piece, Yamada Kosaku's "Karatachi no Hana" for encore to echo her tone.Prior to the performance, Muneyuki Nakazawa also shared his wishes and passion for the reconstruction of the affected areas.
Kimiko Nakazawa is one of the internationally active violinists and continues to perform throughout Europe, including Vienna and Berlin.In addition to his performance activities, he has been invited to serve as a juror for international violin competitions in Japan and abroad and as a lecturer at international music festivals, and is currently a guest professor at Shobi Gakuen University and its graduate school.
Ms. Usui has received numerous awards, including first prize at the Cantu International Competition and special prize at the Viotti International Competition, and has performed at international music festivals and served on juries for international music competitions, including concerts in many countries around the world.He is currently based in Tokyo and Vienna.
Since its foundation, KCG Group has incorporated general education courses into its curriculum to cultivate the intellect and sensitivity of students as well as specialized skills.These events are open to the public for viewing.
Kimiko Nakazawa Violin Recital - A Thousand Tones
https://www.kcg.edu/news/2013/01-11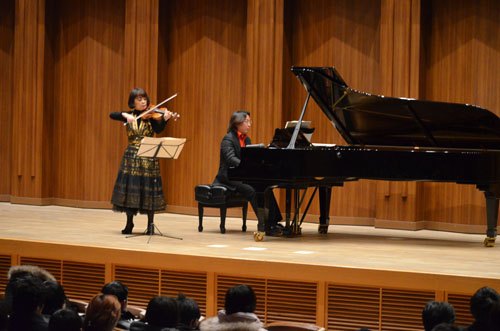 Kimiko Nakazawa Violin Recital - A Thousand Tones of Love" held in commemoration of KCG's 50th anniversary.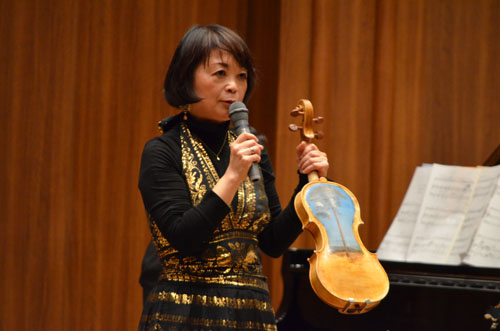 Kimiko Nakazawa shows off a violin she made from driftwood that had been turned into rubble.The reverse side depicts the "Miracle Pine Tree" in Rikuzentakata City, which withstood the tsunami caused by the Great East Japan Earthquake and has been a source of support for the people in the affected areas.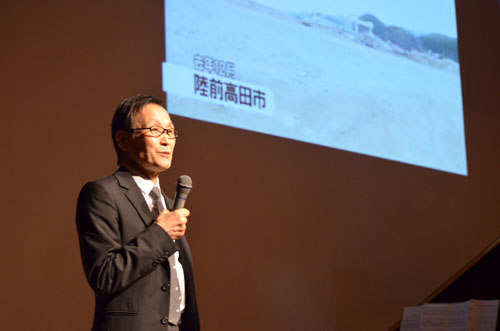 Muneyuki Nakazawa, the husband of the player and a violin doctor, expresses his hopes and passion for the reconstruction of the disaster-stricken areas.