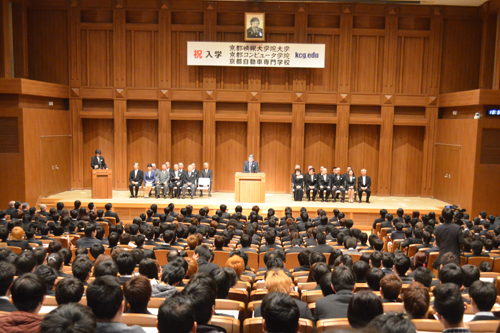 The entrance ceremony for the 2016 Kyoto University of Information Graduates, Kyoto Computer Gakuin, Kyoto Japanese Language Training Center, and Kyoto Automobile College.A large number of new students filled the venue (9 April 2016, Kyoto University of Information Sciences, Kyoto Station Satellite Large Hall)
The entrance ceremony of Kyoto Information Graduate University (KCGI), Kyoto Computer Gakuin (KCG), Kyoto Japanese Language Training Center (KJLTC), and Kyoto Automobile College (KCGM) was held on April 9th (Saturday) at KCGI Kyoto Station Satellite As a result, the future IT and automotive industry colleagues joined the KCG group.There is a strong oath from the freshman representative at the ceremony, "Because we will be able to play an active role in the information society that will continue to develop in the future, we want to learn various things at our university and learn specialized knowledge and technology from teachers and seniors." did.
As the number of students enrolled was much higher than the previous year, the Kyoto University Graduate School of Kyoto Satellite Hall, the main venue, was filled with new students, parents, and related parties, and classrooms and foyer were also used as venues.In addition, many international students with national expectations were enrolled, and their home countries were China, South Korea, Taiwan, India, Nepal, Vietnam, Indonesia, Mongolia, Malaysia, Sri Lanka, Myanmar, Laos, Russia, Tajikistan, Kazakhstan, El Salvador, Germany , Sweden, Spain, Gabon, Mali, Congo, Guatemala, America and so on.
At the beginning of the ceremony, after watching a video introducing the history of the KCG Group, established in 1963 as Japan's first computer education institution, Wataru Hasegawa, President of the KCG Group.Introducing Alan Curtis Kay, the father of computers, says, "The best way to predict the future is to invent it." "To create the future, frontiers that are not bound by existing common sense A spirit and a spirit of challenge are essential.They are also the spirit of our university's KCG group.All the techniques you learn at the University are needed by society and will be directly linked to your future career.Please have your own goals firmly and study hard every day. "
Next, Toshihide Ibaraki, President of KCGI, touched on the steady and rapid progress of ICT (information and communication technology) and artificial intelligence. "Society that welcomes you has changed greatly, so what kind of course should you choose? , You must think about what you do and find a solution.While studying at the University, I received a message saying "Acquire knowledge in as wide a field as possible, and learn how to learn".
In response, Mr. Hayato Kataoka (Department of Information Science, Shiga Prefectural Seta Technical High School), a new student representative, said, "In recent years, the development of information technology has been remarkable and indispensable for our lives.In the near future, advances in AI and artificial intelligence are expected to greatly change industries and societies, and the realization of a richer society is expected.Under such circumstances, it is a pity that the number of incidents of unauthorized use of information technology is increasing.Information processing engineers who support a safe and secure society in today's informatization are required to have high ethics as well as advanced technology and knowledge.We pride ourselves here that we have pride as a student of the KCG Group, work hard to embrace the name, and strive to make the student life meaningful. "
After this, there were orientation and parental gatherings, and students took a new step as members of the KCG family.
Congratulations to all of you.We support you to have a fulfilling student life.