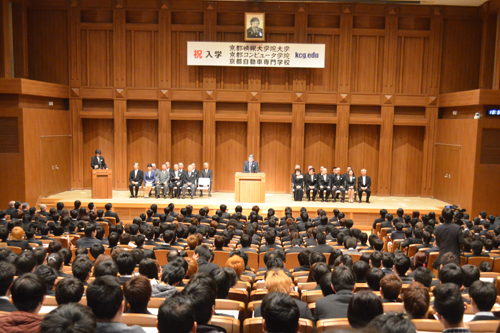 The 2016 entrance ceremony of Kyoto Institute of Information Science, Kyoto Computer Gakuin, Kyoto Japanese Language Training Center, and Kyoto College of Automotive Technology was held in grand style.A large number of new students filled the venue (April 9, 2016, Kyoto Ekimae Satellite Hall, Kyoto Institute of Information Science).
The entrance ceremony of The Kyoto College of Graduate Studies for Informatics (KCGI), Kyoto Computer Gakuin (KCG), Kyoto Japanese Language Training Center (KJLTC), and Kyoto Automobile College (KCGM) was held on April 9th (Saturday) at KCGI Kyoto Station Satellite As a result, the future IT and automotive industry colleagues joined the KCG group.At the ceremony, the representative of the new students made a strong pledge: "I would like to learn and think about various things at this university and learn specialized knowledge and skills from teachers and seniors in order to become a person who can play an active role in the information society that will continue to develop in the future.
With enrollment far exceeding that of the previous year, the main venue, the Kyoto Ekimae Satellite Hall of the Kyoto Institute of Information Science, was filled with new students, parents, and related people, and the classrooms and foyer were also utilized as venues.Many international students with high expectations from their home countries have also enrolled, coming from China, Korea, Taiwan, India, Nepal, Vietnam, Indonesia, Mongolia, Malaysia, Sri Lanka, Myanmar, Laos, Russia, Tajikistan, Kazakhstan, El Salvador, Germany, Sweden, Spain, Gabon, Mali, Congo, Guatemala, the United States, and many other countries.
The ceremony began with a video introducing the history of the KCG Group, which was founded in 1963 as Japan's first computer education institution, followed by a speech by Wataru Hasegawa, KCG Group President.He introduced the words of Alan Curtis Kay, the father of computers, "The best way to predict the future is to invent it," and added, "To create the future, it is essential to have a frontier spirit and a challenging spirit that is not bound by conventional wisdom.And they are also the spirit of our KCG Group.The skills you will learn at our university are all needed in society and directly relate to your future careers.I encourage you to keep your own goals in mind and study hard every day," he said.
Then, KCGI President Toshihide Ibaraki touched on the steady and rapid progress of ICT (Information and Communication Technology) and artificial intelligence, and said, "The society that welcomes you is changing drastically, so each of you must think about and find solutions to what kind of career path you will choose and what kind of work you will do in this society.He sent the following message: "While you are a student at our university, please acquire knowledge in as wide a range of fields as possible, and in addition, learn how to learn.
Masato Kataoka (Department of Information Science, Seta Technical High School, Shiga Prefecture), a representative of the new students, said, "In recent years, information technology has developed remarkably and become indispensable in our daily lives.In the near future, the development of AI and artificial intelligence is expected to bring about major changes in industry and society, leading to the realization of a more prosperous society.In this context, it is unfortunate that incidents of misuse of information technology are on the rise.In today's information-oriented society, information processing engineers who support a safe and secure society are required to have advanced skills and knowledge as well as a high sense of ethics.I take pride in being a student of the KCG Group, and I pledge to study hard to live up to my name and to make every effort to make my student life meaningful.
This was followed by an orientation and parent-teacher conference, where the students took their first steps as members of the KCG family.
Congratulations on your enrollment.We hope you will have a fulfilling student life.