"Kyoto International Manga and Anime Fair (Kyo Mafu) 2017" (Kyoto International Academy / Kyoto Institute of Computer Science, Kyoto University of Information Sciences, Kyoto Automobile College) City sponsorship) was held on September 16th (Saturday) and 17th (Sunday) at the Kyoto City Kyogyokan (Miyako Messe).Many events were held at the KCG group booth, and many people came even though Typhoon No. 18 had arrived.In addition, we invited the voice actor Yuki Yoneuchi as a guest to announce the final and examination results of "Voice Actor in Kyoto Mafu-Voice Actor Kinki Tournament" (cooperation with KCG group) (17th), and KCGI Kyoto as a linked event "CG Ani Cup Japan x Korea" (18th), which was held at the large satellite hall in front of the station, was also exciting.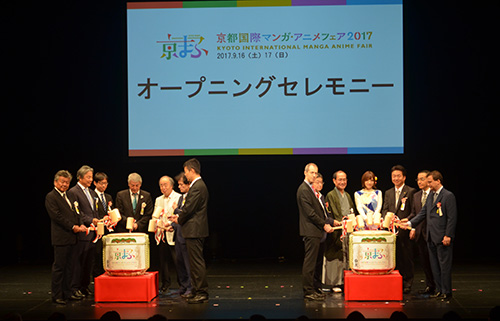 Executive committee members and guests who celebrate the opening of Kyomafu 2017 with mirror opening.At the far left is Hiroshi Hasegawa, President of KCG Group (September 16)
At the opening ceremony on the 16th at the ROHM Theater Kyoto, the chairman of the head of the KCG Group, Mr. Wataru Hasegawa, was on the stage with Daisaku Kadokawa, Mayor of Kyoto, Takayuki Matsutani Executive Committee Chairman (Tezuka Productions Co., Ltd.) and others. We split and celebrated the opening.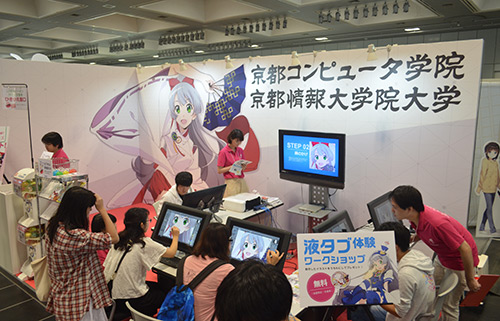 A KCG booth at Kyomafu, which was visited by many people.The "Liquid Tab Experience Workshop" was well received (September 16-17)
At the KCG booth set up at the venue, a KCG mascot character "Kyokotan" goods gacha was installed, and the "Liquid Tab Experience Workshop" was used to color "Kyokotan" using an LCD pen tablet to create an original fan. We had many people participate.The clear file of "Kyokotan" presented to those registered with KCG's LINE @ was also well received.
Kyoto International Manga / Anime Fair 2017 | Kyoto Computer Gakuin
http://www.kcg.ac.jp/event/kyomaf2017.html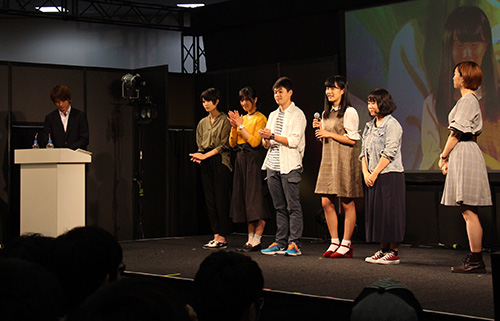 At "Voice actor soul in Kyo-mafu -Voice actor soul Kinki-", 5 people who passed the second screening participated and showed the results of the practice (September 17)
"Voice actor soul in Kyo-mafu-voice actor soul Kinki tournament" aims at the right to participate in the 6th "voice actor soul" final competition, international voice actor contest for junior and senior high school students who want to be voice actors.Five people who passed the second screening held at KCG Kyoto Station School on September 3 challenged to become the Kinki representative.The guest judges are Yuki Uchiuchi, a voice actor known for the role of Maro Kitahara of "Pierche-My Italian" and Haruki Bando of "Cheer Boys".Hideo Momota Director of the International Voice Actor Development Association, Akiyoshi Watanabe Judged with the professor of Kyoto University of Information Sciences, and one of the best awards to participate in the 6th Voice Actors Final Competition held in Tokyo on November 19th, We decided two jury special prizes.After this, there was a talk event by Mr. Yoneuchi, who talked about why he wanted to be a voice actor, his steps so far, and advice for those who wanted to be a voice actor.Please see the "Voice Actors" page for results and details.
Voice actor soul
http://seidama.jp/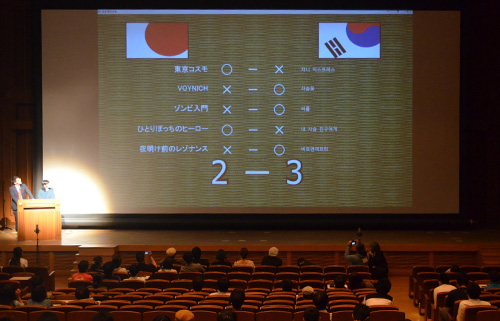 "CG Ani Cup 2017 Japan x Korea" Korea won the championship slightly (September 18)
"CG Ani Cup 2017 Japan x Korea" is hosted by KCG and East Asian Cultural City 2017 Kyoto Executive Committee, Kyoto City, Doga Co., Ltd. (Headquarters 2-5-11 Nihonbashi Nishi, Naniwa-ku, Osaka City) This is a linked event of Kyo Mafu 2017.On September 18th (Monday), KCGI was held at the Kyoto Ekimae Satellite Hall, and many CG and anime fans gathered from all over Japan.As a result of competing for the performance of five anime selected in Japan and Korea, Korea won the championship with a close margin of 3-2.All of them were highly technical and humorous, with high-level works that entertained visitors. CG Ani Cup is a group battle in which CG animation creators bring their works, form teams by country and region, and compete for their performance.The team consists of five people, and works in the same way as in the judo and kendo team battles, show the works in order from the "first player" to the "general", and decide the victory or defeat depending on the applause of the five judges and the visitors It was.
CG Ani Cup
http://cganime.jp/EX/cup