Kyoto International Manga & Anime Fair (Kyo-Mafu) 2017, the largest manga and anime fair in western Japan, was held on September 16 and 17 at the Kyoto International Exhibition Hall (Miyakomesse), sponsored by the KCG Group (Kyoto Computer Gakuin, Kyoto Institute of Information and Kyoto Automobile College).We held many events at the KCG Group booth, and despite the arrival of Typhoon No. 18, many people visited our booth.In addition, the final and judging results of "Seiyu Tamashii in Kyo-Mafu - Seiyu Tamashii Kinki Competition" (supported by KCG Group) were announced on 17th, inviting a voice actor Yuki Yoneuchi as a guest, and "CG Animation Cup Japan × Korea" (18th) was held at KCGI Kyoto Station Satellite Main Hall as an interlocking event.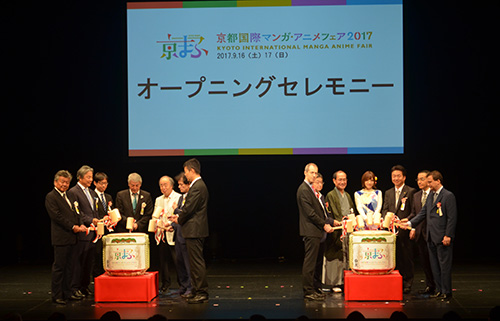 Executive committee members and guests celebrate the opening of KyoMafu 2017 with Kagami-biraki.On the far left is Wataru Hasegawa, Chairman of the Board of Directors of KCG Group (September 16)
At the opening ceremony held on the 16th at the Rome Theater Kyoto, Mr. Wataru Hasegawa, Chairman of KCG Group, celebrated the opening by breaking a mirror on the stage with Mr. Daisaku Kadokawa, Mayor of Kyoto and Mr. Takayuki Matsutani, Chairman of the Executive Committee (President of Tezuka Productions Co., Ltd.).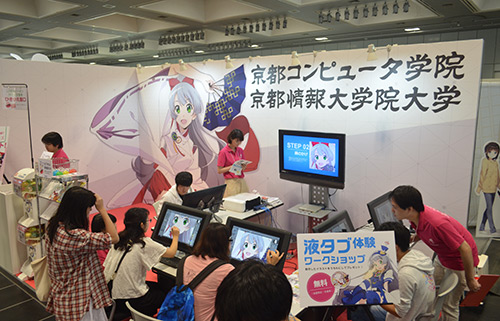 The KCG booth at Kyomafu was visited by a lot of people.Liquid Tab Workshop" was well-received (September 16-17)
At the KCG booth set up at the venue, we set up a gacha (messenger box) with goods of KCG mascot character "Kyokotan". Many people participated in the "liquid tab experience workshop" to make an original fan by coloring "Kyokotan" using an LCD pen tablet.The "Kyokotan" clear file that was given as a present to those who registered for KCG's LINE@ was also well received.
Kyoto International Manga & Anime Fair 2017 | Kyoto Computer Gakuin
http://www.kcg.ac.jp/event/kyomaf2017.html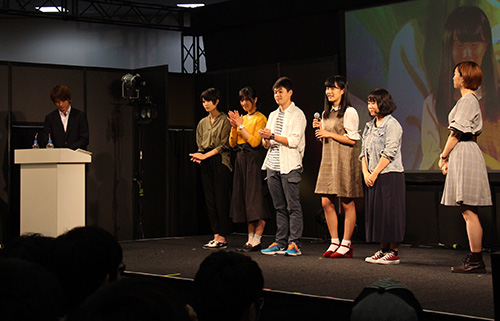 At "Seiyu-Tama in Kyo-Mafu - Voice Actor Soul Kinki Competition", 5 people who passed the second screening participated and showed the results of their practice (September 17).
The "Seiyu-Tama in Kyo-Mafu - Seiyu-Tama Kinki Competition" is an international voice over contest where junior and senior high school students who aspire to become voice actors gather to compete for the right to enter the 6th "Seiyu-Tama" main competition.Five students who passed the second screening held at KCG Kyoto Ekimae School on September 3 challenged to become Kinki representatives.The guest judge is Yuki Yoneuchi, a voice actress known for her roles as Maro Kitahara in "Piache - My Italian" and Haruki Bando in "Cheer Boys".Hideo Momota, director of the International Association for Voice Actor Development, and Akiyoshi Watanabe, professor at Kyoto Institute of Information Graduate University, judged the entries and decided on one Grand Prize winner and two Judges' Special Prize winners who will participate in the 6th Seiyu Spirit Final to be held in Tokyo on November 19.After this, Mr. Yoneuchi had a talk event where he talked about why he wanted to become a voice actor, his journey to date, and advice for those who want to become voice actors.For the results and more information, please visit the "Voice Actor Spirit" page.
voice actor's soul
http://seidama.jp/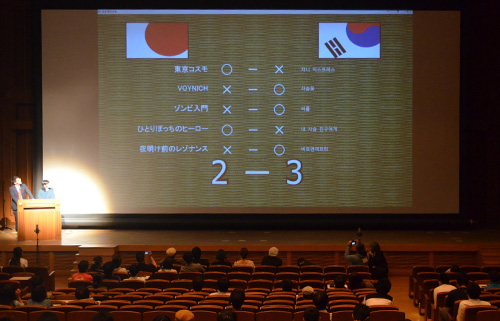 CG ANI CUP 2017 Japan × Korea" (September 18), in which Korea won the championship despite a narrow margin.
CG ANI CUP 2017 Japan × Korea" is an interlocking event of KYOMAFU 2017 organized by KCG, Kyoto Executive Committee of East Asian Cultural Cities 2017, Kyoto City, and Degas Corporation (Head office: 2-5-11 Nihonbashi-Nishi, Naniwa-ku, Osaka City, Representative: Masaru Kamada).On September 18 (Mon.), it was held at KCGI Kyoto Station Satellite Main Hall, where many CG and animation fans gathered from all over Japan.As a result, Korea won the competition by a narrow margin of 3-2.All of them were highly skilled, humorous, and high-level works that entertained the visitors. CG Animation Cup is a team competition in which CG animation creators bring their works to compete in teams of different countries and regions.Each team consisted of five members, and in the same way as in judo and kendo team competitions, they performed their works in order from the "spearhead" to the "general", and the winner was decided by the five judges and the amount of applause from the visitors.
CG Anime Cup
http://cganime.jp/EX/cup