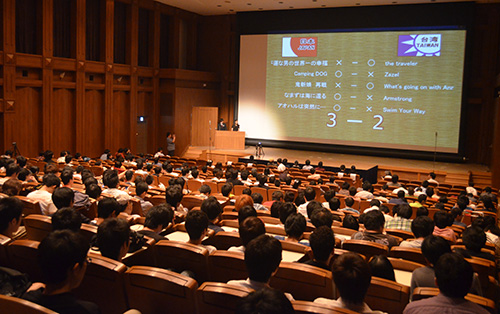 Japan won the "CG-Ani Cup 2015 Japan × Taiwan" by a narrow margin (September 6, 2015, Kyoto Station Satellite Main Hall, Kyoto Institute of Information)
CG ANI CUP 2015 Japan × Taiwan", organized by Kyoto Computer Gakuin (KCG), DOGA Corporation (Head office: 2-5-11 Nihonbashi-Nishi, Naniwa-ku, Osaka City, Representative: Masaru Kamata), and KYOTO CMEX Executive Committee, was held on September 6 (Sun.), 2015 at Kyoto Institute of Information, Kyoto Station Satellite Main Hall.Many CG/animation fans from all over Japan gathered at KCG.As a result, Japan won the competition by a narrow margin of 3-2.All of them were highly skilled, humorous, and high-level works that entertained the visitors.
The students of IT Voice Actor Course of KCG Information Processing Department took charge of the MC and played a role in making the event lively.Prior to the match, KCTO (The Kyoto College of Graduate Studies for Informatics) and KCG President Hiroshi Hasegawa, representing KYOTO CMEX on behalf of the organizer, said, "There are different cultures in different countries of the world, and the work has its own color. Appears.The more such opportunities for exchange are opened, the better it will be for the development of human culture as a whole.Tainan City in Taiwan, which has been focusing on the development of animation culture and industry, has been deepening its cultural exchange with Kyoto City.I look forward to the expansion of international exchange, not only in the field of content, but also in a variety of other areas.Representatives from both Japan and Taiwan expressed their enthusiasm for the match.
CG Animation Cup is a team competition in which CG animation creators bring their works to compete in teams of different countries and regions.Each team consists of five members, and in the same way as in judo and kendo, each member presents their work in order from "spearhead" to "general". The winner is determined by the five judges and the amount of applause from the visitors.This time, Mr. Ryo Akiyoshi, the representative of animation circle "Graphic Park", Mr. Ryosuke Nakanishi, an animation artist, and KCG instructors served as judges.Both Japan and Taiwan were very strong, and the game went down to the last round, which Japan won.
This year's entries will compete in the "Taiwan Ani Cup" to be held in Tainan City, Taiwan on November 23.In Taiwan, the line-up will be changed to new works, and the results may be different if the Taiwanese people judge the films.
This year's CG ANI Cup is positioned as a pre-event of "Kyoto International Manga & Anime Fair 2015" (September 19-20 at Miyako Messe and other venues, co-hosted by Kyoto Institute of Information and Kyoto Computer Gakuin).
CG Anime Cup
http://cganime.jp/EX/cup