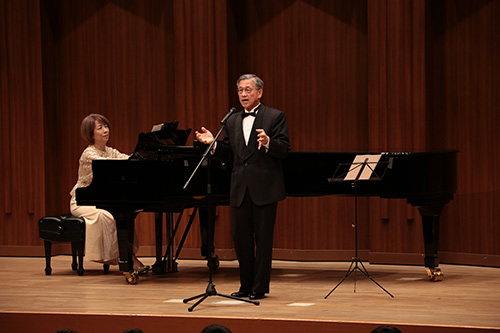 Everyone in the hall enjoyed the concert "The secret of voice development hidden in the joy of singing: YUBA method: a vocalization method that fixes tone deafness and makes singing better" (December 21, 2018, KCG Kyoto Ekimae School, KCGI Kyoto Ekimae Satellite Concert Hall).
On December 21, 2018, the KCG Group, including Kyoto Computer Gakuin (KCG), The Kyoto College of Graduate Studies for Informatics (KCGI), and Kyoto College of General Motors (KCGM), held a concert, "The Secret of Voice Development Hidden in the Joy of Singing: The YUBA Method: A Vocal Method that Can Fix Tone Deafness and Improve Singing" at KCG Kyoto Ekimae School and KCGI Kyoto Ekimae Satellite Concert Hall.Vocalist and vocal researcher Toru Yumiba sang solo and gave a lecture on vocal techniques, accompanied by pianist Mariko Abe.The hall was filled with students as well as general applicants, who enjoyed the music with Mr. Yuba, speaking out loud and moving their bodies as well.
First, Yumiba's "Around the World" (v.(composed by Young), "Amapola" (J.(composed by Lacallee), "Mariou, Words of Love" (C.A.)(composed by Bixio) sang enthusiastically.The audience listened to Ms. Yuba's spacious voice, which was described as "first-class singing" in the U.S., and Ms. Abe's piano, which is active as an accompanist for both vocal and instrumental music.
Mr. Yuba is known both in Japan and abroad for his new vocalization method, "YUBA Method," which he has researched and developed from the viewpoints of functional anatomy and physiology.Mr. Abe established the "YUBA Piano Method," a systematized piano playing method for preventing fatigue and disability based on his research on functional anatomy.Following the solo singing, Yuba gave a lecture on "how to produce the upper voice," "how to produce the upper voice," and "how to expand the range of the voice," while weaving in widely known music.
The KCG Group incorporates general education courses into its curriculum to cultivate the intellect and sensitivity of its students in addition to specialized skills.These events are open to the public for viewing.