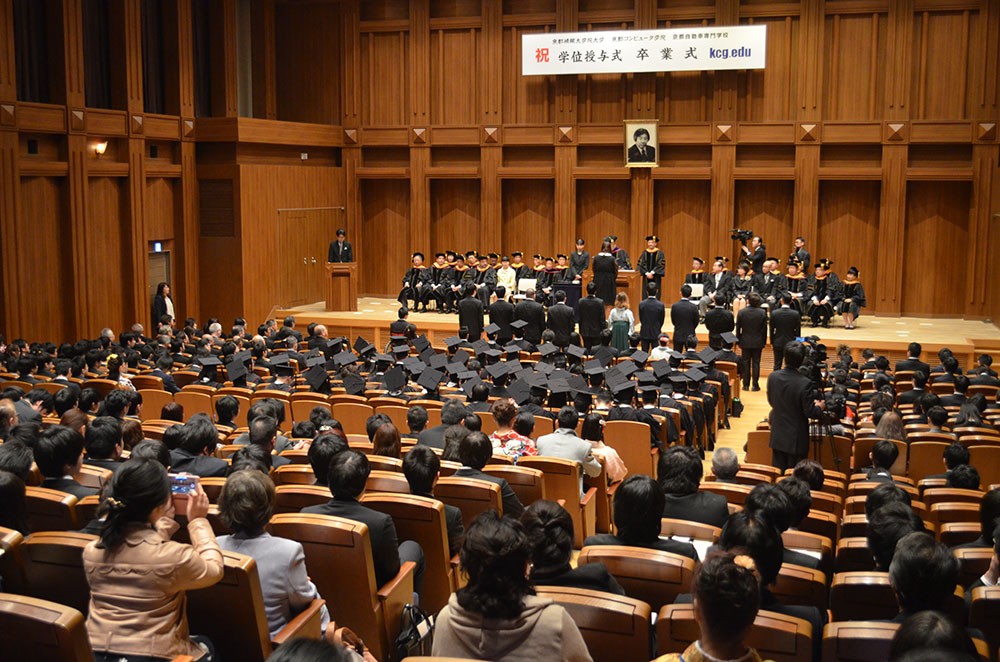 The 2016 University of Information Science Graduation Ceremony, Kyoto Computer Gakuin, Kyoto Japanese Language Training Center, and Kyoto Automobile College Graduation Ceremony = March 18, 2017, Kyoto University of Information Sciences Kyoto University hole
Kyoto Information Graduate University (KCGI) Degree Ceremony in 2016, Kyoto Computer Gakuin (KCG), Kyoto Japanese Language Training Center (KJLTC), and Kyoto Automobile College (KCGM) graduation ceremony on March 18, 2017, Kyoto Information Graduate University was held at the Kyoto Ekimae Satellite Hall.While the shortage of IT human resources was screamed, the friends who had studied together at the KCG Group, with the memories of their student life as their heart, flapped into society with technology and knowledge.Congratulations to all graduates and graduates.I wish you all the best.
Many parents visited the ceremony and filled the hall.First, Toshihide Ibaraki, President of KCGI, awarded the degree of "Master of Information Technology (Professional)" to the alumni. KCG graduates are heads of Shohoku, Kamogawa, and Kyoto Station schools. The KCGM graduates were awarded a diploma and a degree book respectively.After this, KCGI / KCG / KCGM's best award, award certificate and souvenir were awarded to graduates and alumni who were selected for the award.
Mr. Wataru Hasegawa, Chairman of the KCG Group, emphasized to the graduates and graduates, "The technology and knowledge you have acquired at the University will be a solid force in pioneering the future."The KCG Family, a network of over 40,000 graduates and graduates, will be useful for future business and life. "I will continue to build and expand good networks and continue to play an active role as leaders in society. I hope more, "he sent.
President Ibaraki said that ICT (information and communication technology) has changed our lives in the last 30 years. "New technologies such as IoT (Internet of Things) and AI (artificial intelligence) will continue to appear. , It is difficult to imagine how the society will be 30 years from now.In such a situation, do not miss the opportunity, always put on the antenna and challenge aggressively. "
Subsequently, Akiko Yasumi who attended the regional bank after graduating from a liberal arts university and then studied at the KCG Information Processing Department, presented graduation remarks on behalf of graduates and graduates."I was not worried at first when I entered the school because I had no computer knowledge or skills, but I was able to greet this day safely with the kind and careful guidance of the teachers."It is also an important memory that students can be connected side by side at school events such as Freshman Camp," recalls, "KCG student life is a property of life, and we do not forget the pioneering spirit and create a rich society. I will do my best to make it useful. "Finally, all attendees sang "Firefly Light".
After the ceremony, the venue was moved to RIHGA Royal Hotel Kyoto and a celebration was held.Graduates and graduates, together with faculty and staff who have shared joy and struggle, blossomed memories and vowed to make a leap forward.The event was filled with events such as a lottery, and the student's last day was over with a smile.