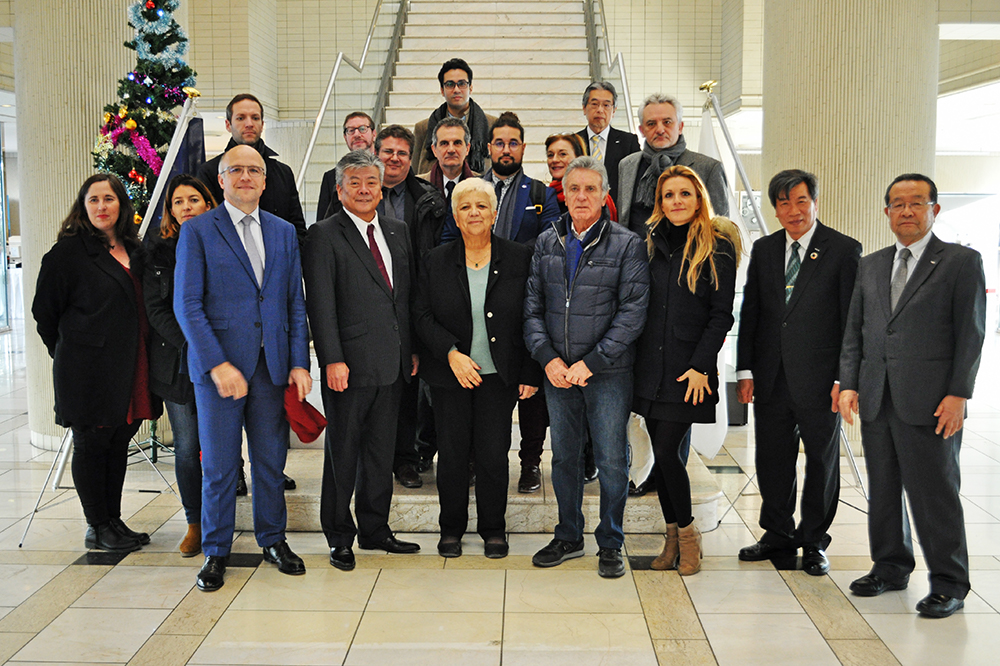 Deputy Mayor Jean Roatta of Marseille, France (in charge of international affairs), Deputy Mayor of Monique Cordier (in charge of environmental affairs), Jules Ilman and French Consul-General of Kyoto in Kyoto, together with The Kyoto College of Graduate Studies for Informatics on December 13, 2019. KCGI) I visited Kyoto Ekimae Satellite Kyoto School (KCG) Kyoto Ekimae School.After receiving a welcome speech from Mr. Wataru Hasegawa, President of KCG, the group visited the KCG Computer Museum, which was accredited as the first "Distributed Computer Museum" by the Information Processing Society of Japan in 2009, and looked at a number of computers that are now rare even in Europe and the United States, and that have created an era for themselves.
During the tour of the school building and classrooms, the students observed a practical class in the Manga/Animation Department, where they created illustrations using the latest equipment and watched a video introducing the KCG Group in French with great interest.A meeting was then held to discuss future exchanges between the city and TUAT.
This visit was realized through an introduction by Mr. Thomas Schilde, the founder of "Japan Expo," a comprehensive exposition of Japanese culture including manga and anime, in which KCGI and KCG also participate every year.President Hasegawa expressed his desire to use this visit as an opportunity to promote exchanges with the city's educational institutions with a view to developing ICT education in the future.
Mr. Roatta hopes that the city will participate in the "Japan Expo" to be held in Marseille in February next year in order to promote exchanges and partnerships with the city in the future.In the future, he said, he would like to welcome KCGI and KCG students for corporate training.