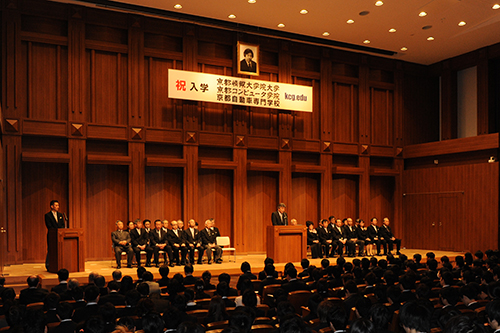 The 2014 entrance ceremony of Kyoto College of Graduate Institute of Information (KCGI), Kyoto Computer Gakuin (KCG) and Kyoto College of Motor Vehicles (KCGM) was held on April 6 (Sun.) at KCG Kyoto Ekimae School, connecting each satellite of KCGI.This is the first joint entrance ceremony with KCGM, which joined the KCG group.New students of IT Voice Actor Course, which was newly established in KCG Information Processing Department in 2014, also attended the event.At the ceremony, the representative of the new students made a powerful pledge: "We are determined to spare no effort in moving forward toward the future that we have each envisioned.
The main hall, Kyoto Station Satellite Hall of Kyoto Graduate Institute of Information, was filled with new students, parents, and people concerned, and the foyer and classrooms were also used as venues.
After watching a video introducing the history of KCG Group, which was founded in 1963 as the first computer education institution in Japan, Mr. Wataru Hasegawa, President of KCG Group, made a ceremonial speech.After giving a heartfelt welcome to the new students from the Tokyo Satellite (Motoazabu 3-chome, Minato-ku) and the Sapporo Satellite (Odori-Nishi 5-chome, Chuo-ku, Sapporo), he said, "The KCG Group is boldly trying to explore new fields while maintaining its tradition and achievements.We will continue to explore new possibilities and take on new challenges in order to become a school that you can be even more proud of.Each of you is already a member of our university.Please be proud of yourself for deciding to study at this university, and spend your student life in a meaningful way.He also introduced that KCGI celebrated its 50th anniversary in 2013, that KCGI has a plan to open overseas educational bases in Japan and abroad following the Tokyo and Sapporo satellites, and that KCGI will operate the geographic name top-level domain ".kyoto" from 2014 as a management operator.
Then, KCGI President Toshihide Ibaraki emphasized the overwhelming power of computers, citing examples such as calculating pi to 10 trillion digits and defeating humans in chess and shogi (Japanese chess game), but pointed out that it is humans who write the programming for these computers.Learn about ICT (Information and Communication Technology) and use the knowledge you have acquired to take on new challenges.However, although computers are very powerful and useful, they are only tools.I want you to use computers, not be used by them," he said in his ceremonial address.
In response, Mr. Hiroki Shioya (Department of Information Science, Koriyama High School, Nara Prefecture), a representative of the new students, said, "Today, information technology is developing on a global scale, but the number of incidents involving the illegal use of information technology is increasing every day.We believe that information processing engineers are given the task of making society a place where information technology can be used conveniently, comfortably, and with peace of mind.We would like to learn not only specialized knowledge and skills but also rich humanity from our professors and seniors at the university, make many friends who can cooperate and support each other in order to have a broad perspective, take responsibility for our own actions, and grow every day.
After this, there was an orientation and a parent-teacher conference, and the students took a new step as members of the KCG family.
Congratulations on your enrollment!We are rooting for your success.