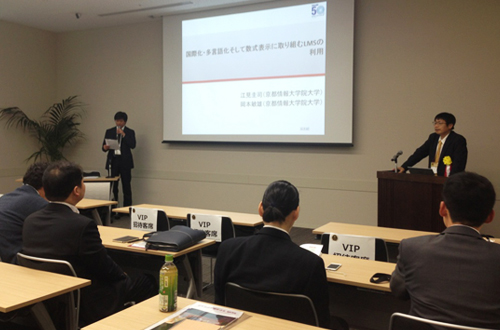 The e-Learning Awards 2014 Forum, a specialized forum for discussing the current status and future of human resource education and organizational strategies utilizing e-learning, was held at the Ochanomizu Sola City Conference Center in Tokyo from November 12-14, 2014.
The KCG Group proposes "network multiversity," a rational IT system in which a coalition of universities improves the quality of education, streamlines management, and reduces fixed costs.In all courses, including face-to-face classes, all faculty members take the initiative in using e-learning systems such as CMS, videoconferencing systems, communication systems, filming rooms and filming PCs, as well as providing lectures and class materials in both Japanese and English.
Associate Professor Emi introduced the KCG Information Network Galaxy-Learning Management System, the university's unique learning management support system available in both English and Japanese, and discussed what considerations need to be made from a global perspective when providing digitalized course content in two languages.
Professor Toshio Okamoto of KCGI serves as Chairman of the Board of Directors of the e-Learning Award Forum, a general incorporated association, and is committed to innovations in the field of education, such as MOOCs, open education, flipped classrooms, and Edtech, which utilizes technology.
e-Learning Awards 2014 Forum"
http://www.elearningawards.jp/