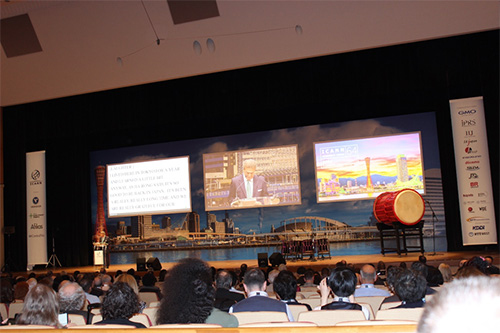 ICANN64, an international Internet-related conference attended by 2,000 participants from 100 foreign countries, was held at Kobe Portopia Hotel (Chuo-ku, Kobe) from March 9-14, 2019.ICANN (official name: Internet Corporation for Assigned Names and Numbers) is an American non-profit corporation that manages Internet resources such as domain names and IP addresses worldwide, and holds an international conference three times a year.At The Kyoto College of Graduate Studies for Informatics (KCGI), I participated as a management operator of ".kyoto".
Pre-sessions were held on the 9th and 10th, and the conference began with a welcome ceremony on the morning of the 11th.On the morning of the 13th, a report on Japanese city name domain names was presented via simultaneous interpretation at the subcommittee on geographical name domain names (city names).Following a statistical report on the sales and prices of ".osaka" and the number of registered users of ".tokyo", Dr. Kenji Imai, Deputy Director of the Cyber Kyoto Laboratory (CKL) from KCGI reported on the current status of ".kyoto" and a lively discussion ensued.The fact that the domain name is restricted to companies based in Kyoto Prefecture or residents of Kyoto Prefecture, and that it will be operated as Kyoto's top-level domain name through industry-government-academia collaboration among economic organizations, private companies, local governments, and educational institutions, drew great interest from people overseas.
In the evening of the 13th, Prof. Toshiaki Tateishi of KCGI hosted a subcommittee meeting jointly organized by ISPCP (Internet Service Providers & Connectivity Providers | ISP and Connectivity Providers Group) and JAIPA (Japan Internet Providers Association).Dr. Tateishi was especially in charge of the "Panel Discussion: Website/DNS Blocking and Filtering," and presented a digest of the "Symposium on Pirated Site Blocking" held on October 10, 2011 (in the 6th floor hall of the main building of KCG Kyoto Station School) from an international perspective, which led to lively discussions.ICANN executives and Japanese Internet service providers engaged in heated discussions on Internet operations and security, and deepened exchanges during the reception.