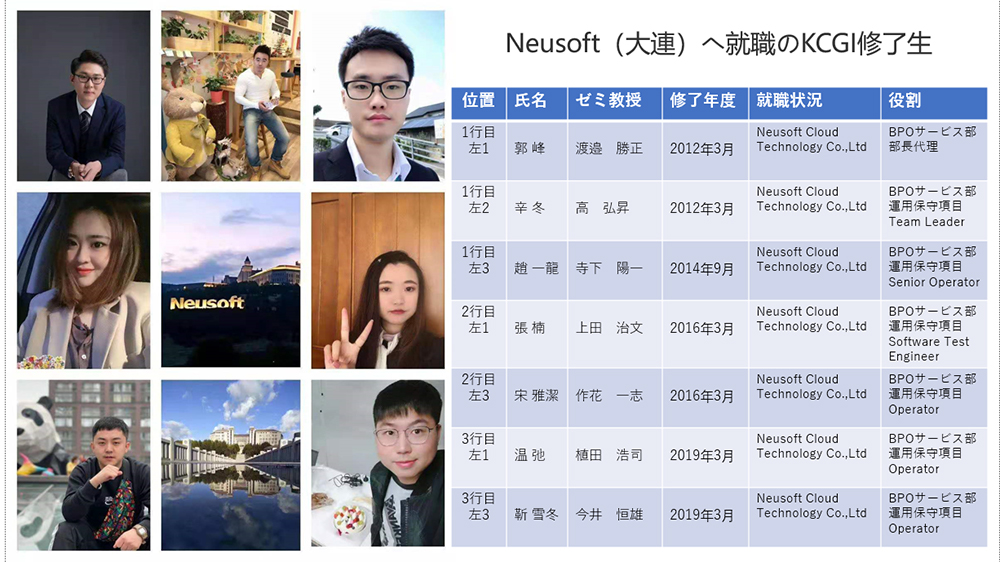 Neusoft, a major IT solution provider in China, recently held an online company information session for students of The Kyoto College of Graduate Studies for Informatics (KCGI).A human resources manager at the company commented, "Business process outsourcing (BPO) and other operations will become increasingly automated in the future.We are confident that there will be many opportunities for KCGI alumni to play an active role," he said.
In recent years, the presence of graduates from the University has been steadily increasing, with seven graduates by 2019, including Guo Feng, who studied web system development at the University, and Xin Dong, who studied customer relationship management (CRM) (both graduated in 2012), working together as a team in the BPO service department of Neusoft Cloud Technology (China name: Neusoft Cloud Technology), a group company of Neusoft Corporation.Mr. Guo, who serves as acting director, said, "I feel that what I learned at KCGI is being put to good use in my daily work, and all seven of us on the team are filled with gratitude to KCGI.I would like to work as a bridge between KCGI and Neusoft to bring benefits to both parties," he said.
Mr. Shin, who is a team leader of operation and maintenance items in the same department, also commented, "The essential skills and study methods I learned at KCGI about how to face and solve problems are very useful in my work.We hope that as many KCGI graduates as possible will join Neusoft, as many of our clients are Japanese and foreign companies," said Li Li, manager of the Human Resources Department at Neusoft.
In 2008, Josai concluded an academic exchange agreement and cooperative education program agreement with Dalian Neusoft Institute of Information Technology in Dalian, China, which is funded by the Neusoft Group and has IT-related and digital art faculties.Mr. Liu Jinbo, International Exchange Manager of Dalian Neusoft Institute of Information and International Education, who has been involved in the Japan-China exchange program for the past five years, said, "In the 13 years since the agreement was signed, dozens of students have studied in Japan through the cooperative education program between our school and KCGI and have completed their master's degree at KCGI and have gone out into the world.I would like to expand the scale of the program in the future," he said enthusiastically, "and further international exchange between TUAT and the institute is expected in the future.
Dalian Neusoft Institute of Information Technology has the School of Computer Science and Technology, the School of Information Technology and Business Management, the School of Embedded Systems Engineering, the School of Digital Arts, and the School of Japanese Language, with approximately 14,000 students enrolled.In addition to KCGI in Japan, we are developing global school education through partnerships with more than 40 universities overseas, including the University of Adelaide in Australia, the University of Reading in England, the University of Georgia in the United States, Far Eastern State University of Technology and Fisheries in Russia, and Konkuk University in South Korea.