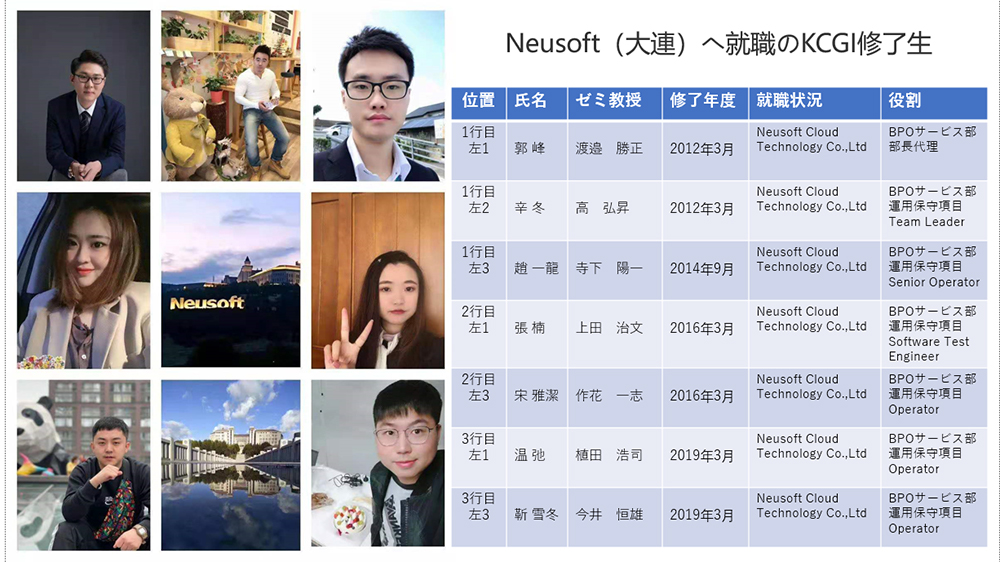 Neusoft, a leading IT solutions provider in China, recently held an online job fair for students of The Kyoto College of Graduate Studies for Informatics (KCGI), and four KCGI students have received job offers.
Mr. Guo Fong, who studied web system development at KCGI, and Mr. Xin Dong, who studied customer relationship management (CRM) at KCGI (both graduated in 2012), are working together as a team in the BPO service department of Neusoft Cloud Technology (China: Neusoft Cloud Technology), a KCGI group company.
Mr. Shin, who is a team leader of operation and maintenance items in the department, said, "The essential skills and study methods that I learned at KCGI, such as how to face and solve problems, are very useful for my work," and he seemed to meet the company's expectations as a graduate of KCGI.
本学は,Neusoftグループが出資しIT関連学部,デジタルアート学部等を擁する中国・大連の大連東軟信息(情報)学院と2008年に学術交流協定,協力教育プログラムに関する協定を締結しており,10年以上にわたって同学院の多くの卒業生が本学で学び,また本学修了生の多くがグローバルIT企業である同社に入社して,国際的に活躍しています。5年前から,日中交流事業に携わってきた大連東軟信息学院・国際教育学院国際交流担当者の劉進博さんは「協定締結後,13年の間に,数十人の学生がわが校とKCGIの間で協力教育プログラムにより日本へ留学し,KCGI修士課程を修了して社会に羽ばたいていきました。将来,その規模をもっと大きくしていきたいです」と意気込みを語っており,今後,本学と同学院とのさらなる国際交流の展開が見込まれています。
Dalian Neusoft Institute of Information has about 14,000 students enrolled in the faculties of Computer Science and Technology, Information Technology and Business Management, Embedded Systems Engineering, Digital Arts, and Japanese Language, etc. In addition to KCGI in Japan, Dalian Neusoft Institute of Information has cooperated with more than 40 overseas universities, including the University of Adelaide in Australia, the University of Reading in the UK, the University of Georgia in the US, the Far Eastern State University of Technology and Fisheries in Russia, and Konkuk University in Korea, to develop global school education.