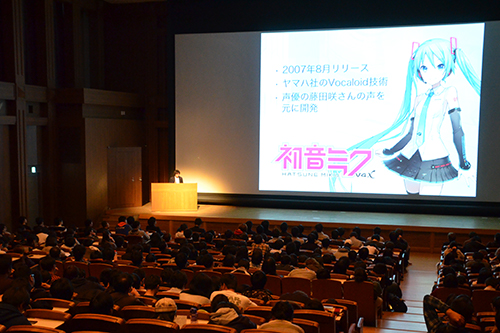 Professor Hiroyuki Ito of KCGI, President of Crypton Future Media, gave a special lecture titled "The Potential of Digital Content from Hatsune Miku.(November 16, 2018, KCGI Kyoto Ekimae Satellite, KCG Kyoto Ekimae School, 6th Floor Main Hall)
On Friday, November 16, 2018, a special lecture was given by Professor Hiroyuki Ito of Kyoto College of Computer Science (KCGI), the creator of the world's most popular Vocaloid (VOCALOID) "Hatsune Miku" and President of Crypton Future Media, Inc.Professor Ito explained how Hatsune Miku was born, how she has grown, her efforts in voice technology and 3DCG technology, and her wide range of activities in Japan and overseas with video clips.The special lecture was simultaneously broadcasted with simultaneous English interpretation to KCGI's Hyakumanben Campus in Kyoto and satellites in Sapporo and Tokyo using the latest system, and the participants listened intently to the speeches of leading experts in the contents business.
Hatsune Miku is a virtual idol that was born on August 31, 2007.It is also a popular "character" who is 158cm tall, 42kg in weight, and 16 years old.Live concerts are held not only in Japan but also overseas, and they are a symbol of Cool Japan, which promotes Japanese culture to the world.
The title of the special lecture is "The Potential of Digital Contents Learned from Hatsune Miku".After introducing Crypton's work and explaining the basics of computer music, Professor Ito said, "Vocaloid is a virtual instrument (sound source) that synthesizes human singing voices.The software that sings the song, commercialized by Crypton using Vocaloid technology, is called 'Hatsune Miku'.
When we gave Hatsune Miku a character, people began to create not only her music but also her appearance and post it on the Internet, and the chain of creation spread.Professor Ito explained, "(With Hatsune Miku), it's easy to think of the voice synthesis as the main thing and the character as an afterthought, but thanks to the character, it was easy to start a chain of creativity.Then, to handle the rights of creative works, the license was opened to the public and the content posting site "Peer Pro" was established.Professor Ito says, "We have made it a rule that any user of the site can use the works posted here for other works.We created an environment that facilitated the birth of creativity," he revealed.
It's been 11 years since the birth of Hatsune Miku.As a result of secondary and tertiary creations by creators, not only songs and voices, but also dances, videos, cosplay, figures, and other forms of expression have expanded, and they have been commercialized in fashion, opera, robots, racing teams, games, taiko drums, and popular TV anime characters.Professor Ito said, "We are trying to expand the area of 'Hatsune Miku' and collaborate with a variety of fields.
Hatsune Miku has a lot of performances and events coming up in Japan and abroad.In 2018, the group toured events in seven cities on the North American continent, and continues to perform on large stages in Japan, including with jazz and taiko performing groups and in symphony concerts.There is also a Chinese version, with concerts in Beijing and three other cities in October.In August 2019, Cho Kabuki is scheduled to be performed at the Minamiza Theater in Kyoto.
Prof. Ito was appointed as a professor of KCGI in April 2013.In recognition of his international activities and technological innovations, he was awarded the Medal with Blue Ribbon in the fall of 2013.KCGI and KCG have a system that allows students to audit each other's classes.Not only students related to KCGI's content business, but also students studying content-related fields such as KCG Art and Design, Digital Game, and Computer Science IT Voice Acting Course in the Information Processing Department can learn a lot from Professor Ito's efforts.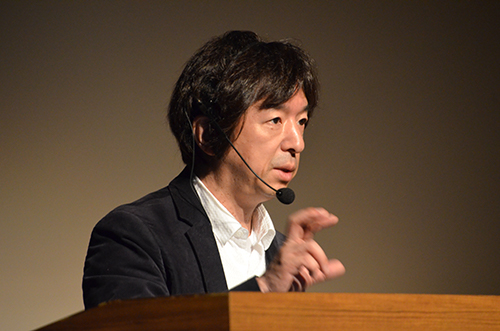 Prof. Itoh KCGI talks to the students