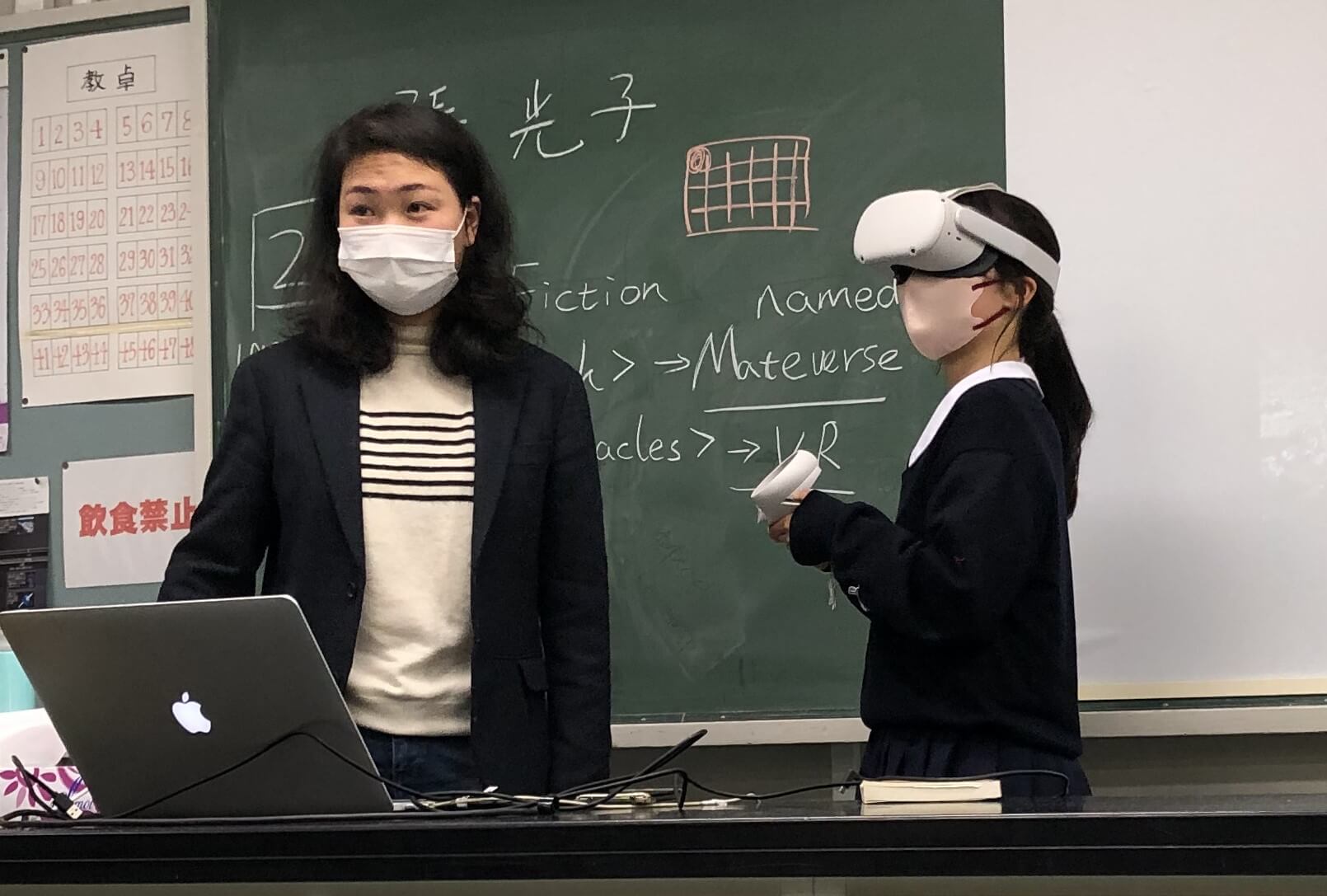 On February 8, 2023, Dr. Mitsuko Zhang (a student at China's Beifang University of Technology), a visiting researcher at Kyoto Computer Guraduate Institute (KCGI) under the JSPS Fellowship Program, was invited to Tezukayama High School in Nara City to teach an English class on the latest technologies, including virtual reality (VR), that Dr. Zhang is researching.The students were so interested in the VR demo that they were shouting "wow" and "interesting" from everywhere, and even after the class was over, they were still holding the goggles in their hands and didn't want to leave the classroom.
In recent years, the school has applied for the JSPS Science Dialogue, a program that sends outstanding young foreign researchers from around the world to Japanese universities and research institutions as lecturers to give lectures in English on themes related to their own research and home countries.Ms. Zhang taught the class for about 1 hour and 40 minutes, and 50 female students listened.
In the class, in addition to the significance of Professor Zhang's ongoing VR research, he also explains augmented reality (AR) and mixed reality (MR).A demonstration was held in which a 360-degree camera filmed the inside of a classroom, and the video was projected on a screen as seen through VR goggles, and students actually put on the goggles to experience the world of VR.The beginning of the class also stated, "We should not only think about how to realize our dreams, but also think about concrete steps to take.Even if it is a small step, you can reach your dream by going up one step at a time," he said to the students based on his own experience.
Dr. Zhang will spend one year at KCGI, starting in August 2022, researching cutting-edge technologies in VR.We are currently producing VR video recordings of historical Kyoto and content that interactively introduces various cultural and historical heritages.In the process, we hope to discover new means of expression for VR, while also contributing to international mutual understanding.