On November 25, Kyoto University of Information Studies (KCGI) will operate a dual degree program (multiple degree program) that allows students to earn both degrees while exchanging credits with Korea, Jeju National University. An agreement and an agreement were exchanged.The purpose of this agreement is to develop advanced ICT human resources in both countries, the development of both countries, and the promotion of the entire Asian region.
On this day, a signing ceremony was held at Jeju National University, and KCGI President and Chief Executive Officer Watanabe Hasegawa and President Jin Xiang Xiang of National Jeju University signed the agreement.
The dual degree program is planned to make active use of the distance learning system via the Internet, and it is expected that the exchange between the education and research departments of both universities will progress further.
The features of this agreement are as follows: ① Agreement between National Jeju University, which is one of the eight national universities in Korea, and Japanese private universities (professional graduate universities). It is also the first conclusion between Japan and Korea in terms of comprehensive credit exchange at both graduate schools.
In accordance with this agreement, two students from National Jeju University will come to Japan as the first international students next spring.
In September 2006, KCGI and Jeju National University signed an academic exchange agreement for the purpose of ICT education / research and mutual human exchanges. We have also signed an agreement to build a Japan-Korea Cyber Campus that can be attended.We expect that the conclusion of this agreement will make great progress toward the realization of the intended purpose.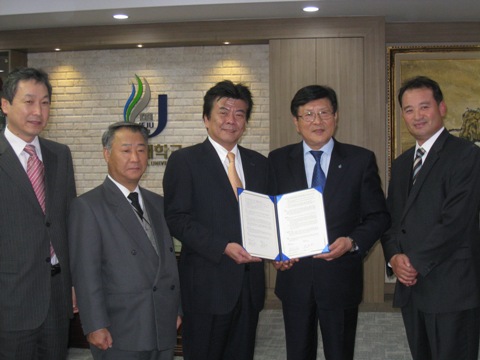 Hiroshi Hasegawa, President and Professor (third from the left) of Kyoto University of Information Sciences and the President of Jeju National University (second from right) = November 25, 2010 Japan, Korea, Jeju National University