On November 25, The Kyoto College of Graduate Studies for Informatics (KCGI) signed an agreement with Jeju National University in South Korea to operate a dual degree program (multiple degree program) that allows students to earn degrees from both universities while transferring credits.The purpose of this agreement is to foster advanced ICT human resources in Japan and Korea and to promote the development of both countries as well as the Asian region as a whole.
A signing ceremony was held at National Jeju National University on this day, with KCGI President and Professor Wataru Hasegawa and National Jeju National University President Hyangjin Hsu signing the agreement.
The administration of the dual degree program plans to actively utilize a remote lecture system via the Internet, which is expected to further promote exchange between the education and research departments of the two universities.
The characteristics of this agreement include: 1) it is the first agreement between Jeju National University, one of the eight national universities in South Korea, and a private university (professional graduate university) in Japan; 2) it is the first agreement between Japan and South Korea in terms of comprehensive credit transfer at graduate schools in both countries, without being limited to specific graduate schools or departments in each country.
In accordance with this agreement, two students from Jeju National University are scheduled to come to Japan next spring as first-term international students.
In September 2006, KCGI and National Jeju National University signed an academic exchange agreement for the purpose of education and research in the field of ICT and mutual personnel exchange, and in September 2008, they signed an agreement to establish a Japan-Korea cyber campus where students from both countries can take courses on the Internet.We expect that this agreement will go a long way toward achieving the desired objectives.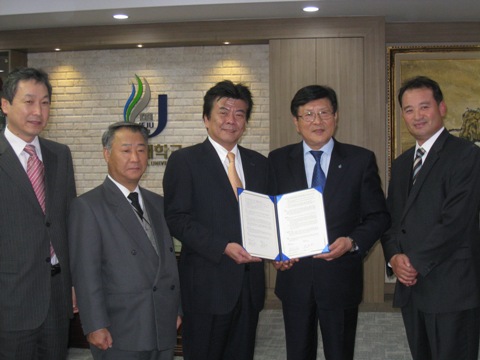 Prof. Wataru Hasegawa (third from left), President of Kyoto Institute of Information Science, and Dr. Hyangjin Suh (second from right), President of National Jeju National University, signing the agreement on the dual degree program, November 25, 2010.