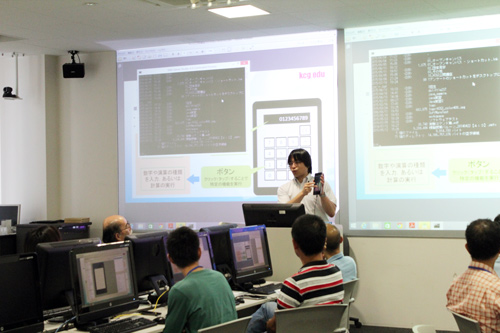 First time android app development experience course 2015/8/7
National certification exam preparation, app development, tips on video recording, and 7 other immediately useful courses
The Kyoto College of Graduate Studies for Informatics, which develops web business professionals, will open a spring course in February 2016 with the aim of improving IT skills for local people.The course is open to the general public in order to bring the latest IT closer to the students and help them improve their skills while having fun through preparation for qualification exams in preparation for job hunting, application development courses, and practical lectures useful for business.Students from nearby universities, junior colleges, and working adults who are beginners in programming are also welcome to attend.
preparation for a qualifying examination

In addition to supporting the acquisition of qualifications in the "Key Points for Passing the IT Passport Examination Useful for Job Hunting" course, which will be held for five days from February 29, a "Basic Information Technology Engineer Examination Last-Minute Preparation Course" will be held from March 7 to focus on improving the level of skills needed to pass the examination.

For people who want to start their own business.

In addition, Professor Masayasu Morita, who has participated in the development of business models for several companies as an active entrepreneur, will give a lecture on "Entrepreneurship and Business Models," which will be held from March 7 to 11.Students acquire knowledge of starting a venture business and learn about practical preparation for starting a business based on documents and presentations such as business plans and business plan proposals.

If you want to make an app...

For those who are interested in developing applications for smartphones, we offer a "hands-on course in android application development" (one day only) and an "introduction to android application development" (three days).The basics of smartphone application development are explained in an easy-to-understand manner.

For those who want to improve their videography skills.

Introduction to Video Expression: Let's Get the Hang of Videography," a course for beginners that introduces the basics of digital video recording and simple tips for making images that people can see, will be held at the Hyakumanben Campus free of charge.