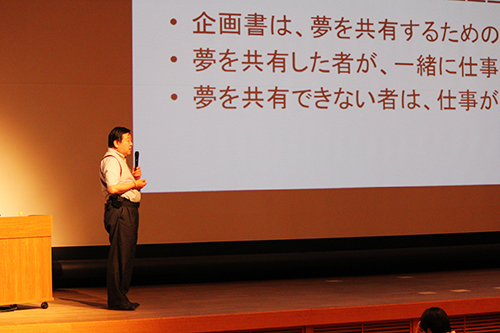 Professor Yasuhiro Takeda speaks using stories from the front lines of the animation industry
The Kyoto College of Graduate Studies for Informatics (KCGI) held an open lecture "Advanced Animation Planning, Production, and Promotion" by Prof. Yasuhiro Takeda, Director and General Manager of Production Division of Gainax Corporation, which is famous for "Gurren Lagann", on July 11, 2014.We have planned to make some of our lectures available to the general public.
KCGI announced the seminar to students from various universities in Kyoto through the University Consortium Kyoto, of which KCGI became a member in April 2014, and students and faculty members from many universities attended.
In the lecture, the participants listened attentively to the explanation of concrete methods used in the actual animation industry to come up with animation plans.
During breaks between lectures, a coffee hour was held to enjoy a cup of coffee with Professor Takeda, and participants listened to stories that could not be told only in class.After the lecture, some students were eager to ask questions, and Prof. Takeda answered them politely.
Professor Takeda's public lecture will be held again in November.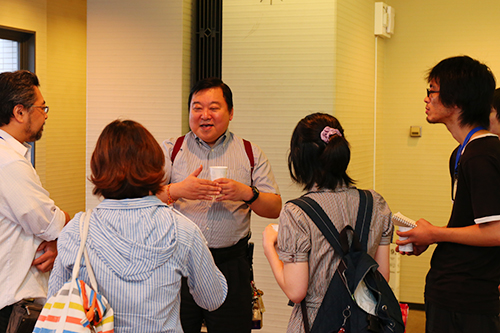 During coffee hour, we enjoyed coffee and conversation.