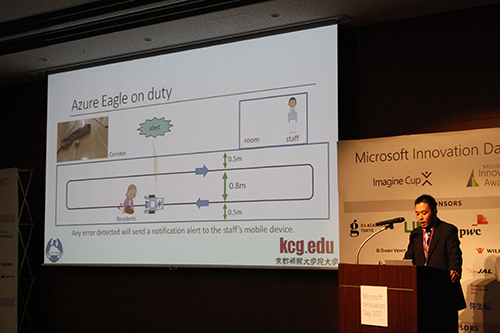 Presentation by KCGI Team on Automatic Patrol Robot for Nursing Home
A student team from The Kyoto College of Graduate Studies for Informatics (KCGI) participated in Imagine Cup Japan, an IT contest for students hosted by Microsoft Corporation, held in Tokyo on March 22, 2017.This contest was started in 2003 with the aim of linking students' innovative ideas to innovations in the IT field, and this year's contest is the 15th in the series.Teams from nine universities and colleges of technology across Japan, including KCGI, participated in the competition, including the University of Tokyo and Tokyo Institute of Technology, which won the preliminary round from among nearly 200 applicants.From the KCG Group, a team of students from Kyoto Computer Gakuin (KCG) won the 2013 Japan Competition with their development of a new game engine, and the KCGI team is aiming to follow that up with a second victory.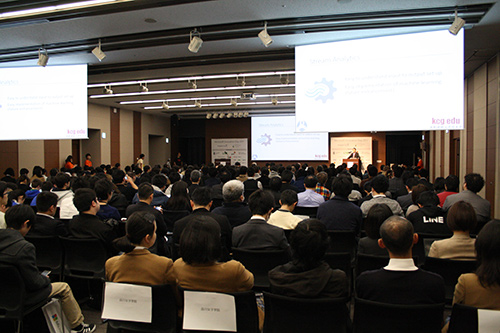 Imagine Cup venue filled with many participants and audience
Tom Oshidari, Takahiro Ueno, and Nepal Amanda participated in the conference, and Mr. Oshidari gave a presentation on an automatic patrol robot for nursing homes as a representative.The robot automatically patrols the hallways of nursing homes during the night shift, when staff are short-staffed, and if it comes in contact with a resident who has fallen, it alerts the staff via the Azure cloud computing system to their smartphones.The robot is made of Lego so that it can be easily repaired even if it is broken by a resident.Since the two winning teams will participate in the world competition in Seattle, they were required to give their presentations in English, and Ms. Oshidari did so in a calm and composed manner for 10 minutes in English.The judges asked questions about the reasons for using LEGO and the needs of the global market.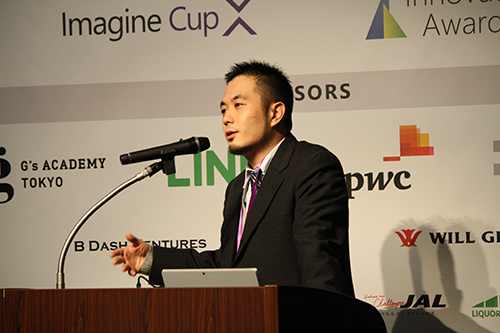 Tom Oshidari giving a presentation in English
Unfortunately, the KCGI team was unable to secure a ticket to the world competition. However, the exhibition booth attracted a great deal of interest, with students from other teams, judges, and corporate development staff visiting the booth one after another, eagerly asking about the mechanisms of the robot and its commercialization potential, reflecting the reality that Japan is an aging society.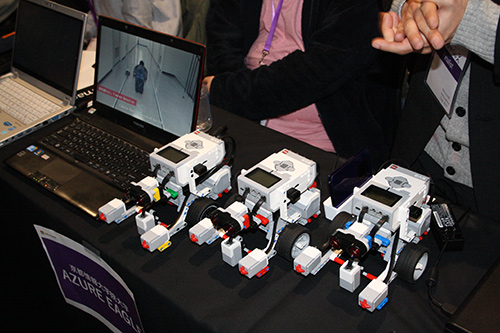 Automatic patrol robot for nursing homes developed by a team of students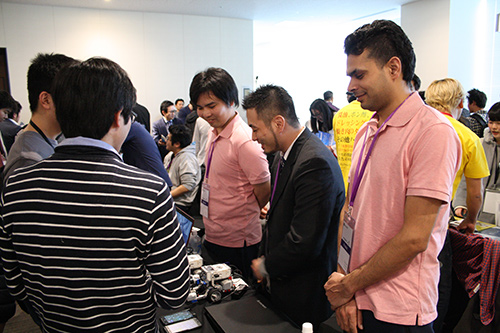 Student team explaining about the robot at the exhibition booth