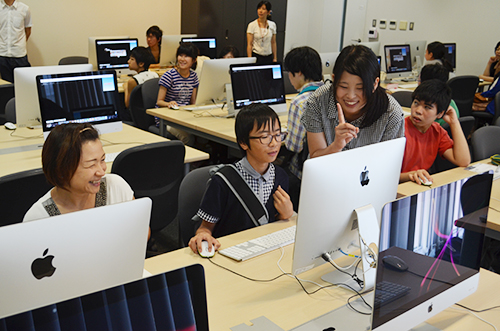 Let's make a game] Participants try their hand at making their first game on a computer.
The summer event "KCG Summer Festa 2015" (Kyoto Prefecture, sponsored by the Kyoto City Board of Education) by the KCG group (The Kyoto College of Graduate Studies for Informatics = KCGI, Kyoto Computer Gakuin = KCG, Kyoto Automobile College = KCGM) On August 8th (Saturday), there are three events for elementary, junior high and high school students at KCG Kyoto Station School and Shohoku School. I touched on cutting-edge IT.
◇"First Programming Class: Let's Make a Game" will be held at KCG Kyoto Ekimae School.Participating elementary, junior high, and high school students tried their hand at creating their first game on a personal computer using "Moon Block," a visual programming language that even beginners can easily start using.
The challenge was to create a game in which a bear beams down falling apples. With the help of KCG faculty and staff from the Department of Computer Science and the Department of Media and Information Studies, all participants successfully completed the game with smiles on their faces.
◇In the "Anime Voice Actor Experience" held in the digital sound studio of KCG Kyoto Ekimae School, participants had a real experience of "postrecording" to record character lines and narration to accompany character images such as animation videos, and enjoyed the process of animation production including studio recording.This is the first time KCG has hosted an event of this kind.The program was so popular that it quickly reached its maximum enrollment.
The subject is "Kyonodoji Ranbu," a well-known TV commercial jointly produced by GAINAX Corporation and KCG Group, which has produced numerous anime hits, including "Gurren Lagann.KCG's mascot character "Kyokotan" will walk, run and fly around the ancient capital of Kyoto.In the commercial, "Aikatsu!The participating elementary and junior high school students took on the role of "Kyokotan" played by Misako Tomioka, a voice actress active in anime, TV dramas, games, and commercials, as well as playing the role of Maria Himesato in "Magical Girl Wars" and Zunda in "Magical Girl Wars.
First, vocal practice was conducted in a general classroom under the guidance of teachers and students of the IT Voice Actor Course of the Information Processing Department of KCG.We started by opening our mouths wide and speaking out loud, and then checked the speed and timing of the lines while actually watching the commercials.
In the digital sound studio, one by one, we used the latest equipment for recording.Some of the participants were a bit nervous as it was their first time to record in a studio, but once they put on the headphones and stepped up to the microphone, they performed the role of "Kyokotan" with great confidence.Parents and guardians captured their children's "heroic" performances on camera.Many of the participants have dreams of becoming voice actors in the future.At the event, the students seemed to have learned that to become a voice actor, they also need to learn IT.
◇KCG Summer School's annual "Electronics Workshop" was held at Rakuhoku School.After learning the basics of microcomputers and the roles of electronic components, the participating elementary and junior high school students tried their hand at making a "simple sound level meter" by soldering.
This workshop is co-sponsored by the Kyoto City Board of Education and Miyako Kodomo Doyo-Juku.The "simple sound level meter" is a device that detects sound and indicates its loudness with an LED lamp.
The elementary and junior high school students who participated with their parents received an explanation from Mr. Kubota on the basics of microcomputers, the mechanism of sound level meters, programming, and how to use a soldering iron, and then began to work on their own devices.
Under the guidance of instructors and student staff from the Engineering Department (E Department), the students carefully used the soldering iron to attach the components.Parents helped their children and watched warmly as their own children struggled.All participants successfully completed the "simple sound level meter.The finished products were taken home with happy memories of the summer vacation.
Summer Festa 2015
http://kcg.edu/summer-festa/2015/
First, we will practice vocalization.I opened my mouth wide and made a strong voice.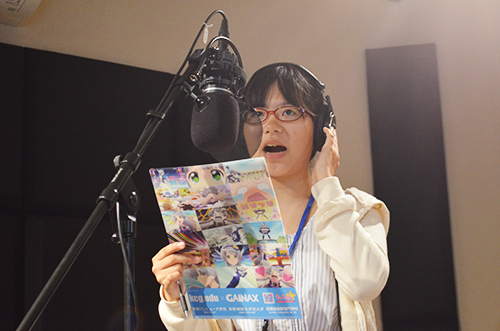 Anime Voice Acting Experience] Now it's time to get down to business.I was a little nervous, but I was able to act as Kyokotan.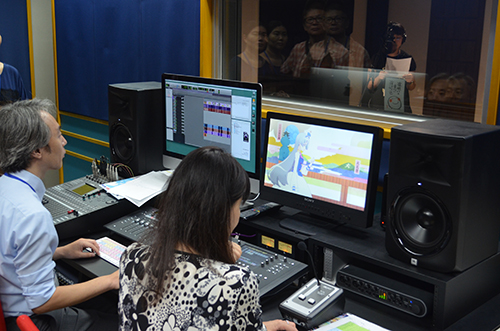 The KCG Digital Sound Studio, equipped with state-of-the-art equipment, is the stage for voice recording.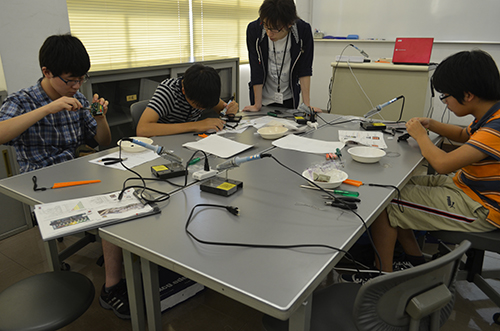 Electronic Craft Workshop] Making a "Simple Sound Level Meter" while Soldering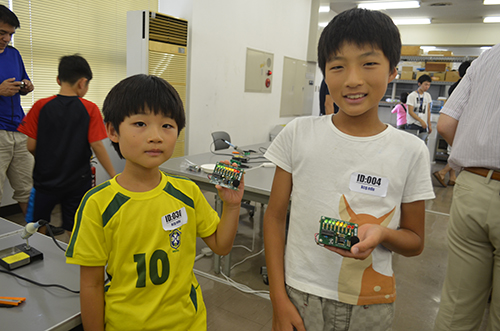 Electronics Workshop] It's done! It was a fun memory of my summer vacation!