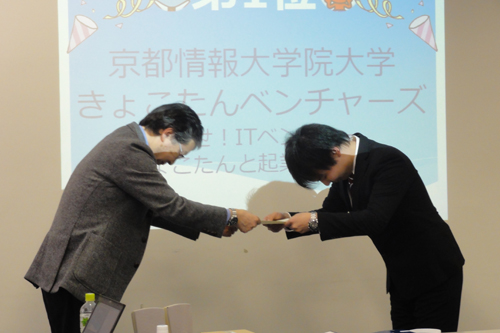 Mr. Ueno receiving the first certificate
Kyoto Information Graduate University (KCGI) student team "Kyokotan Ventures", who participated in the "JMOOC University Student Team Championship" event that allows students to take online courses created by a college student team for a limited time only It was ranked first and was awarded by the JMOOC University Student Team Championship Executive Committee on 19 February.
The members of Kyokotan Ventures are KCGI Takahiro Ueno, Satoshi Kojima, Shu Shusuke Numata, Takashi Araga, Ms. Zhang Ronghua, Ms. Ryo Nishi, and Mr. Kobayashi, Kyoto Computer Academy (KCG) There are a total of 8 people from Akihiro Suzuki.Mr. Ueno and Mr. Kojima attended the award ceremony and received a certificate of merit, prize money, and a commemorative tyrol chocolate with the image of the course he created on the wrapping paper.
This "JMOOC University Student Team Championship" was held by JMOOC, which usually offers courses at universities and companies, with the theme of "online courses by students that are interesting and useful"."Kyokotan Ventures" is "Aim!"IT venture-thinking about entrepreneurship" and "Kokokotan", the official character of the group, focusing on lectures by KCG group (Kyoto Information Graduate University, Kyoto Computer Gakuin) As a guide, we created a course to learn the knowledge and skills necessary to start a business in the IT industry.The courses of each participating team are evaluated based on the four items of "number of users logged in", "completion rate", "satisfaction", and "discussion". "Kokotan Ventures" "And became the first place in the overall score.
JMOOC University Student Team Championship Examination Results Announcement
https://open.netlearning.co.jp/event/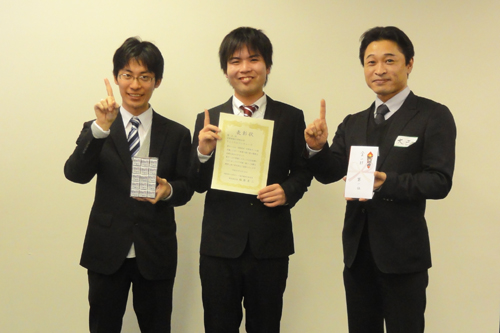 Commemorative photo with Onishi-sensei