KCG Group President (left) announces the establishment of the "Kyoto Manga-Anime Society.
The Kyoto College of Graduate Studies for Informatics and Kyoto Computer Gakuin ( KCG Group ) Has been proceeding with preparations for establishment. Kyoto Association for Manga and Anime Studies "I was born on Saturday, September 7th.Opened at Miyako Messe in Kyoto Kyoto International Manga and Anime Fair (Kyo Mafu) 2013 "Was held on this day as a related event (sponsored by the Executive Committee / Kyoto City, co-sponsored by The Kyoto College of Graduate Studies for Informatics / Kyoto Computer Gakuin, etc., September 7-8). Wataru Hasegawa has proclaimed the establishment of an academic society.The society is open not only to companies, educational institutions, creators, and researchers involved in manga and anime, but also to general fans, including junior high and high school students.
At the establishment ceremony, the President emphasized the need for further growth of Japanese manga/anime as a content industry, based on the fact that Japanese manga/anime is recognized worldwide as one of the representative cultures of the country and that the evolution and development of information technology has brought revolutionary changes to the world of manga/anime.The specific initiatives include: - holding various events that include an educational component - pursuing the field of marketing, and more.We look forward to your participation from various fields," he said, calling for membership and understanding and support for the society's activities.
The guest of honor, Mr. Daisaku Kadokawa, Mayor of Kyoto, then spoke of Kyoto's history and traditions, saying, "It is a great pleasure for me to see the birth of an academic society that aims to create a network for the manga and anime content industry, which represents Japan.Rikio Yoshida, Vice President of the Japan Animation Association, said, "In the world of manga and anime, human resource development is essential, but it is not going well.I have high expectations for the newly established society as a place for industry-academia-government collaboration and as a network for human resource development," said each of the speakers in their opening remarks.
A panel discussion titled "Kyoto, responding to the world's demand for a Japanese manga/anime human resources network" followed as a forum to commemorate the establishment of the organization, with Hiromichi Masuda, chair of the Japan Animation Association's Human Resources Development Working Group; Takayuki Matsutani, president of Tezuka Productions; Yohei Sadojima, president of Cork; Ken Kikuchi of the Tokiwaso Project; and KCG Group President exchanged opinions.The conference activities were kicked off with a career guidance for high school students, students, and parents, "Career Guidance for Aspirants to the Anime Industry" by Mr. Masuda, and a seminar entitled "Production Sites and Human Resources for the Latest Works" by Yuichiro Oguro, Editor in Chief of Anime Style, Takashi Nakamura of Studio Colorado, and Hiroyasu Ishida, who presented reports from animation production sites to high school students and their parents.
Kyoto Association for Manga and Anime Studies
http://kamas.kcg.jp/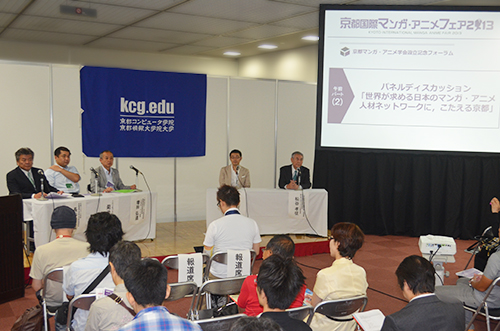 Panel discussion on topics such as human resource development and networking in manga and anime