President of the KCG Group, who declares the establishment of the "Kyoto Manga and Anime Society" (left)
Kyoto Information Graduate University and Kyoto Computer Gakuin ( KCG Group ) Has been proceeding with preparations for establishment. Kyoto Association for Manga and Anime Studies "I was born on Saturday, September 7th.Opened at Miyako Messe in Kyoto Kyoto International Manga and Anime Fair (Kyo Mafu) 2013 "Was held on this day as a related event (sponsored by the Executive Committee / Kyoto City, co-sponsored by The Kyoto College of Graduate Studies for Informatics / Kyoto Computer Gakuin, etc., September 7-8). Wataru Hasegawa has proclaimed the establishment of an academic society.The society is characterized not only by companies, educational institutions, creators and researchers involved in manga and anime, but also by general fans, including junior and senior high school students. We start activities aiming at.
The president of the ceremony commemorates the establishment of Japanese manga and anime that are recognized worldwide as one of the national cultures, and the evolution and development of IT has revolutionized the world of manga and anime. Emphasizing the need for further growth of Japanese manga and animation as a content industry in the future.As specific initiatives, ▽ Holding various events including educational elements ▽ Pursuit of marketing field-etc. "The world's leading Japanese manga and anime based in Kyoto, the center of Japanese culture I would like to develop academic research and business practices.We are looking forward to your participation from various fields, "he called for understanding and support for membership and academic activities.
Next, Mr. Daisaku Kadokawa, the mayor of Kurusu, said, "In Kyoto, where we continually challenged new challenges while cherishing history and tradition, an academic society was created to create a network of manga and animation that represents Japan's leading content industry. I feel very happy to do it."We will continue to support Kyoto City as much as possible," said Rikio Yoshida, Vice President of the Japan Video Association. "Human resources development is essential in the world of manga and anime, but there are some aspects that do not progress well.I am very much looking forward to the new academic society as a place for industry-academia-government collaboration and as a place for networking for human resource development. "
Next, as a commemorative forum, there was a panel discussion titled "Kyoto to answer the Japanese manga / anime human resources network that the world demands". Mr. Kohei Sadojima, President of Cork, Mr. Ken Kikuchi of Tokiwa-so Project, and President of KCG GroupCareer guidance for high school students, students, and parents for whom Masuda served as a lecturer, "Course Guidance for Anime Industry Aspirants", Yuichiro Oguro, Editor-in-Chief of Anime Style, Takashi Nakamura and Yuyasu Ishida The report seminar "The latest production site and human resources" for high school students, students, and parents from the production site of the animation works by Mr. Hama was held, and the activities of the academic society started.
Kyoto Association for Manga and Anime Studies
http://kamas.kcg.jp/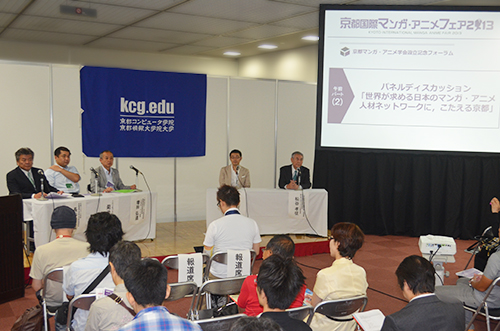 Panel discussion on the theme of human resource development and networking for manga and anime