Children cheered-The first collaboration event of KCG and Cinema Complex was held
kcg.edu group ( The Kyoto College of Graduate Studies for Informatics , Kyoto Computer Gakuin ) And "near JR Kyoto Station Hachijo Exit" AEON MALL KYOTO "Cinema complex on the 5th floor" T Joy Kyoto The first co-sponsored event was realized.August 19 (Thursday) 2 times from 1 pm and 3 pm The kcg.edu group is an astronomy event for children, "The Secret of Twinkle Stars… Let's Go to space travel! Children who visited and held "Free Research in Time" were able to think about the universe projected on the large screen of the theater, and to acquire the knowledge of "Astronomy" as a free research for the summer vacation. It seemed to be worn.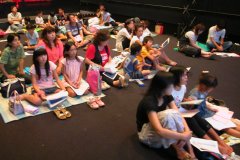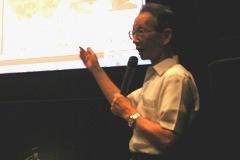 About 50 people with their parents participate.In the theater where the chairs were removed, we sat down with the leisure sheets they brought together. Professor Kazushi Sakuhana at Kyoto University of Information Studies Using the latest astronomical software, the celestial bodies that can be seen from the AEON MALL KYOTO site are projected on a large screen, explaining the movements of the moon, the Venus, Jupiter, Saturn, etc. shining in the summer night sky of Kyoto. The past and future "celestial events" and the appearance of stars are introduced.On the way, "What 's the biggest star?"Which stars really have this name?""And inviting the children's interest.
Next, the moon phases during the summer vacation are projected with astronomical software, and the children can freely change the shape of the moon as "new moon", "crescent moon", "half moon (upper / lower chord)", and "full moon". I wrote it on a research sheet.
The children who participated said, "This is the end of summer homework.I was looking forward to the new semester, "" I would like to see the moon and stars back home. "