Cheers from the children - the first collaborative event between KCG and a cinema complex was held!
kcg.edu group (Kyoto Institute of Information Science and Technology, Kyoto Computer Gakuin ) and T-Joy Kyoto, a cinema complex on the 5th floor of AEON MALL KYOTO near the Hachijo exit of JR Kyoto Station, have realized their first joint event.On Thursday, August 19, kcg.edu group will hold two astronomy events for children, "The Secret of the Sparkling Stars...Let's Go on a Space Trip! ~The children who visited the exhibition were able to enjoy the universe projected on the big screen of the theater and acquire knowledge of astronomy as their free research during the remaining days of their summer vacation.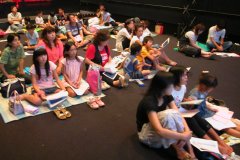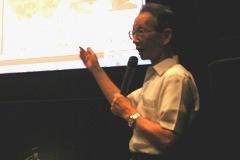 About 50 people, including parents and children, participated.We took out the chairs and sat down in the theater, spreading out the leisure sheets that each of us had brought.Using the latest astronomical software, Professor Kazushi Sakka of the Kyoto Institute of Information Science projected on a large screen celestial objects visible from the AEON MALL KYOTO location and explained the movements of the Moon, Venus, Jupiter, Saturn, and other planets shining in the summer night sky of Kyoto.During the course of the session, we asked questions such as "What is the biggest star in the sky?" and "What is the biggest star in the sky?Which star really has this name?"The quiz was interspersed with questions such as, "What is your favorite kind of food?
Next, the phases of the moon during the summer vacation were projected using astronomical software, and the children wrote "new moon," "crescent moon," "half moon (upper and lower sine)," and "full moon" on a calendar-type sheet for free research.
The children who participated said, "This is the end of my summer vacation homework.I am looking forward to the new school year," "I want to go home and look at the moon and stars," and so on.