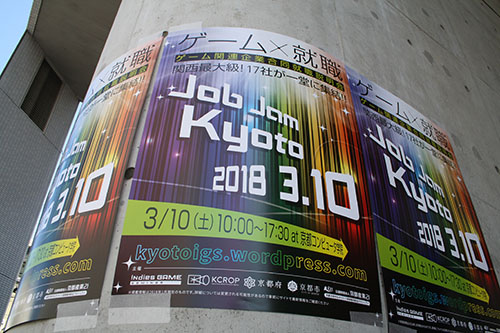 Job Jam Kyoto 2018 will be held for the 5th time this year.
On March 10, 2018, a joint job fair was held at Kyoto Computer Gakuin (KCG) in front of Kyoto Station, where students who wished to work in the game industry in the future gathered.This joint job fair, "Job Jam Kyoto 2018," organized by the Kyoto Indie Game Seminar Executive Committee and other organizations, was held for the fifth time this year. 16 game-related companies based in Tokyo, Kyoto, Osaka and other cities exhibited, making it one of the largest game information fairs in Kansai.
Over 200 people, including students from KCG and The Kyoto College of Graduate Studies for Informatics (KCGI), visited the venue.As the game industry places importance on free thinking and creativity, casual attire is encouraged at this briefing.At the booths of each company, the person in charge of the company explained the job information for game programmers, game designers, game planners, 3DCG designers, etc., as well as the working environment and welfare.The venue was filled with the enthusiasm of young people from beginning to end.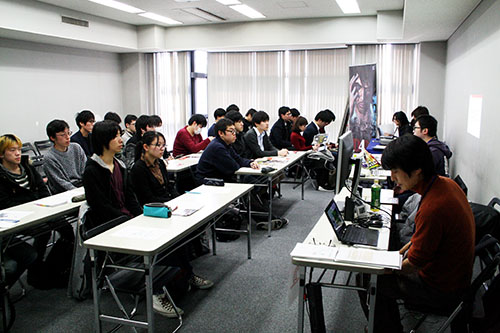 Future game creators gathered at the venue.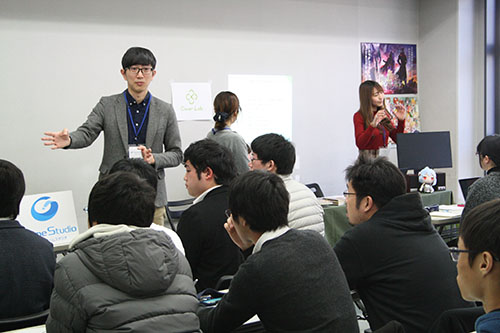 A company representative explaining the company's job offers and features
The briefing session proceeded peacefully from start to finish.