On Wednesday, November 7, 2007, Kyoto Institute of Information and Kyoto Computer Gakuin (kcg.edu/Japan), National Jeju National University (Korea), Jeju IT Association (JITA/Korea), and National Federation of Local Information Industry Associations (ANIA/Japan) signed a memorandum of understanding on business promotion cooperation in Jeju Province, Korea.
In order to promote human resource exchange between Japan and Korea, the four parties will cooperate in the development of human resources.
It was featured in a Korean newspaper (Halla Ilbo).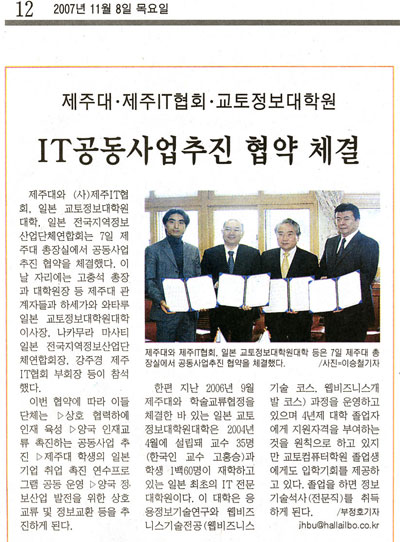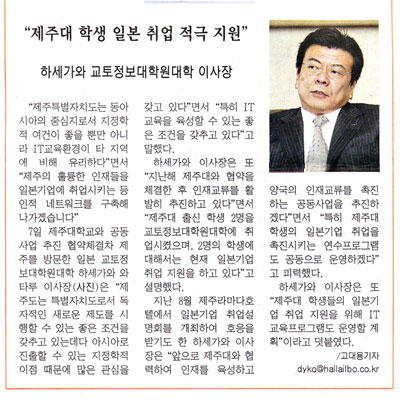 "Jeju Special Self-Governing Province not only has good geographical conditions as the center of East Asia, but also has an advantageous IT education environment compared to other regions." "We will build a human network by sending talented people from Jeju Province to work in Japanese companies."

(Mr. Wataru Hasegawa (photo), Chancellor of Kyoto Institute of Information (Japan), who visited Jeju on November 7 to sign a joint project promotion agreement with Jeju National University, said, "Jeju has good conditions to implement its own new system as a special self-governing province and has a geographical advantage to advance into Asia, so we are very interested in Jeju.We have an assortment of good conditions for promoting IT education in particular," he said.

Chancellor Hasegawa added, "We have been actively promoting human exchange since we concluded an agreement with Jeju University last year.Two students from Jeju University have been employed at the Kyoto Institute of Information and we are currently supporting two more students to find employment at Japanese companies," he explained.

Chancellor Hasegawa, who held a job fair for Japanese companies at the Ramada Hotel in Jeju last August and received a positive response, said, "From now on, we will work with Jeju University to develop human resources and promote joint projects to promote human exchange between the two countries.In particular, we will jointly operate a training program to support Jeju University students in finding employment at Japanese companies," he said.He added, "We are also planning to run an IT education program to help Jeju University students find jobs at Japanese companies.