November 7, 2007 (Wednesday), Jeju, South Korea, Kyoto University of Information Studies, Kyoto Computer Academy (kcg.edu/Japan), National Jeju University (Korea), Jeju IT Association (JITA / Korea) ), National Association of Regional Information Industry Associations (ANIA / Japan) signed a memorandum on business promotion cooperation.
In the future, in order to promote human resource exchange between the two countries, the four parties will cooperate to develop human resources.
* Featured in a Korean newspaper (Hanpo Daily).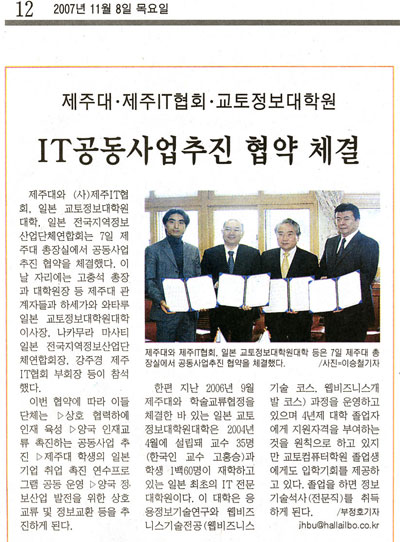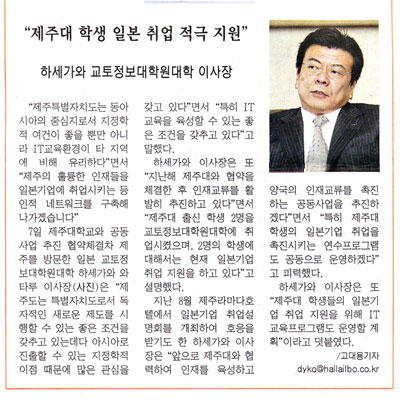 "Jeju Special Self-Governing Province is not only a good geographical condition as a center of East Asia, but also the IT education environment is more advantageous than other regions." Through this, we will build a human network. "
(November) Chairman Hiroshi Hasegawa (photo) of Kyoto University of Information Studies (Japan) visited Jeju to sign a joint business promotion agreement with Jeju National University on the 7th. We have a great interest in the fact that there are good conditions for implementing the new system and the geographical advantage of being able to enter Asia.Especially, we have good conditions for promoting IT education. "
Hasegawa also said, "After last year we signed a contract with Jeju University, we are actively promoting human exchange."Two students from Jeju University have been employed at Kyoto University of Information Graduate Studies, and two students are currently supporting employment in Japanese companies."
Hasegawa, who held a Japanese company job briefing at the Jeju Ramada Hotel in August and received a good response, said, "Joint project to develop human resources in cooperation with Jeju University and promote human exchange between the two countries. PromoteIn particular, we will jointly run a training program that supports Jeju University students seeking employment in Japanese companies. "He added, "It plans to run an IT education program to support Jeju University students seeking employment in Japan."