The 6th Kyoto International Student Sports Festival was held at the Kyoto Prefectural Gymnasium on Saturday 19th November, and KCGI's Chinese students who participated played a big role in fifth place in basketball and third place in table tennis personal match. That was a good result.congratulations!
17 teams participated in the basketball, and team "KCGI" advanced 3 times in the group game where 5 teams were contested, and advanced to the final in 2nd place.Although he lost 2 points in the first match of the winning game, he won the 5th place.
Table tennis individuals have a lot of experienced people, including one of the Sichuan team representatives in China.Mr. Ken, who passed the first place in the qualifying group, won one in the final and brilliantly won the "Bronze Medal".
The students who participated have been practicing hard for this day, for example, by booking a gymnasium.In the match, Japanese students from the graduate student council gathered in the cheering party and sent yells to the participants.The support flag was designed by KCGI student Huanghai Ning.
* All photos are taken by a student at Kyoto Computer Gakuin Kamogawa Campus Kyoto Japanese Language Training Center.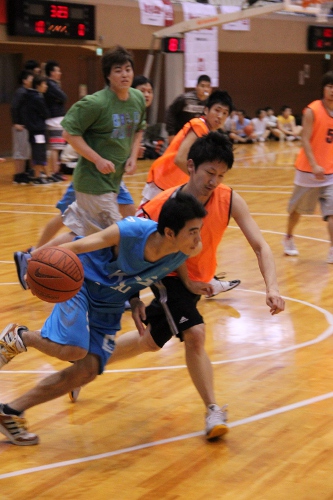 Team "KCGI" (blue uniform) who won the fifth place in basketball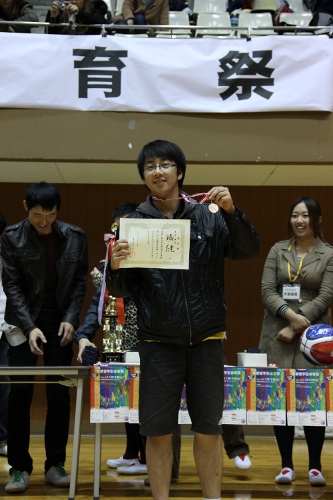 Mr. Makoto who is third in table tennis and holds a medal at the award ceremony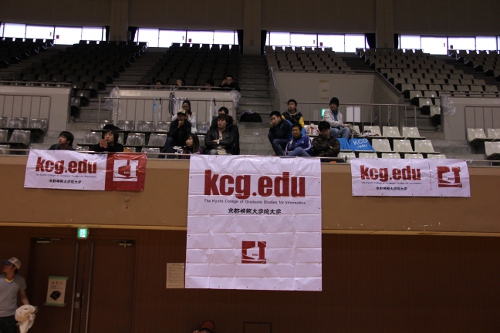 Japanese students cheered and cheered up with a cheering flag