The 6th Kyoto International Students Sports Festival was held at the Kyoto Prefectural Gymnasium on Saturday, November 19, and the Chinese students from KCGI who participated in the festival did very well, placing 5th in basketball and Jian Jiao in the individual table tennis competition.Congratulations!
Seventeen teams competed in the basketball tournament, and team "KCGI" won three games in the five-team group competition and placed second to advance to the finals.Although they lost the first game of the championship match by a regrettable two points, they finished in a respectable 5th place.
The individual table tennis players were all experienced, including one of the representatives of the Sichuan Province team from China.Jian Jian, who came in first in the preliminary group, won one game in the final and was awarded the bronze medal.
The participating students had practiced hard for this day, reserving the gymnasium and so on.Japanese students from the Graduate Student Association were on hand to cheer on the contestants.The cheering flag was designed by KCGI student Huang Haining.
All photos were taken by Mr. Duan Feng, a student of Kyoto Japanese Language Training Center, Kyoto Computer Gakuin Kamogawa School.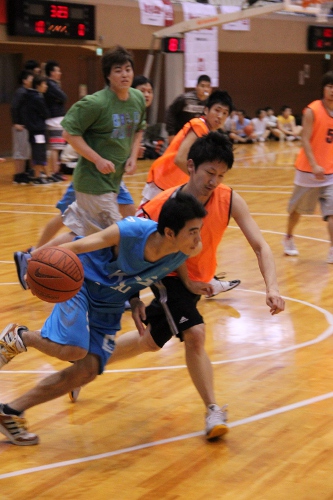 Team "KCGI" (blue uniforms), which finished an impressive 5th place in basketball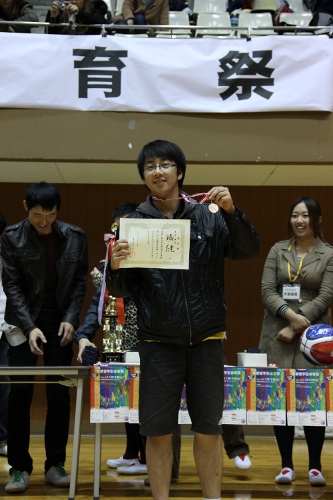 Ken Tian holds up his medal at the award ceremony after winning third place in the individual table tennis tournament.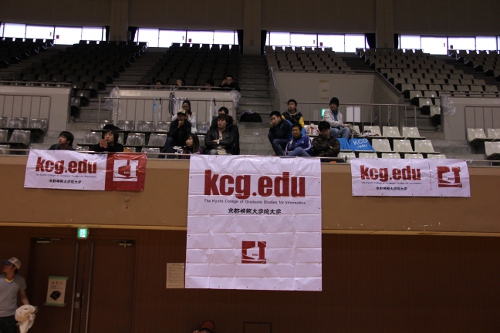 Japanese students also gathered to cheer with cheering flags.