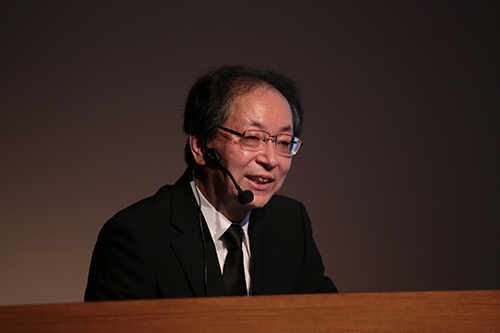 On June 29, 2019, the KCG Group held a variety of events in anticipation of Kando Memorial Day (July 2), the anniversary of the death of Shigeo Hasegawa, founder and first president of Kyoto Computer Gakuin (KCG), including a visit to his grave at his family temple Hyakumanben Chionji, a memorial lecture at KCG Kyoto Ekimae Campus and the main hall of the satellite of Kyoto College of Information Science (KCGI) Kyoto Station, and a booth set up by student volunteers.Dr. Shigeo Hasegawa passed away on July 2, 1986 at the age of 56.Kando" is his stage name, meaning "a quiet space for meditation away from the world.Every year, KCG observes this day as "Kando Memorial Day" to remember the legacy of Prof. Shigeo Hasegawa, a pioneer in the education of information processing technology, by all students and faculty members.
Dr. Tsutomu Maeda, a graduate of KCG's Department of Information Science who now teaches at his alma mater, gave a commemorative lecture titled "The Visionary and Pioneering Spirit of Dr. Shigeo Hasegawa.Dr. Shigeo Hasegawa is a very big part of my life.He would come into the classroom at the end of class in the evening and enthusiastically tell us that he had created this school to nurture engineers with computer skills who can play an active role in society, and that even high school graduates can play a more active role than college graduates.He said of himself, "When I was offered a position as a faculty member before graduation, I knew that I really wanted to work here.After all, I want to work under Dr. Shigeo Hasegawa.I want to grow this school together.I had such a strong feeling," he recalled.
Dr. Maeda said, "Shigeo Hasegawa always said that he would 'nurture human resources who will be responsible for the future of society.The school was created based on the ideal of sending out people who can contribute to the development of human society, rather than just teaching computer knowledge because it is a school," he explained.He added, "At a time when there were no personal computers or the Internet, you not only saw the power of computers to change the times, but you were also at the forefront of those times by founding Kyoto Computer Gakuin.This foresight and pioneering spirit.As a result, Kyoto Computer Gakuin has developed," he stressed.
Dr. Maeda then said, "You, the students, are the inheritors of this tradition of the KCG Group and Dr. Shigeo Hasegawa's thoughts.As Dr. Shigeo Hasegawa said, the computer is a tool that will revolutionize human history.Therefore, computer schools are at the forefront of the ever-new and changing human history.Needless to say, the star of the show is you.I hope that you will be at the forefront of this new movement in our schools and help shape the future of our schools and your own future," he concluded.
Before and after the lecture, students and faculty members took a bus to Hyakumanben Chionji Temple to lay their hands on the grave of Dr. Shigeo Hasegawa and pray for his repose and the further development of the KCG Group.In addition, student volunteers at KCG Kyoto Ekimae School and KCGI Kyoto Ekimae Satellite set up booths, adding to the lively atmosphere of the day's events.A bake sale sold items such as anpan, a favorite of Dr. Shigeo Hasegawa.