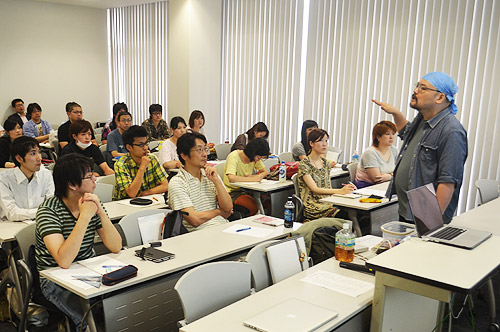 One of the instructors Kitano Doryu (KCGI Kyoto Ekimae Satellite / KCG Kyoto Ekimae Classroom) who explains digital drawing at the "Kyoto version of Tokiwa-so Project"
On Saturday, July 6, The Kyoto College of Graduate Studies for Informatics (KCGI) and Kyoto Computer Gakuin (KCG) "Kyoto version Tokiwa-so project" "Digital drawing course-Things to keep in mind before drawing digitally" is a KCGI Kyoto station satellite.・ Opened at KCG Kyoto Station School.40 manga artists and manga artist candidates gathered and received explanations from professional writers on basics and points that are often overlooked in digital drawing.
The instructor is Dogura Kitano, who has produced and published many popular works.Joint name by multiple members) and "Jump SQ.Mango Seminar Manzemi (Shueisha) was published by Muneo Saito, who has an established reputation in the industry.Explained the differences and differences between digital drawing and analog drawing divided into "background", "person", and "finishing".The instructor can divide the background and the person's work separately as a merit of digital production (in the case of analog, it can not be done simultaneously because it is written on one piece of paper), or since one work is finished with a layer structure, It is excellent in terms of work efficiency, such as being able to easily replace it. ▽ There is no danger of losing the original document-Although there are, etc., "There is not too much basic part that uses many software functions, but it is thin after all. You can see a glimpse that the work is only finished.Before you run digitally, you should have enough basic expression with paper and ink. "
After this, participants experienced digital production using the illustration / manga production software "CLIP STUIDO PAINT" developed by CELSYS.The company staff instructed.
The Kyoto version of Tokiwa-so is operated by the NPO NEWVERY commissioned by Kyoto City.A community that provides opportunities for manga artists to become professionals, such as by using Kyomachiya to provide inexpensive share houses to manga artist candidates, as well as through seminars for business trip editors and manga artists. We are promoting manufacturing.Held every year by Kyoto City and KCG Group Kyoto International Manga Anime Fair (Kyo Mafu) is holding an event of the "Manga Business Trip Editor".