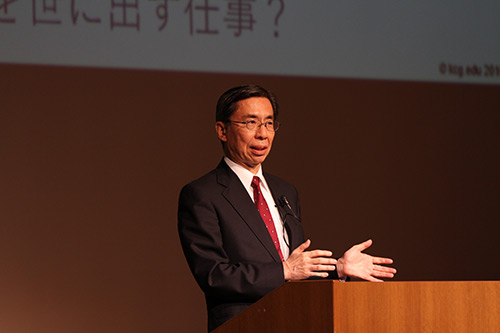 Professor Hisaya Tanaka speaks about IT engineers in demand
The Kyoto College of Graduate Studies for Informatics (KCGI) will celebrate its 13th anniversary on November 1, 2016.Prior to the ceremony, a commemorative ceremony was held on October 28 at the main hall of the Kyoto Station Satellite of the Kyoto Institute of Information Science, where students, faculty, and staff celebrated and vowed to make further progress at KCGI.At the ceremony, Prof. Toshihide Ibaraki, President of KCGI, began by reviewing the history of KCGI's opening and development, noting that in recent years it has grown into a global graduate school that attracts international students from around the world, especially from Asia.
Professor Hisaya Tanaka, who assumed the position of KCGI this year, continued with a lecture titled "IT Engineers in Demand.Professor Tanaka is a former systems engineer at Fujitsu, where he led corporate systems development for many years, and has since been involved in IT human resource development at Fujitsu and other organizations.In his speech, he stated that there is a continuing shortage of human resources in the IT field due to the rapid expansion of the web business market, the increasing need for corporate reform through IT, and the need for more advanced information security, and that human resources with the ability to create value by linking IT and business and to realize that value through practice are needed.He encouraged the students in the audience to "study with high aspirations and become globally active human resources" as global human resources with both identity and communication skills are increasingly in demand.
KCGI opened as Japan's first IT professional graduate school, inheriting the pioneering spirit of KCG, the first computer education institution in Japan, founded on May 1, 1963.The Graduate School of Applied Information Technology offers a major in Web Business Technology, and upon completion, students are awarded a Master of Information Technology (Professional), the highest degree in the field of IT applications.In addition to the main school in Kyoto, there are satellites in front of Kyoto Station, Sapporo, and Tokyo.In the academic field, in addition to the existing Business IT Course, System Development Course, and Contents Business Course, this year we established the Next Generation Industry Course, which consists of four programs: Medical and Health IT, Agricultural IT, Marine IT, and Tourism IT, in response to the reality that the applied fields of IT are diversifying.The admission capacity has also been increased from the original 80 (total capacity of 160) to 240 (total capacity of 450).We have been sending talented people with knowledge and skills in IT and management, as well as content, to the IT industry in Japan, Asia, and the rest of the world.